Collaborative thinking key for new Council CEO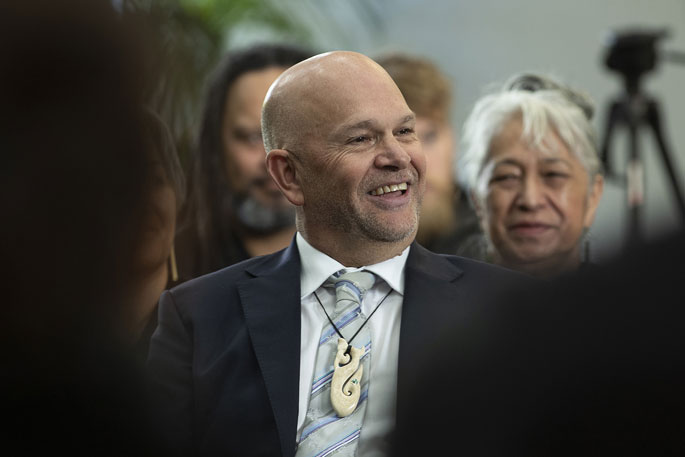 The Western Bay of Plenty Council's new CEO is still settling into his role after recently taking over from the retiring Miriam Taris.
John Holyoak, originally from Rotorua has family ties to Te Puke and Welcome Bay, and getting closer to his family was a key reason behind John deciding to take on this fresh new challenge.
Basing himself in Ōmokoroa, John has been in the role for less than a month but is already positive about the early signs.
"I love what I have seen so far about WBOPDC as an organisation," says John.
"The people are great. The culture is great. Everyone seems genuinely happy to be at work and genuinely engaged in what they do in terms of the community."
He admits it is something of a learning curve, getting to grips with the operating rhythm and how councils work legislatively.
"Getting out and meeting people as well," he says. "That is what is so important."
As for his immediate responsibilities John has two clear priorities on his mind, which he says are becoming increasingly evident; Three Waters Reform and housing.
"Three Waters is likely to happen and it will have an impact on us as an organisation. So we are really understanding what that looks like," he says.
"Then, managing that through from our community impact perspective as well as an organisational impact.
"Housing for this region also has to be a priority. It is one of the fastest growing areas of New Zealand and you need housing to support that."
John is aware that Three Waters Reform could be a contentious issue. However, he believes a pragmatic and combined approach needs to be taken.
"A change is needed," he says.
"We need to work through and see what happens through the reforms but I am reassured that something needs to happen. What does that look like? We still need to work through that."
John is also aware of the roading issues for many in the Western Bay. The problematic stretch of State Highway 2, as well as the Omokoroa Interchange, are certainly on his radar.
"Growth and safety," are the key words he uses when discussing the issue and he says WBOPDC will be asking for funding from the Crown for infrastructure issues, including the road.
Working with Crown, Waka Kotahi, Kāinga Ora and other local councils is needed to ensure the best solutions are met, in John's opinion.
Adopting that mentality of cooperative thinking is also present in regards to working with tangata whenua.
As John sees it, working with local iwi and hapū is a must and brings immense benefits.
"I truly believe that anything we do in this space we need to do with Māori," he says.
"We can't do it without them. They own so much land in our area. There is a lot of land that can actually be developed for some of these things we are talking about.
"But more importantly it is just the right thing to do.
"They are the original owners of the land of New Zealand and we should respect that. We want to work with them in true partnership."
That ethos of collaborative work is certainly something John believes in.
"I think we need to worry about what we want to achieve for the community first," he says.
"Then we worry about how we want to achieve it? Who is needed to achieve it?
"Then we bring people together and ask what their role is here? How can we all leverage off each other and make sure we are all moving in the right direction? I truly believe this is the way forward if we want to get truly great socio-economic outcomes."
More on SunLive...