What's on - extreme cowboys, ninja knits and art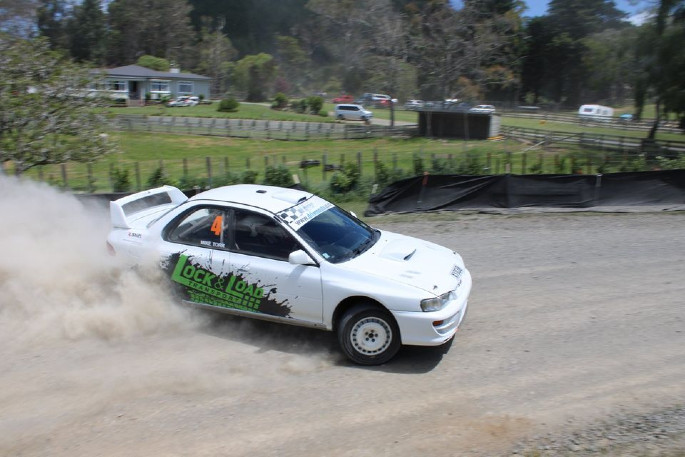 Good morning and welcome to Sunday. Ko te ra tenei i hanga e te Ariki. Ka koa tatou, ka koa hoki ki reira.
MetService are forecasting fine day ahead with southwest breezes.
It's a three-to-four-clothing-layer day with an expected high of 15 degrees, and an overnight low of 6 degrees. High tide is at 12.16pm and low tide at 6.17pm. Sunset is at 5.41pm.
What's on today?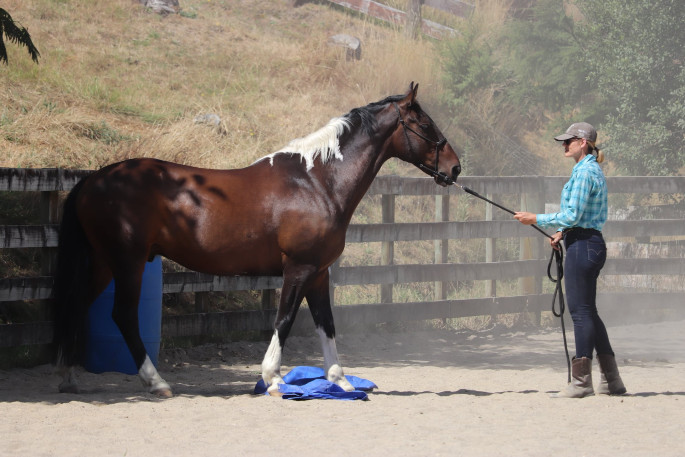 The Extreme Cowboy Association of NZ are holding a club day at the Tauranga Racecourse from 10am - 3pm. Click here for more information.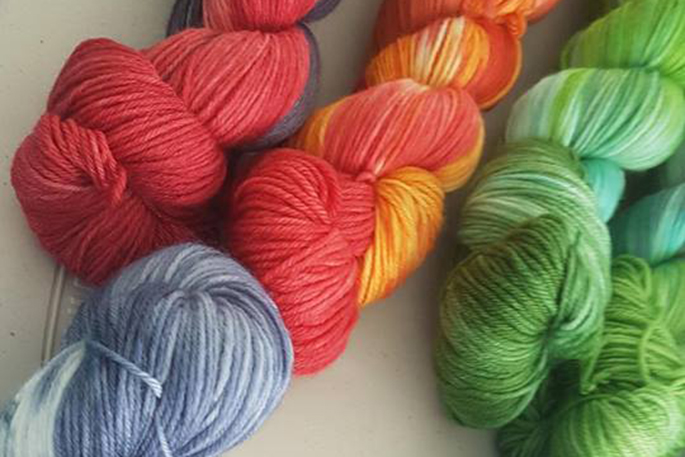 The Ninja Knits are having a social meet up at The Incubator in The Tauranga Historic Village on 17th Ave from 9.30am to 12pm. All are welcome. Tea and coffee provided. There is a Koha jar for a small contribution towards the venue. This is a social collective of mad yarn bombers, sultry stitchery, happy hookers and arty nutters. They share yarns, both woolly and tall, laugh heaps, swap patterns, show off their latest projects and have found there is nothing a good needling won't fix.
Head along to the Sunday Village Market at Tauranga Historic Village from 9am - 12.30pm.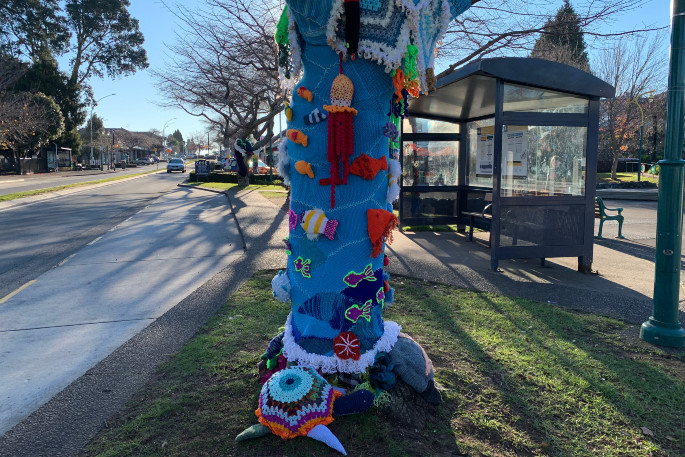 Greerton Village has many yarn-bombed trees on display - come and vote for your favourite. Photo: Rosalie Liddle Crawford.
The Bootleg Revue is set to entertain from 4pm at The Jam Factory. The Bootleg Revue is a collective of New Zealand singers, songwriters, musicians and gadabouts. The shows feature a variety of performers and original music in all genres, with a different feature artist each month.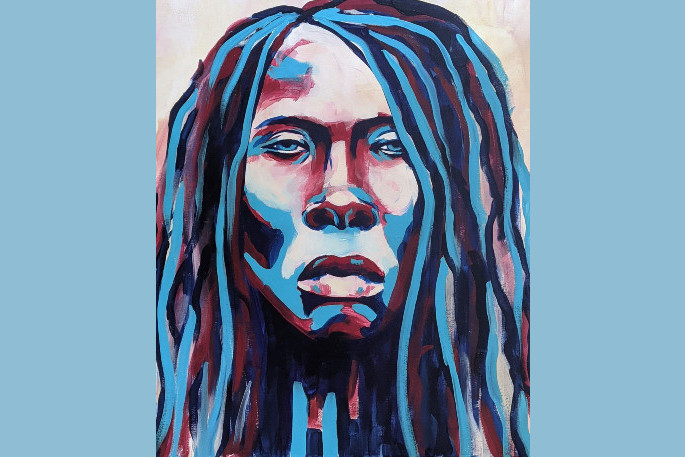 Tauranga abstract artist Anna Fox has an exhibition of work at The Incubator Creative Hub. The exhibition runs until August 23, and gallery is open today from 10am – 2pm.
For more events visit My Tauranga.
The Mission House at The Elms | Te Papa Tauranga. Photo: Rosalie Liddle Crawford.
The Elms | Te Papa Tauranga in Mission St is open from 10am - 4pm. Come and view the Mission House and gardens. For more information click here
Take a walk through Tauranga Art Gallery and view the many exhibitions on display there this week. The gallery, in Willow St, is open from 10am - 4pm.
Love public art? CITY ART WALK TAURANGA app is a free to download walking tour of 20 public artworks in Tauranga's city centre. For more information click here
Enjoy workshops at ReMaker, with the community of makers, located at Our Place in Willow St. Click here for more information.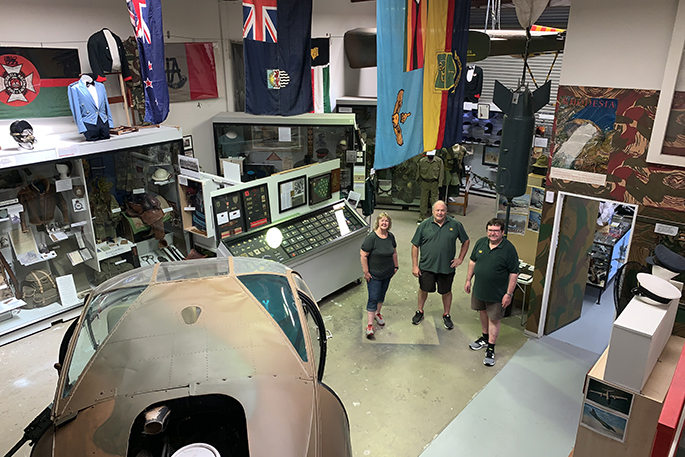 Diana Bomford, Tony Fraser and Hugh Bomford at the Lion and Tusk Museum at Mount Maunganui. Photo: Daniel Hines.
Have you been to the Lion and Tusk Museum yet? It's open today from 10am - 3pm at Unit 4, 14 Portside Dr, Mount Maunganui. Come and see a massive display of Rhodesian military history records and exhibits of uniforms, medals and equipment. Opening hours are 10am – 3pm Thursday to Sunday. For more information click here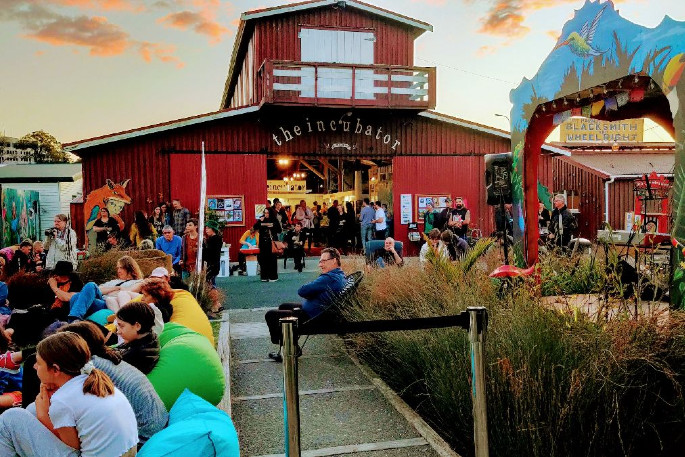 The Incubator. Photo: Supplied.
At The Incubator Creative Hub at Tauranga Historic Village, there are many exhibitions, workshops and events happening daily. For more information click here. Exhibition hours are 10am – 2.30pm.
What else is on today?
Accordion Music Group
3rd Sunday Monthly, Welcome Bay Hall. 1-4pm. Entry $3pp. Ladies a plate please. All Welcome. Joy 027 285 3093
---
Art on the Strand
Original art for sale. Weather permitting.The Strand, Tauranga. 9am - 4pm Tauranga Society of Artists
---
Croquet
at Tauranga Domain, Cameron Rd. Tuesdays, Fridays & Sundays. 12:45 for 1pm start. Beginners welcome. Ph Peter 571 0633
---
Enjoy travel, being hosted?
Friendship Force travel, hosting in NZ and world-wide. Visiting Northland November 2021, Australia & Winnipeg, Canada 2022. Ph Dianne 027 249 9859 or Jonathan 572 2091, Meetings monthly
---
Falun Dafa Exercises
Sunday 10:15am.Free to join us in the Parks. Ph/text Judy 021 042 5398 for the Locations in Tauranga, Papamoa & the Mount.
---
Golf Croquet
At Club Mt Maunganui, 45 Kawaka St. Tues, Thurs, Sun 9.15am for 9.30am start. New players & visitors welcome. Ph. Nev 575 5121
---
Maketu Market
Every 3rd and 5th Sunday. Setup from 7am at Maketu Village Green. $10 per stall. Contact Maureen 021 267 1685
---
Messy Church, Holy Trinity
Cnr 3rd Ave/Devonport Rd 4-6pm. Activities, Short Christian story, simple meal, w/ GF & vegetarian options. All free. Children must be accompanied by an adult. Ph 576 7718
---
Quakers
Warm welcome to share your spiritual journey with group of friendly people. Tea, coffee, thoughtful conversation, silence and companionship. 10am-12pm. Cnr Cameron and Elizabeth. Ph 543 3101
---
Radio Controlled Model Yachts
Sundays & Thursdays 1-3:30pm. Pond behind 22 Montego Drive Papamoa, sailing "Electron" Radio Controlled Yachts for fun. Adult beginners welcome. Graham 572 5419
---
Sunday Village Market
Array of stalls lined up, come on down to the Historic Village from 9am. Food also available
---
Taoist Tai Chi Arts
Cultivating Balance, New beginning classes, Mon - Sat, Tauranga, Te Puke, Papamoa, Mt Maunganui, Katikati.www.taoisttaichi.org for schedule & times or Margie Ph 02 150 0320
---
Tauranga Theatre Organ Society
Meet at Baycourt, 38 Durham Street at 1pm.Hear and play Tauranga's Mighty Wurlitzer Theatre Organ. All welcome, no charge. Ph 552 0243
---
More on SunLive...