Celebrating your community rescue helicopter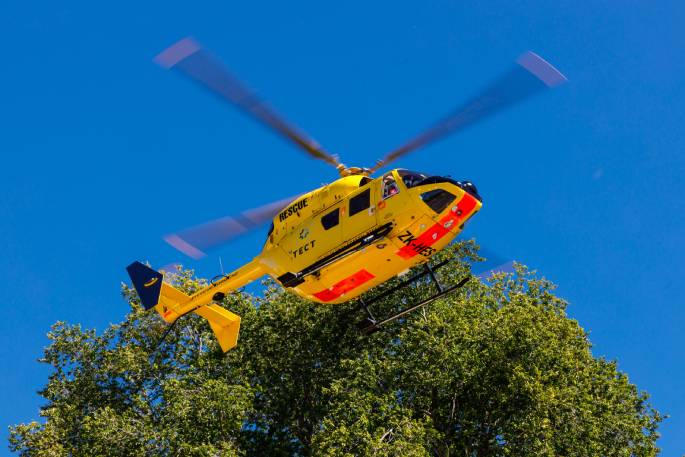 This Sunday, August 15, the global helicopter industry celebrates one of the "most amazing machines ever invented."
It's World Helicopter Day – a day to commemorate your community helicopter.
It is also a day to consider the phenomenal contribution that community helicopters make to society.
Helicopters impact every industry; rescues and disaster relief, conservation, agriculture, and forestry, through to the tourism and filmmaking industries.
Waikato Westpac Rescue Helicopter pilot Dan has been flying helicopters in New Zealand and abroad for 25 years.
"The combination of its unique ability to land and take off so gently with zero speed, often with several people or a significant load on board, and yet then also fly at very high speed to its destination makes it the perfect tool for my job.
"I still find them fascinating and incredible machines and I love it every time I go flying," says Dan.
Over 30,000 people owe their lives to the fleet of community helicopters serving the central North Island.
The fleet, operating out of the regions comprising Waikato, King Country, Coromandel, Central Plateau and Lakes region, coastal Bay of Plenty, and the Manawatu and Whanganui regions, ensure that any point on the map in the central North Island is accessible to one or more of them at any time.
With a greatly experienced and highly-skilled operational team, including a fulltime flight Intensive Care Paramedic work force, the service is an integral part of a wider emergency response chain, providing a vital link between rural communities and main DHB hospitals.
Faced with daily victory and tragedy, rescue helicopter crews work under extremely intense and challenging conditions and as an important component of the helicopter industry, it's fitting and appropriate that a day is marked on the international calendar to celebrate the immense contribution helicopters make to your community.
According to statistics, there are over 56,000 helicopters worldwide with many makes and models of these machines in New Zealand.
The Sikorsky, Bolkow-Kawasaki, Leonardo, Agusta, Bell and Eurocopter helicopters are all models that have been utilised as rescue helicopters for use in New Zealand's diverse topography and complex terrain.
The Bolkow-Kawasaki BK-117, jointly developed and manufactured by Germany and Japan, is currently utilised by the Waikato Westpac Rescue Helicopter, TECT Rescue Helicopter, Greenlea Rescue Helicopter and Palmerston North Rescue Helicopter because of its exceptionality as an air medical and search and rescue utility.
Possessing high stability and manoeuvrability, the BK-117's speed and agility is enhanced by twin, 750 horsepower engines, precision aerodynamic blades weighing approx. 36kg, and a powerful flying speed of 220 km per hour.
The added benefit of a high-mounted tail boom and tail rotor enhances safety for crew and ease of access for patients through the rear of the aircraft.
More on SunLive...