Kindy dusts off the cotton wool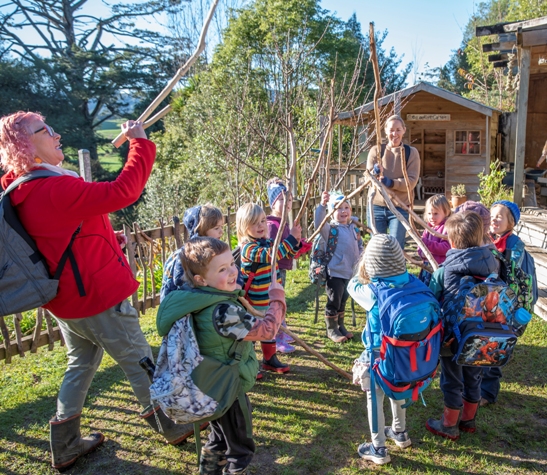 A Thames-based kindergarten is utilising the bush to help teach children some life-skills.
Despite it being a frosty start to a beautiful winter's day, the enthusiastic group of four and five-year old Matapihi Kindergarten students heading off for their day in the bush didn't show any signs of feeling the cold.
Their excursion began with morning tea in a sunny clearing, sitting on log seats around a fire pit.
Sometimes they light the fire and cook things like sausages or pancakes on the griddle.
"It's the perfect opportunity to teach so many life skills around fire safety and cooking," says teacher Sioux Swan.
The children head off into the trees, many barefoot by now.
They all know the rules, and the consequences of breaking them – missing their next turn to go to the bush.
There are no metal playgrounds here, just streams, puddles, fallen logs, tree stumps, and whatever nature has to offer.
The bush has a toilet block, a simple two bucket system with one for poos and one for wees.
The contents of the poo bucket are covered in charcoal or sawdust, and barely smells. Its composting contents are buried regularly.
A bucket filled with crystal clear water from the mountain stream stands outside the toilet block, ready for handwashing.
The rest of the day will be filled with outdoor learning and play, exploring the bush, spreading bark on a muddy path, feeding eels, and inspection and re-baiting of the rat and possum traps, a task that everyone is wholeheartedly involved in.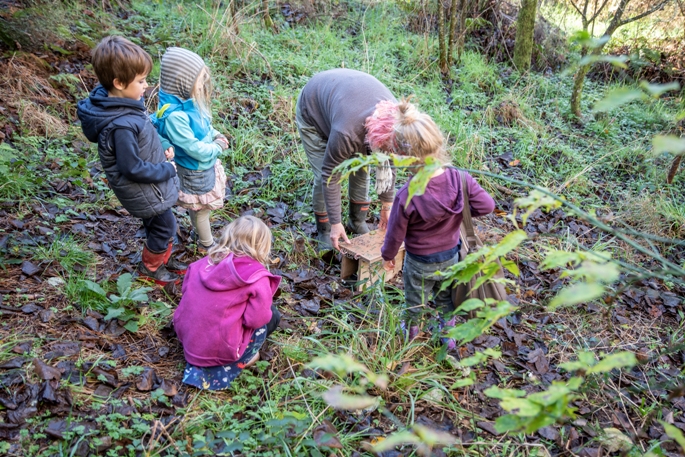 Checking and re-baiting the rat and possum tramps. Photo: Catherine Fry.
Fulfilling a dream
Entering its 13th year, Matapihi is the brainchild of business partners Merren Goodison and Angela Kimber.
Merren now concentrates on the administration side, while Angela is still actively working with the children.
"We shared a dream of setting up a rural early learning centre and we found the perfect property," says Angela.
The five-bedroom home set in eight acres of bush in Te Mata, near Raglan, with a small lake, streams, established bush and native tree stands, was more than they had dreamed of.
Around half an acre surrounding the house is secured with high pool fencing, offering a safe but natural playground, complete with trees to climb, veggie gardens, chickens, fruit trees and plenty of places to hide and play.
"Having worked in both town kindys and here, I can say that when children are immersed in a more natural environment, their social competence is noticeably enhanced," says Angela.
The homestead resembles a more familiar kindergarten, with a large deck, sandpit and playhouse. Inside the semi open plan areas feel more like a home, but are packed with resources.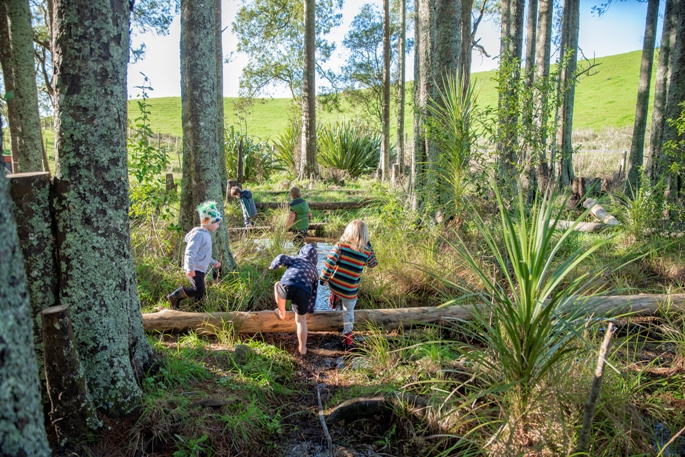 A natural playground of trees, puddles, logs and fauna awaits. Photo: Catherine Fry.
Learning in nature
The children are part of the cycle of life of the property and assist with the real work of its maintenance, learning as they go. They are all familiar with the worm farm, composting and recycling.
The lake is a highlight, with life jacket wearing children enjoying boat trips, sailing boats they have made from the jetty, and collecting flora and fauna.
"The children are taught how to appropriately care for our pets, and any bugs they collect," says teacher Athene Jensen-Larsen.
Matapihi is proud of their Uru Taiao programme (meaning 'entering into the realms of nature'), believing that nature is as important to children's growth and development as sleep and food.
"The centre is based on 'negotiated curriculum' and is organised in response to the knowledge, interests, skills and dispositions of all members of the centre," says Angela.
"In this environment our job is to protect the children from hazards, but also provide them with opportunities to experience appropriate risk."
Judging by the clean slate of no broken bones in over 12 years, it would indicate that Matapihi's children do indeed embrace the opportunities they are offered.
More on SunLive...