House price growth eases for the third month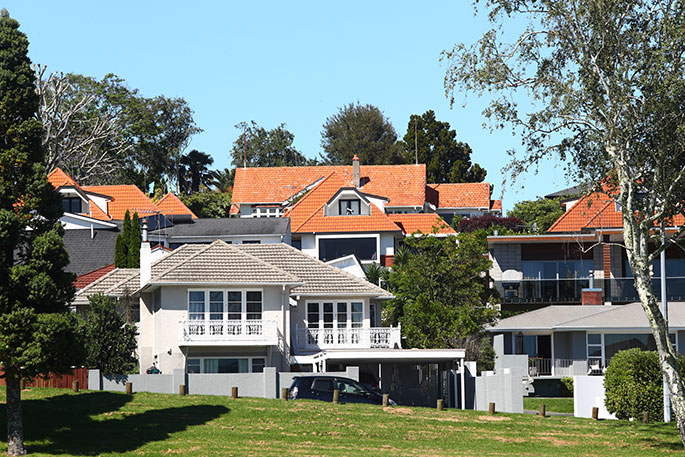 For the third consecutive month, the QV House Price Index has shown a reduction in three-monthly value growth from the previous month.
The average value increased 4.3 per cent nationally over the past three-month period to the end of July, down from the 6.6 per cent quarterly growth we saw in June, with the national average value now sitting at $952,078.
This represents an increase of 26.4 per cent year-on-year, up slightly from 25.6 per cent last month.
In Tauranga, property prices cooled off significantly last month, dropping from 2.1 per cent growth in June to just 0.3 per cent in July.
Over the same period, the city's three-month rolling average also dropped from 8.3 per cent to 5.4 per cent.
QV property consultant Derek Turnwald says there has been a noticeable decline in attendees at both open homes and auctions during July.
He says this could be partly due to the cooler weather, but there is also a strong sense that the market is cooling now.
"Agents report a decline in investor interest, but not a significant increase in investors selling properties.
"Interest from first-home buyers has also declined as future interest rate rises and more stringent lending criteria make it more difficult for this group to gain finance to enable purchase."
He says properties with deferred maintenance, unconsented work or potential weather tightness issues were becoming more difficult to sell.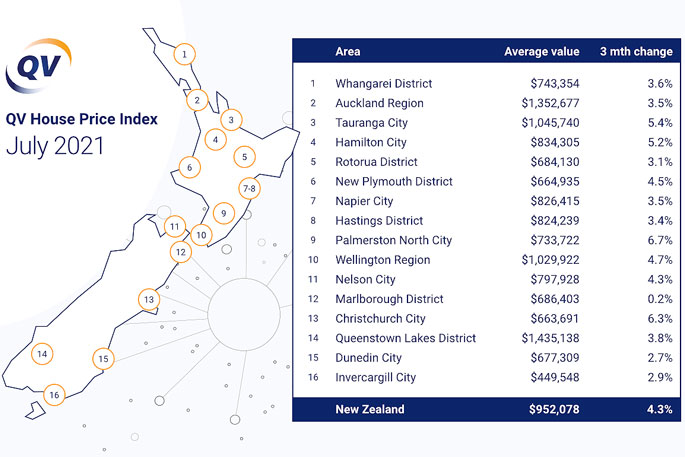 In the Auckland region, the average value now sits at $1,352,677, up 3.5 per cent over the last three-month period, with annual growth of 23.7 per cent, up a fraction from June's year-on-year growth of 23.4 per cent.
"Three-monthly value growth has more than halved since April when it was rocketing along at 8.9 per cent," says QV general manager David Nagel.
"After three consecutive reductions, the market is clearly cooling now as a result of government and Reserve Bank policy initiatives aimed at dampening the enthusiasm of investors.
"With looming interest rate rises, we'll likely see a continuation of this trend."
All of the 16 major urban centres QV monitors have shown a reduction in three-monthly growth compared to last month.
The strongest value gains over the past three months have come from Palmerston North at 6.7 per cent growth in value, down from 8.5 per cent last month, closely followed by Christchurch at 6.3 per cent growth, down from 8.3 per cent three monthly growth QV reported last month.
David says none of the major urban areas QV monitors have seen a decline in average value, but Marlborough has all but flattened out at 0.2 per cent growth, compared to 4.4 per cent three monthly growth last month.
Central New Zealand continues to show the strongest annual rate of value growth, with the three fastest growing regions all in the lower North Island.
Values in the Manawatu-Whanganui region have grown 38.1 per cent in the past year, while the greater Wellington and Hawke's Bay regions have experienced annual growth of 34.3 per cent and 31.8 per cent respectively.
The three lowest annual growth rates are all in the South Island with the Southland region experiencing a still-significant 19.4 per cent increase, with Otago showing 21.6 per cent and Tasman at 22.9 per cent annual growth.
"The fundamentals of the property market are still strong, so we're unlikely to see a wholesale reduction of values anytime soon, but we may begin to see quarterly value growth taper off in some localities altogether, and even some small reductions as we come to the end of the current growth cycle," says David.
"But while interest rates are still low and listings remain in short supply, it's more likely we'll likely see a continued slowing in the rate of price increases over the coming months as the property market continues to absorb the recent changes."
More on SunLive...