Pilot may have caught Covid on Rio de la Plata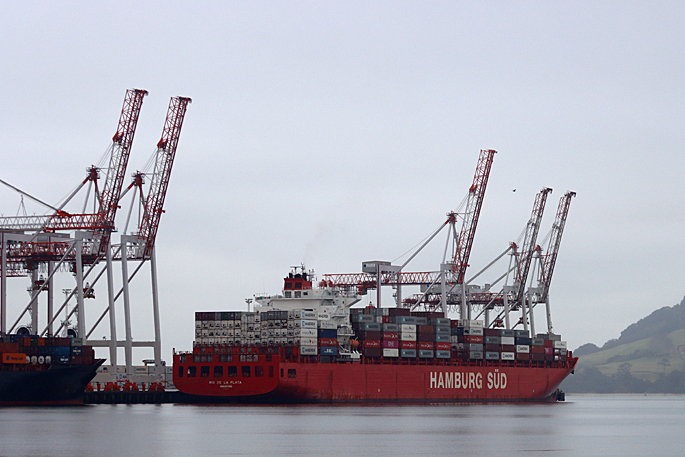 Queensland health authorities believe the Australian pilot, who sparked the Covid-19 scare onboard the Rio De La Plata, caught the virus on the ship
The pilot was last on the ship on July 23. The ship is currently anchored at sea off of Tauranga after 11 crew members tested positive for Covid-19.
The incident has sparked mass testing and isolation of port workers in Tauranga.
Queensland's chief health officer Dr Jeannette Young confirms the pilot was fully vaccinated, which may have had an impact on the onset of symptoms.
He developed symptoms on 31 July, so health authorities initially believe he was infectious from July 29.
That was why he was not picked up while authorities were contact tracing the case of the Cairns taxi driver.
She says the pilot probably caught the virus on the ship, before passing it on to a taxi driver in Cairns.
The taxi driver had taken the pilot to the airport on 26 July.
That case put Cairns and Yarrabah into a snap three-day lockdown.
Genome sequencing has confirmed the two cases are linked.
The pilot left the ship on 23 July so further contact tracing is underway.
"Now we've got this information from New Zealand about the ship that he piloted, he came off that ship on 23 July and we think that's probably where he acquired it," says Dr Young.
"We're going to have to go back and contact trace to 23 July."
Covid-19 Response Minister Chris Hipkins told RNZ's Morning Report today that the chain of transmission was not clear and questions were being asked of the Medical Officer of Health in Tauranga on what advice they were working from.
"One of the things that does appear possible is that the Medical Officer of Health was working on the basis that the pilot in Queensland was infected in Queensland, and so therefore was looking more at the risk of the pilot having passed it on to the crew of the ship, rather than the potential that the crew of the ship could have been the ones who gave it to the pilot in Queensland."
"I should be clear that we get lots of ships coming and going from our ports on a daily basis and we treat all of those ships, as if they have people with Covid-19 on them."
More on SunLive...