Midwives strike for support and better pay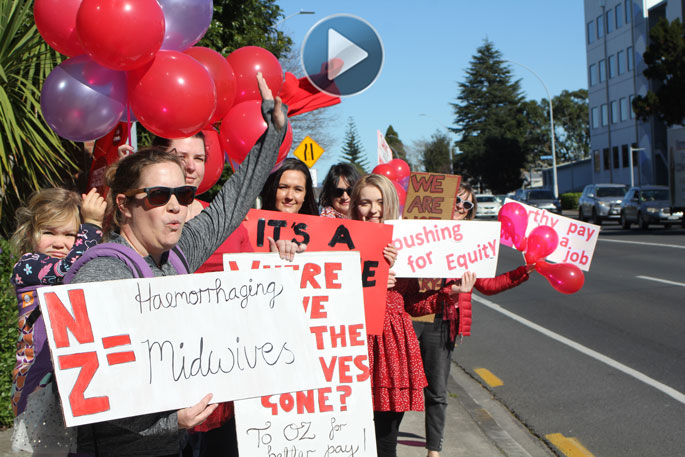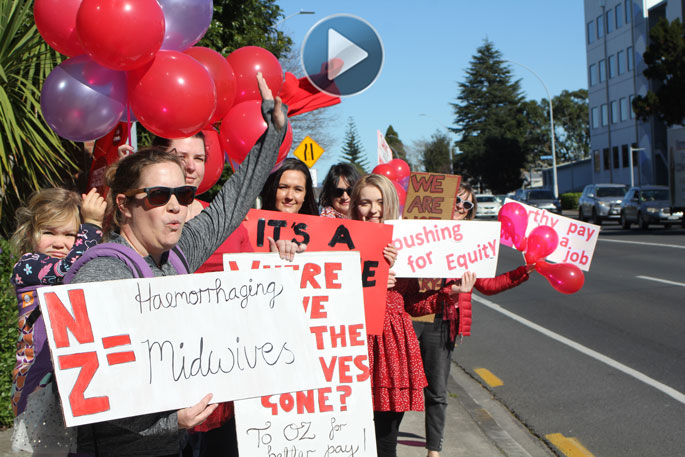 Click the image above to watch the video
Tauranga midwives are joining their colleagues around the country in striking for better pay and better working conditions.
A picket line was formed on Cameron Road outside Tauranga Hospital this morning as part of national rolling strike action, which began in Auckland and Northland on Monday.
The toots of encouragement rang out from motorists passing by as the women in red tried to get across their message to anyone that will listen.
Tauranga Hospital midwife Shona Tames says the group are striking for better pay and better working conditions.
"Our Life Preserving Services is less than what we would normally need," says Shona.
Shona also hopes for more support for midwives training, as a lot of people are unable to support themselves throughout the degree.
"Babies aren't included in our numbers, so pregnant women or new mums are the only ones that are counted. Although we have two patients a lot of the time. This just adds to a more stressful environment," says Shona.
Tauranga Hospital DHB midwife Mariska Heijmer says a midwife's main goal is to support women to have their babies.
"For midwives to go into work and feel as though there aren't enough of them to keep the women safe; it is not only a scary situation because you don't know if you will be able to do your job properly, but it's also the kind of job when you need your team.
"If you haven't got your team there to support women when they need you, and the babies when they need them, everyone is at risk to all sorts of emergencies that could turn catastrophic.
"It's also our profession and if we're put in a situation where you haven't got the number of staff there to support you then our registration is at stake and our livelihood is at stake and it's really stressful.
"Why would midwives carry on with this profession if that's the situation their walking into every day."
Mariska says the answer to this question is simple.
"If we had more midwives working and more midwives entering the profession then that lack of staff wouldn't be a problem, but people are choosing to not work because their isn't the financial support around them to support their families.
"At the end of the day if there was more money available for midwives more midwives would choose to work," says Mariska.
Mariska says midwifery is also an aging profession.
"Most of our midwives are 45 plus and a lot of them are retiring however we don't have the students to come in and replace those midwives.
"There's no incentives for midwives to come into the profession; they have a really hard degree ahead of them and they gain a lot of debt in order to do it."
Tauranga Hospital midwife Kylie Macown started her role with the hospital in January as a freshly graduated student.
"It's been awakening the last couple of months to see the staffing issues we face," says Kylie.
"We're constantly short staffed and there's not a day that goes by where we're not getting texts asking us to come in to cover shifts. We end up looking after five or six women and we're all doing different jobs.
"With being a new grad we are trained for this but the reality of it is different when we're just finding our feet at a new job and to have that thrown in on top makes it quite difficult."
To become a midwife takes a four year degree which involves many hours of placements.
"It's really hard training and running placements where we're on call 24/7 because we can't have part time work and so you just end up with a massive debt because you can't support yourself in other ways throughout the degree," says Kylie.
More on SunLive...