Port workers "don't feel safe" amid Covid scare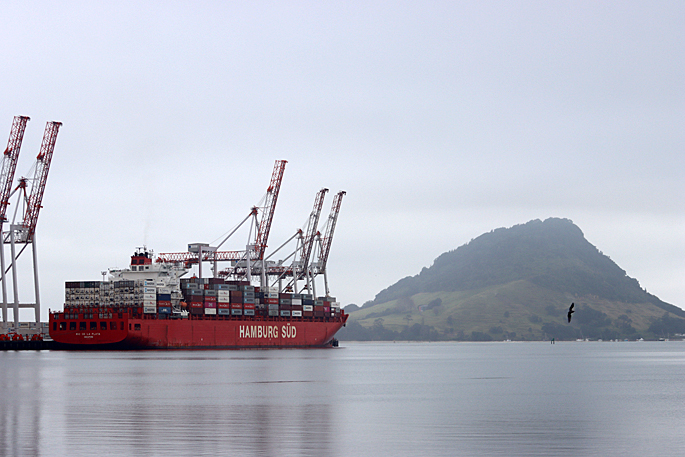 A worker at the Port of Tauranga says some staff "do not feel safe" amid the ongoing Covid-19 scare involving the Rio de la Plata container ship.
The Singapore-flagged vessel is currently anchored off of Motiti Island after 11 crew members tested positive for Covid-19.
Yesterday also saw 94 port workers told to isolate after they were identified as having contact with the ship during the four-day period it was berthed at the Port of Tauranga.
Those 94 workers are isolating and have been told to receive a Covid-19 test.
Covid-19 Response Minister Chris Hipkins revealed yesterday in a post-Cabinet media conference that only nine of that 94 were fully vaccinated.
As of 9am this morning, 65 of the workers have returned negative test results.
One person who works at the Port, who spoke to SunLive anonymously, says they, and others, do not currently feel safe working under the circumstances.
"Everyone should be isolated and tested," he says.
The worker has been told they are at low risk of exposure.
However, they say workers who did not board the ship and ones that did, and would have had some interaction with the Rio De La Plata crew, are now working alongside each other.
"The ones on the Rio still mixed with the ones that weren't," says the worker.
"Something is not right. We are wondering why we are still working when we were on the Rio with other contractors."
Yesterday, a Port of Tauranga spokesperson stated they treat all vessels as if they have Covid-19 on board.
"All port workers who interacted with the ship followed the usual Covid-19 precautions.
"This includes physical distancing and wearing PPE."
The first issues with the Rio De La Plata emerged last week.
On Tuesday, August 3, the Port received an alert from Maritime NZ that the ship, had been boarded two weeks ago by an Australian pilot, who recently tested positive for Covid-19.
Maritime NZ subsequently cleared the ship for pilot boarding.
The ship was also cleared to berth by the Medical Officer of Health at Toi Te Ora Public Health as part of the normal free pratique process.
A Port of Tauranga pilot boarded the vessel around 5pm on Wednesday and brought the ship in to the Tauranga container terminal.
At about 9pm, Customs NZ unexpectedly shut down operations on the ship and the local public health unit advised Port of Tauranga that our pilot and the stevedores unloading the ship should go home and isolate while awaiting further instructions.
The ship was then cleared on Thursday morning, with the Public Health Unit advising the Port that operations could resume and there was no need for workers to isolate
"Everyone in contact with the ship has been wearing PPE and no one on board has any symptoms," said a Port of Tauranga spokesperson at the time.
"Port of Tauranga's primary concern is for the port workers and health of those on board the ship."
SunLive has approached the Ministry of Health for comment on how the ship was cleared last week and will provide an update when we can.
Covid-19 on ship at Tauranga: Chain of transmission not clear - Chris Hipkins
Covid-19 Response Minister Chris Hipkins says it is unclear what advice officials were working on when they allowed a ship with Covid-19 infected crew members to dock.
Hipkins told Morning Report the chain of transmission is not clear and questions are being asked of the Medical Officer of Health in Tauranga on what advice they were working from.
"One of the things that does appear possible is that the Medical Officer of Health was working on the basis that the pilot in Queensland was infected in Queensland, and so therefore was looking more at the risk of the pilot having passed it on to the crew of the ship, rather than the potential that the crew of the ship could have been the ones who gave it to the pilot in Queensland."
"I should be clear that we get lots of ships coming and going from our ports on a daily basis and we treat all of those ships, as if they have people with Covid-19 on them."
Craig Harrison from the Maritime Union says the situation has been handled terribly.
"If they were made aware there was a risk on the ship and then let port workers go on the vessel, then call them off, then go back on the ship, questions have got to be asked when they did the original assessment of that risk why did they not err on the conservative side and leave the ship out there until they established the ship was clear of Covid."
Just nine of the more than 90 stevedores who spent time on the vessel are fully vaccinated and two have received their first dose.
Hipkins says vaccination rates among port workers are still too low, and blamed misinformation via social media for a greater degree of reluctance.
"What we found is that when we send health crews in there on a more intensive basis, and they have one-on-one conversations with those workers, then they are more inclined to say actually, okay, I think this is safe."
Hipkins says part of the investigation on the risk to the public will be be to find out whether there were any breach of measures such as use of PPE and social distancing.
The government last month made it mandatory for port workers to get the Covid-19 vaccine.
Public employees have until August 26 to get their first shot, while those in the private sector have until the end of September.
National Party deputy leader Dr Shane Reti says he's "gobsmacked" port workers still have such low rates of Covid-19 vaccination.
"What we should be doing is what we said should be doing way back in March and that is vaccinating our port workers," he told First Up.
Reti says vaccine hesitancy and misinformation will account for at most 15 per cent of the population.
"It's such a surprise that we should be now months and months, after official policy came out around this and here we are.
"Hopefully we won't be surprised in a dangerous way with what's happening in the Port of Tauranga."
Hipkins says health crews will be working more intensively with port workers to provide factual information.
"But it's a slow process, because it's more intensive."
The Maritime Union agrees misinformation was preventing some port workers from getting vaccinated and has suggested more health workers should be sent in to help change minds.
More on SunLive...