Calls to stay alive around train crossings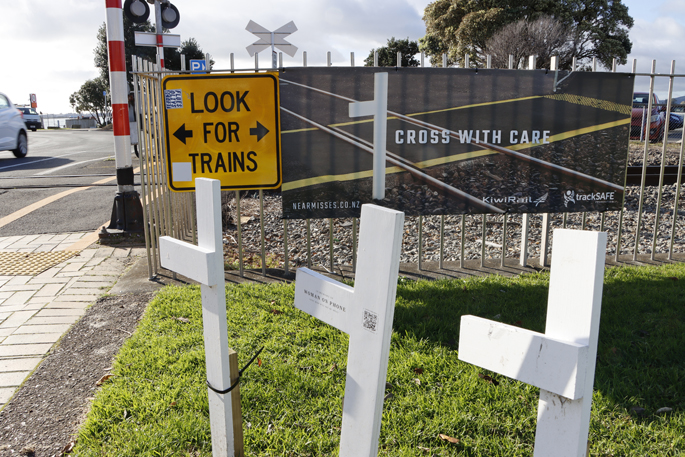 "Stop. Look for trains. Stay alive." New Zealand Police and Waka Kotahi are urging New Zealanders to heed a potentially life-saving 'wake-up call' highlighting the risks of railway level crossing crashes.
As committed partners of the Government's Road to Zero strategy, both organisations are actively supporting Rail Safety Week 2021 (August 9-15).
Planned and coordinated by KiwiRail and TrackSAFE NZ, the week aims to raise awareness of rail safety and encourage safer behaviour around trains, railway tracks and level crossings.
As more vehicle collisions with trains occur in the morning than at any other time, the focus of Rail Safety Week this year is on giving people a 'wake-up call' to pay more attention on and around train tracks.
"Rail vs road crashes are more likely to be fatal than other crashes," says Bruce O'Brien, Assistant Commissioner Deployment and Road Policing.
"Any death or serious injury from a road crash is one too many, especially if it could have been prevented.
"Our dedicated NZ Police staff are out policing roads every day targeting and preventing unsafe behaviour to reduce the number of deaths and serious injuries occurring on our roads."
Over the past 10 years, 163 people have died on the New Zealand rail network, and 54 of those people lost their lives at level crossings.
Waka Kotahi Chief Executive Nicole Rosie says the impact of these crashes on families and communities is enormous.
"These are not statistics, they are real people who didn't make it home to their whanau. Many more have been seriously injured from level crossing crashes, often left dealing with life-long debilitating injuries.
"And beyond all of them is a larger community – of families, friends, colleagues, employees, witnesses, first responders, locomotive engineers – all affected in some way.
"That's why we are working hard with Police, KiwiRail, TrackSAFE and others to improve safety at level crossings and reduce this harm. Over the last three years, we've completed 36 level crossing upgrades around New Zealand using a range of safety measures, including better signage and the installation of barrier arms, flashing lights and bells. This work is making people's journeys safer."
But while level crossings are being made safer, drivers also need to do their part. More than half of serious injury or fatal collisions in the last decade occurred at crossings with a STOP sign, and nearly 80 per cent were in provincial towns and rural areas.
"It only takes a few seconds to slow down and stop," says AC O'Brien. "Those precious seconds could save your life."
"Please - stop, look for trains, and make sure it's clear before crossing."
Police Senior Constable Kim Munro who is attached to the Strategic Traffic Unit based in Rangiora is sharing her personal story about losing her mother and two younger siblings when the car her mother was driving failed to stop in time and collided with the Christchurch to Picton passenger train.
"I was only six-years old when my family died in that crash. The only reason I wasn't in the car was because I was at school that day," says Senior Constable Munro.
"The crash left me an orphan and my life has not been easy growing up. I am passionate about this, it's a topic that's very close to my heart. I'm happy to share my story if it helps remind drivers to obey the warning signs and keep safe, that's what matters."
More on SunLive...