Twelve crashes in six years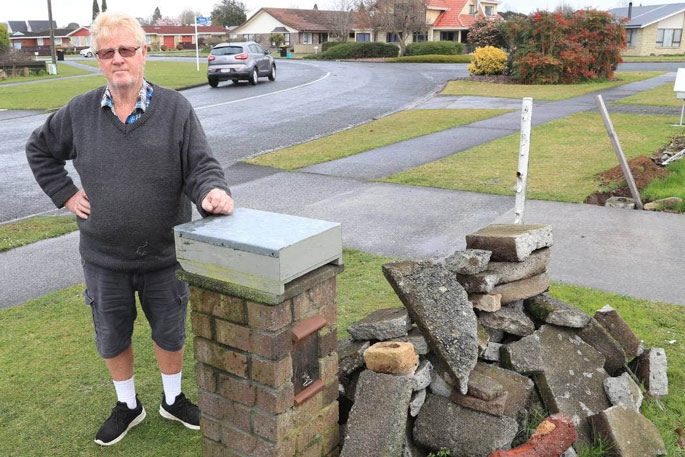 Rod Dixon's eight-year-old daughter no longer feels safe playing on the front lawn.
She's already narrowly avoided being struck by shrapnel while standing in the family lounge.
And whenever Dixon hears a car he braces for impact.
That's the effect 12 crashes in six years has had on the 68-year-old Matamata resident, who has witnessed countless vehicles taking the Tawari St corner too fast and ending up on his front lawn.
It's never a pretty sight.
What once looked like your standard home – a white picket fence out front, surrounded by trees and a garden to match – now sits empty.
Damaged trees have been ripped out, broken bricks litter the boundary line and recently repaired fences await a lick of paint.
The most recent crash occurred on June 21, 2021, just before 8pm. Dixon and his daughter, Jessica, were standing in the family lounge deciding if they should make a Milo.
That never happened.
Seconds later, debris came flying towards the house, shattering the lounge window.
A vehicle smashed through the front fence, brick pillars, ripped up the front lawn and flew through the other side of the property.
It came to a stop under the neighbour's tree, after smashing their fence, too.
"There was glass everywhere.
"Jessica wouldn't go back into the house for a week, she was so frightened."
Dixon's thankful he replaced the lounge window with laminated glass – a safety glass that holds together when shattered – a few weeks prior.
"That's what saved my daughter's life."
Dixon has lived in his Matamata home since August 2015. He didn't know the home was notorious for crashes.
In November, around 9pm, "two cars were racing each other" and went straight across the neighbour's front lawn, through the boundary fence and shifted the large rhododendron tree that was sitting in the front lawn, he says.
You still see the marks on the concrete and grass.
"If it wasn't for the tree he would have come right into my house."
To his credit, he said, the driver did return the next day with a chainsaw to help clean up the damage.
"He even let me keep the chainsaw he bought."
Dixon, who has insurance, said the crashes have cost him $5000 in repairs and has taken him five weeks all up to clean up the mess.
He wants the Matamata-Piako District Council to so something about the dangerous corner.
"I've asked council to install an arm cove (barrier)" to prevent it happening again.
Judder bars to slow down the traffic won't solve the problem, he said, it will just create a problem for residents further up the road.
"Nothing will happen until someone is killed."
Council's group manager service delivery Fiona Vessey says two of council's roading team visited the Tawari St property in June and spoke with Dixon about his concerns.
"As a result of that visit, we felt the safety issue wasn't confined to the curve near Mr Dixon's property, that it was a speed issue on the entire length of Tawari St," says Vessey.
A safety engineer was engaged to do a formal safety review of the street which was received in July and recommended speed bumps would help slow traffic.
"Due to the cost involved in installing raised platforms (speed bumps) and our limited funding it was recommended as an interim measure that we improve signage and road marking on Tawari St.
Until then, Dixon will build an Australian cypress wood fence to try to prevent vehicles crashing into his property again.
More on SunLive...