Exhibition challenges feminine norms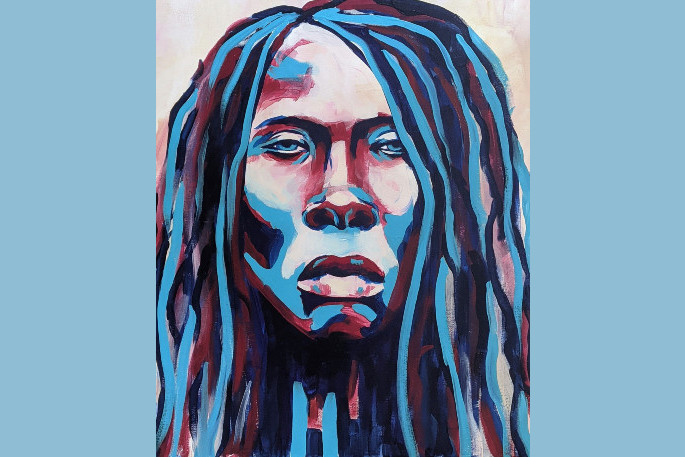 Tauranga abstract artist Anna Fox is showing a body of work that challenges the norms and societal expectations for women.
Using layers of paint both thick and thin, her pop influenced images and impressions of images shows a tension between what is controlled and uncontrolled.
The exhibition, at The Incubator Creative Hub, is titled 'Women Are Strong', and shows the constant tug of war between reflecting fulfilled expectation and unrequited expectations.
"My journey as a feminist is one that started as an adolescent, when I didn't even realise what feminism was and it is only upon reflection in hindsight that I can see this," says Anna.
"It has been a journey over time that has stemmed from challenging norms and societal expectations, as well as from my own self-reflection and growth."
Anna says the body of work on display in the gallery 'is the outpouring of thoughts, stories of my own as a woman and that of many other women who have shared their own with me, over time'.
"I have chosen to represent a wide variety of women, different ethnicities and different body shapes and types," says Anna. "Each woman has their own story to tell, and each figure represents the beauty and strength I see in women, just as they are.
"The naked woman form, in every body type, is a body in its most vulnerable form. However, I have come to conclude that there is strength, power, and such gorgeous beauty in this vulnerability."
Anna says she has come to understand that the statement 'Women are strong' is true for all women. "Strength might manifest differently and look polar opposite in different body types, personalities, situations and walks of life. But after connecting with and being inspired by so many different women along my path, I have come to the conclusion that despite all of this, women are innately strong," says Anna.
"Women are strong and powerful forces, capable of facilitating and directing change for the better, in this world."
The 'Women Are Strong' exhibition by Anna Fox is on show in The Incubator Gallery from July 31 – August 23. The gallery is open 10am - 4pm Monday-Friday and 10am - 2pm Saturdays.


More on SunLive...