Snowy weather and severe gales ready to pounce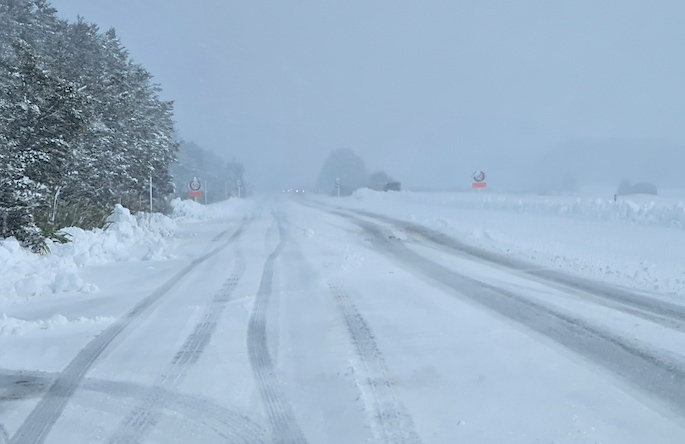 Heavy snow is expected to fall on the Desert Road on Sunday, according to MetService.
The snow is expected to develop from Sunday night through to late Monday.
"Expect 8 to 15 cm of snow to accumulate on the road," says a MetService spokesperson.
A rapidly deepening low is forecast to move across New Zealand from the west on Sunday, bringing heavy snow to low levels and severe gales to central areas.
WeatherWatch is forecasting snow as far north as the summits of the Gisborne, Kaimai and Coromandel ranges in the upper half of the North Island.
The heaviest snow is expected in northern Canterbury and southern Marlborough above 200 metres, and is likely to disrupt travel, damage trees and powerlines. Cold conditions may also cause stress for livestock.
People are advised to keep up to date with the latest forecasts in case any changes are made or further areas are added.
A heavy snow warning has been issued by MetService for Marlborough south of Seddon and Canterbury north of Mount Hutt.
"Snow is possible down to sea level, and is expected to become heavy above about 200 metres where 15 to 30 cm of snow is forecast to accumulate, or possibly more at higher levels," says a MetService spokesperson.
This warning is valid until 8pm on Sunday.
A strong wind warning has been issued by MetService for Wellington, and coastal Marlborough north of Ward, including the Sounds.
"Strong wind gusts could damage trees, powerlines and unsecured structures. Driving may be hazardous, especially for high-sided vehicles and motorcycles."
This warning is value from 4pm on Sunday to 11am on Monday. South to southeast gales are forecast to be severe at times in exposed places, with gusts reaching 120 km per hour.
WeatherWatch advise that snow flurries are forecast across a large portion of the South Island over Sunday and/or Monday and to low levels too, begging the question - will it snow in the main centres at sea level?
"There is some chance that Christchurch may get snow," says a WeatherWatch spokesperson. "Borderline snow events can be a bit of a nightmare for weather forecasters trying to perfectly nail who will get snow and who will miss out but the absolute 50/50 set up for Christchurch means rain and sleet may fall, or, it may turn to snow completely and bring a blanket of white snow to the city. The set up is that close."
WeatherWatch say that the high for Christchurch is forecast to be only 6 degrees Celsius on Sunday and again on Monday but it's the overnight temperatures and morning temperatures on Monday which may be the best chance for snow to fall, as temperatures drop to only 2 degrees Celsius.
"This is right on the borderline for snow and within the margins of it happening," says a WeatherWatch spokesperson.
"Further inland and it's more locked in. Snow flurries have a higher chance of settling, and being heavier, above 100 or 200 metres, which means a large portion of Southland, Otago and Canterbury all have snow chances.
"Dunedin also has snow chances, especially in the higher elevation suburbs."
Snow accumulation may not be overly high, but in NZ it doesn't take much snow to close highways and causes issues with public transport.
Further north and snow flurries are possible around Kaikoura and WeatherWatch.co.nz is now forecasting that some of Wellington's suburbs may get snow with the odd flake possibly getting down to sea level for a time.
"Snow flurries will impact the Desert Road, the Napier-Taupo highway and all the South Island alpine routes have snow forecast. Snow on Mt Taranaki may get close to Stratford with a chance of a few flurries in the township or nearby," says a WeatherWatch spokesperson.
"Wind chill will range from -3 degrees Celsius in coastal parts of the South Island's east down to -15 degrees Celsius along the eastern ranges - like Mount Hutt for example.
"Wellington's wind chill on Monday will hover around zero degrees Celsius all day and may dip below zero at times too."
The cold blast is short lived - but for Canterbury in particular this event could deliver some widespread snow or at the very least bring wet, cold, miserable conditions for newborn livestock.
Sunday and Monday are the peak days for cold - milder weather bounces back into NZ by mid next week as windy westerlies return.

More on SunLive...