Snow flurries forecast for Kaimai Range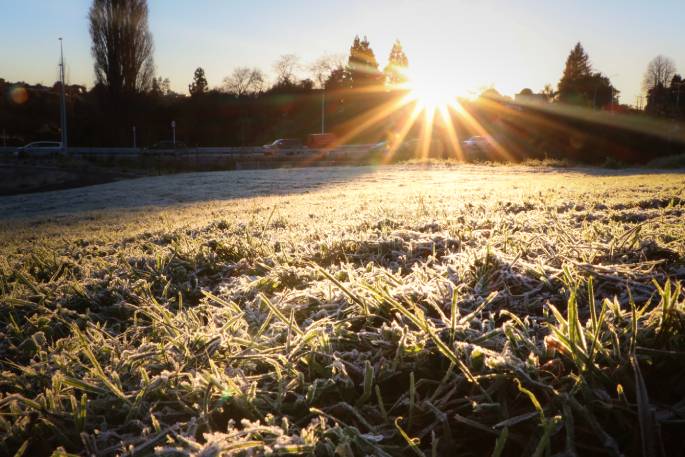 Snow flurries are being forecast for the Waikato and Kaimai Range this weekend.
This weekend's weather forecast is a real mixed bag, with gales, thunderstorms, snow, sleet, rain, windchill, and some sunshine too.
A strong winter blast will move up New Zealand this Sunday and Monday, says WeatherWatch.co.nz
"Ahead of it will blow mild westerlies but behind it a southerly change will hack back temperatures and bring a fairly widespread risk of snow flurries across the South Island and central North Island - although totals may not be that huge.
"The positive for farmers or simply those who hate the cold is that this does look fairly short lived with temperatures bouncing back a little by next Tuesday and further by Wednesday."
SNOW:
For some places low down in the South Island it may be a rain/snow mix with a few flurries here and there, says WeatherWatch.co.nz
"Sea level snow in NZ can be very tricky to lock in with a slight drop or rise in temperatures making all the difference between a snow event or just a wet rainy cold day with sleet.
With so many places on the margins we do expect flurries here and there, possibly to sea level.
"Snow is most likely above 150m but we can't rule out some flurries to sea level - but they may not settle or accumulate.
"Slightly further inland and above 150m snow may be heavy and settle. Road closures are possible in both main islands this Sunday and Monday. Snow accumulation in the mountains may reach 40cm."
In the North Island snow may fall as low as just a few hundred metres and heavy falls above 400m which will likely impact the Desert Road (SH1) and the Napier Taupo Highway (SH5).
Snow flurries may go as far north as the Waikato region and the tops of the Kaimai Ranges - but only briefly and with low accumulation.
Snow will also likely fall on the summit of the Gisborne ranges, says WeatherWatch.co.nz
TEMPERATURES + WIND CHILL
Ahead of the cold change, a fairly mild westerly will kick in.
"Northland, Auckland, Gisborne and Hawke's Bay all have a chance of daytime highs in the late teens this weekend, maybe even reaching 20 degrees," says the weather organisation.
"By Monday everyone in NZ has a temperature drop of a few degrees to over 10 degrees down.
"Hastings has a high of +17C on Saturday and a high of +8C on Monday.
"Daytime highs across Southland, Otago and Canterbury will be down to just +5 or +6C on Sunday and Monday with windchill below zero in exposed places."
At sea level wind chill will get down to around -3C in some locations and may linger for 24 to 36 hours.
For newborn lambs and calves this will be tough weather because showers/damp and strong winds will make it worse. The positive news is that milder weather should return by mid next week.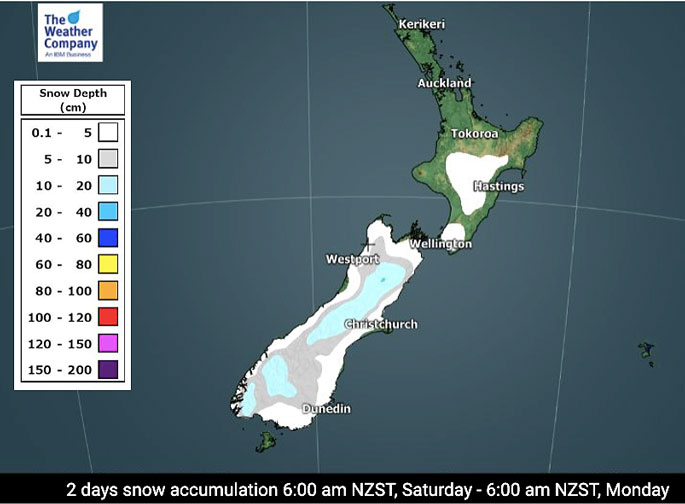 Images: WeatherWatch.co.nz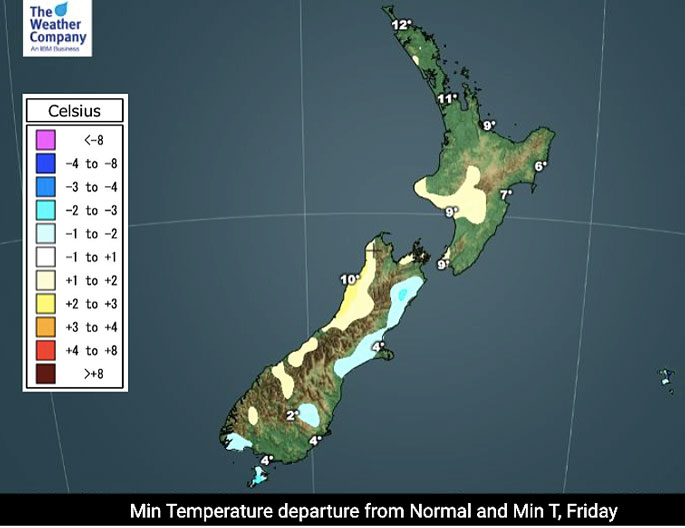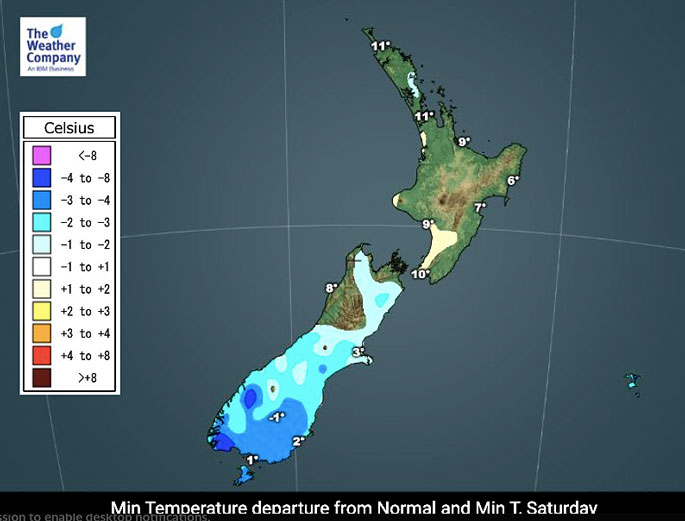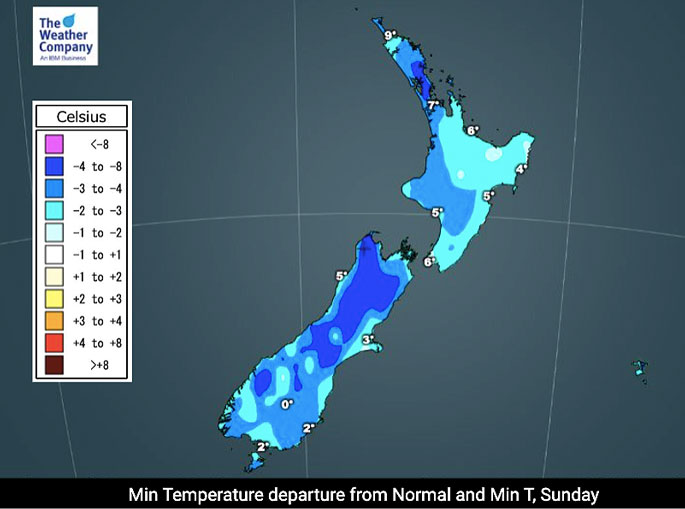 More on SunLive...