Fog, thunderstorms and possible hail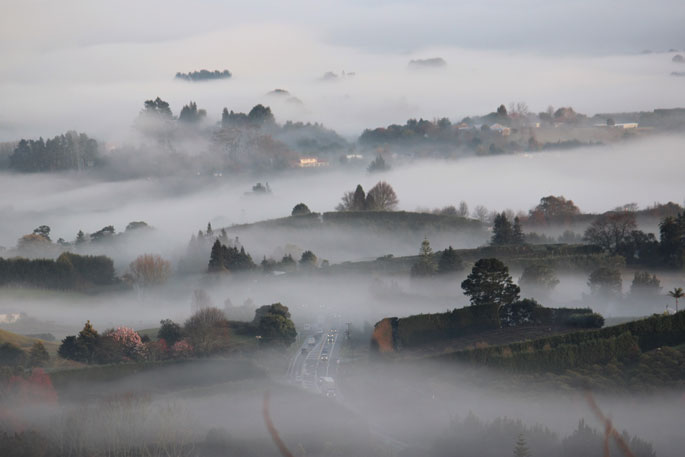 Thunderstorms and hail are on the cards for the Bay of Plenty this afternoon.
The MetService is forecasting morning showers to turn frequent this afternoon, before clearing overnight.
Northwesterlies are expected to turn southwest late evening.
The Bay of Plenty has experienced some a lot of different weather in the past 24 hours.
It rained for most of the day on Thursday, before a brief burst of sunshine around 4.30pm. Rain then set in again later in the evening.
This morning, many people woke to fog blanketing the region.
A photo sent in from Richard Allen shows the extent of the fog from Te Puna heading towards Katikati.
People have described it as an eerie sight.
The MetService says there is an unstable northwesterly flow covers northern and central New Zealand, with bands of heavy showers and thunderstorms moving in from the Tasman Sea.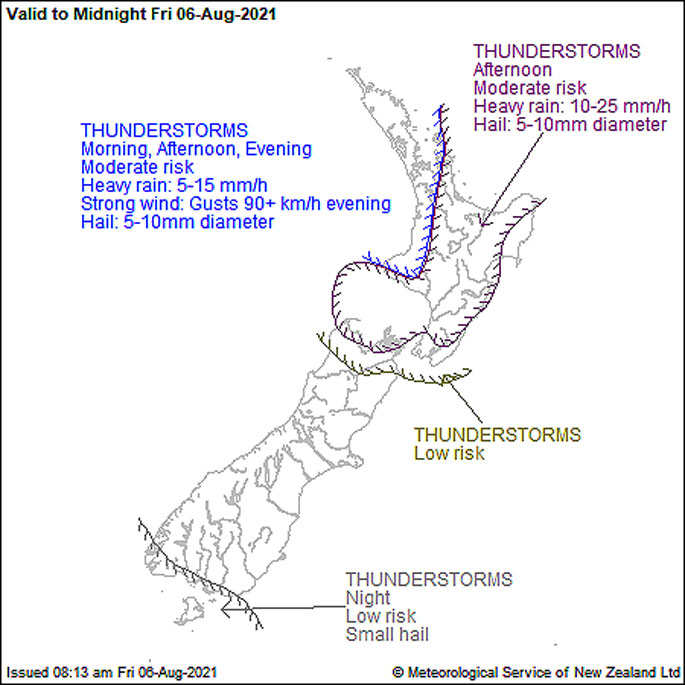 There is a moderate risk of thunderstorms in the region this afternoon. Image: MetService.
"The flow turns southwest late in the day as a broad trough of low pressure passes over the North Island," says a spokesperson for the weather organisation.
"There is a moderate risk of thunderstorms from Northland to Taranaki until tonight, and about much of the remainder of the North Island plus Marlborough and Nelson this afternoon, as indicated on the chart.
"Otherwise, the risk of thunderstorms is low from Marlborough and Nelson northwards today. These thunderstorms will be accompanied by brief heavy rain and hail.
"Wind gusts of 90+km/h are also likely with squally thunderstorms about Northland and Auckland this evening."
Meanwhile, a cold front moves onto the southern South Island tonight, followed by cold unstable west to southwest winds.
There is an associated low risk of a few thunderstorms with hail about the south coast and Stewart Island.
No other thunderstorms or significant convection expected over New Zealand today.
More on SunLive...