Tauranga woman's 24 hour walk for Hospice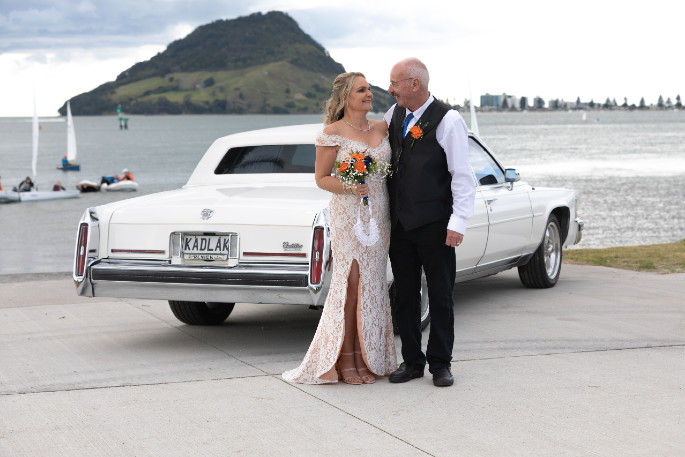 Tauranga woman Debra McLean is on a mission to raise $8000 for the Waipuna Hospice.
Debra is planning a 24-hour walk around Mauao on Friday in honour of her late husband Phil.
Phil McLean was diagnosed with stage four bowel cancer in October 2018 and spent the final 24 days of his life cared for by Waipuna Hospice before losing his battle with cancer in February.
The fundraising walk is her way to give back the Hospice.
Debra and Phil were married on August 8, 2020, but their story began many years before.
"I had known Phil since I was knee-high to a grasshopper, but we didn't get together until much later, after life had taught us a few lessons," says Debra.
"We were soul mates. He was the best thing that ever happened to me and I was the best thing that ever happened to him. We were meant to be."
Debra says Phil remained positive until the very end.
On February 8, 2021, after a courageous fight and on their six-month wedding anniversary, Phil lost his battle with cancer.
Starting at 2pm on August 6, Debra will begin her walk around the base track of Mauao and the surrounding streets, in a figure of eight loop for the entire 24 hours – pulling inspiration from the important numbers and milestones in their life together.
Helped by a support group made up of friends and family, Debra is determined to complete the 24 hours and says anyone is welcome to join her for part of the walk.
"Phil's motto in life was to never give up, and he didn't until the very end," says Debra. "He never let cancer get him down and continued to laugh and remain positive for as long as he could.
"I intend to honour Phil and not give up on this challenge. I will walk the full 24 hours, and see it through to the end. I know it is going to be tough, but I have an amazing support network ready to help me, the community behind me, and Phil with me always, so I know I can do it."
The public is encouraged to support Debra and her fundraiser via: givealittle.co.nz/fundraiser/debs-24hr-walk-for-waipuna-hospice
More on SunLive...