Kerbside collections gaining momentum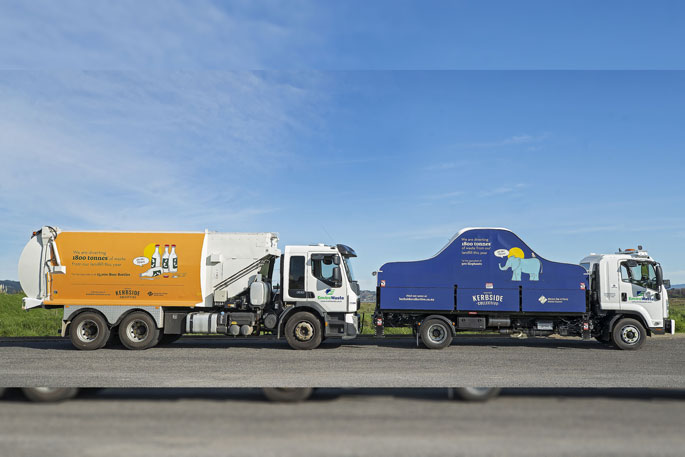 ­
After a month of kerbside rubbish and recycling collection service, great progress is being made across the Western Bay to divert waste from landfill.
More than 214 tonnes have been collected for recycling and composting in the opening month of Western Bay of Plenty District Council's new kerbside collection service, 99.8 tonnes of recycling, 77.6 tonnes of glass, and 37.5 tonnes food scraps. In the same period over 208 tonnes of rubbish has also been collected.
Deputy CEO and group infrastructure services manager, Gary Allis says things are going well but there's room to improve.
"When we started this service we estimated that households in the Western Bay could divert 1800 tonnes of food scraps, glass and recycling from landfill. The first month's data proves we're well on our way, but we need to keep up the good work.
"Minimising waste to landfill is our goal. The new kerbside collection service will transform the way people reduce waste and improve their opportunities to recycle."
"It starts with getting our recycling right. "
Gary says when a recycling bin is contaminated with dirty or unrecyclable items it can contaminate all of the recycling in truck and lead to the whole load going to landfill.
"It's so important that we put the right thing in the right bin and make sure our recycling is clean, or we could undo a lot of hard work."
To help keep track of progress a running total of waste diverted from landfill is now visible on Kerbside Collective website, and will be updated monthly.
Yellow lid recycling bins are for flattened cardboard, paper, egg cartons, plastic bottles and containers with the numbers one and two in the triangle, tin cans and aluminium drink cans. If you aren't sure which bin your item goes in, check out our handy sorter.
Top tips and reminders
• Remove all lids from recycling and glass containers. These go in the rubbish bin.

• All single use coffee cups go in the rubbish bin, compostable or not (these can contaminate compost).

• Clean and empty pizza boxes can go into the recycling; greasy boxes go into the rubbish bin.

• Freeze your food scraps until collection day, to keep the bin clean and odour free.

• No plastic or compostable bags or bin liners in the food scraps bin.

• Plastic recycling is limited to number one and two. If you're not sure, the rule is: if in doubt, throw it out. This ensures quality recycling does not end up in landfill.
Curious about where our waste and recycling goes?
• Glass bottles and jars – via Visy Recycling NZ to O-I Glass NZ in Auckland

• Tins and cans – to a local scrap metal dealer

• Paper and cardboard – onshore at OJI Fibre Solutions

• Food waste – Hampton Organics composting facility

• Plastics – will be recycled onshore with various local contractors. Some plastics will also be recycled offshore when required

• Residual rubbish – Hampton Downs landfill in North Waikato
About the Kerbside Collective
Western Bay of Plenty District Council's kerbside rubbish and recycling collection service services nearly 17,500 eligible households.
The new rates-funded service is designed to increase the amount of material diverted from landfill by about 60 per cent – around 1800 tonnes a year. On average each household District-wide produces about 640kg of waste per year, 380kg of this could be recycled.
More on SunLive...