Tauranga Council receive 7000 calls about bins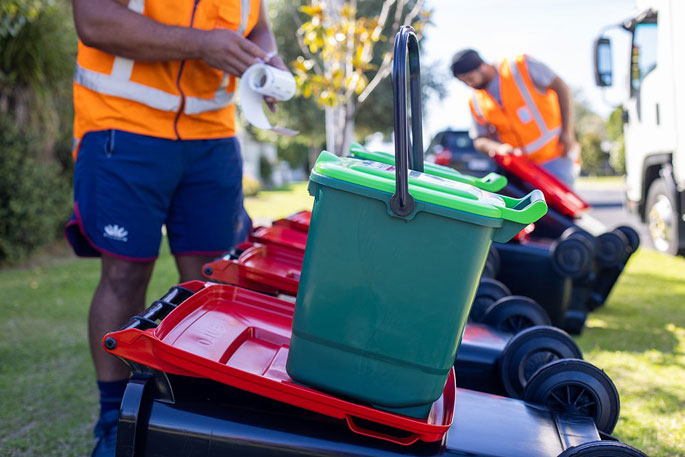 Tauranga City Council received 7000 calls in the first three weeks of the new kerbside rubbish system but recycling standards have seemingly been high among Tauranga residents.
The early stages of the kerbside rollout is a topic of discussion in today's Council meeting.
The new kerbside collection service was introduced at the start of July and has received a mixed response from the general public.
Council report they received around 7000 calls related to the new kerbside collection service over the first three weeks of implementation.
These calls relate to questions about what should go in each bin, when collections were taking place and requests over garden waste. Council also received a number of complaints, regarding missed collections or not receiving bins.
But Council's sustainability and waste manager Sam Fellows says that volume of calls was expected and that it now appears people are getting past the teething stage.
"Call volumes are higher than usual, but this was to be expected from an operation of this size," he says.
"Common themes include when to put the bins out, missed collections and what items go in each bin.
"Call volumes are now decreasing, which suggests residents are getting into the swing of the new service."
One resident who has not been happy with the service so far is Welcome Bay's Anita Eaton. She says she has been "fobbed" off by Council over bin grievances.
Anita should have been one of the first collections but her bin was missed in the first week.
After contacting Council, she says she was told they could collect her bin the next day if left at the top of the steep hill where her rubbish is collected.
However, that did not happen. Two weeks later she was still waiting.
"I got in touch with them and they said someone would get back to me so I got back to them again and again and again but heard nothing," she says.
"Look I know when you ring up it is not the people that answer's fault and they get the brunt of it. But when you are promised that they are going to ring you or at least email you and you get nothing after a week it is pretty bad.
"I feel really, really let down and disappointed by it to be honest."
Despite these immediate issues the early signs suggest locals have a good grasp on what can and cannot be recycled.
The Material Recycling Facility for Tauranga's rubbish has informed Council that contamination amongst recycled waste was much lower than what was expected, especially when compared to what other cities have seen in the opening stages of their own roll-outs.
A recent audit of bin collections in Whakatāne showed a disappointing amount of non-recyclable material being discarded as recyclable.
However, for now, Council are not getting carried away with that positive feedback with official statistics available next month.
"There is still work that needs to be done before we can announce contamination rates," says Sam.
"We'll be able to officially announce these early September."
More on SunLive...