Covid update here and around the globe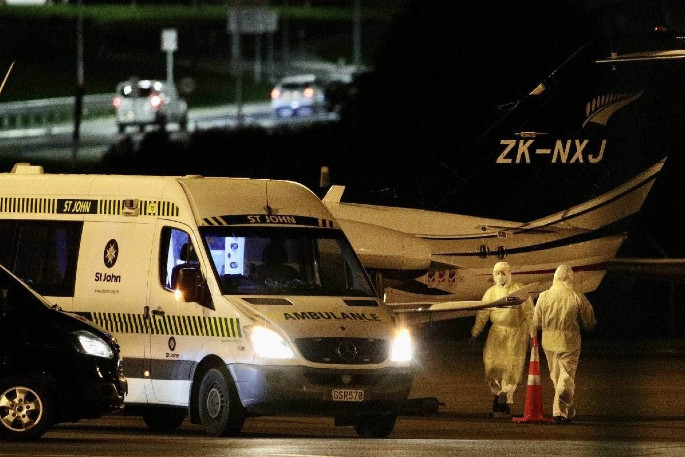 A staff member from Middlemore Hospital was placed in quarantine as a precaution, after a "PPE protocol incident" during the management of a Covid-19 patient who arrived in New Zealand from Fiji on Thursday night.
The DHB said the breach was minor, with other protections in place at the time. No one else was affected and risks from the incident were considered by the Ministry of Health to be low.
The patient from Fiji - a woman who works with the United Nations Development Programme - was said to be in a "critical stage" on Friday. She was receiving treatment in a "dedicated, secure" intensive care unit. Medically evacuating staff was part of the UN's dury of care who were deployed in high-risk situations, UN Resident Co-ordinator for Fiji Sanaka Samarasinha says.
Initially Auckland's district health boards refused to receive the patient from Fiji due to "capacity" constraints, but that decision was later reversed. The Ministry of Health says the three Auckland DHBs were working in an "extremely busy and dynamic environment" due in part to "higher than normal" winter illness, including RSV. National health spokesperson Dr Shane Reti says the initial refusal showed New Zealand could struggle to respond to a future Covid outbreak.
New Zealand's first Covid-19 mass vaccination event started at the Vodafone Events Centre in Manukau on Friday. More than 16,000 people were expected to get their first dose of the Pfizer vaccine at the three-day event, with one jab being delivered every 90 seconds. Organisers say the event so far was a "resounding success", but queues started building early Friday, and there were complaints about "chaos" on the buses bringing people to the centre.
On Friday, the Ministry of Health reported two new cases of Covid-19 in managed isolation and one new historical case.
A second crew member with Covid-19 was moved from the container ship Mattina to Southland Hospital on Thursday afternoon for assessment and care. The ship is docked at South Port in Bluff, and altogether 16 members of the crew have tested positive for the virus.
The two DHBs covering Wellington and the Hutt are hitting their Covid vaccination targets, but many older people have yet to get the jab. The Hutt Valley and Capital & Coast DHBs had delivered 126,000 doses by Thursday, and had 56,000 bookings.
Amid the outstanding performances by Kiwi athletes, the Tokyo Olympics continues with extensive efforts to prevent a Covid outbreak at the event. Each day about 30,000 people at the Games are spitting into tiny plastic vials in a daily Covid testing routine that organisers say has been crucial in the Games going ahead.
In Tokyo, case numbers are rising at the fastest rate so far in the pandemic, with 3865 new cases on Thursday and 3300 on Friday. Emergency measures in place in the city have been extended until the end of August, and the state of emergency in Tokyo will be expanded to four new areas on Monday.
Global toll
On Saturday morning the number of Covid-19 deaths recorded worldwide had topped 4.2 million, according to Johns Hopkins University.
There were about 197m confirmed cases.
The US had recorded 612,313 deaths, while the number of confirmed cases in the US was approaching 34.8m. Brazil had 554,497 deaths and nearly 19.9m cases, and India had 423,217 deaths and more than 31.5m cases.
Globally the number of vaccine doses administered was approaching 4.04 billion.
What should I do
Anyone who wants to get tested can find their local testing centres by visiting the Ministry of Health website.
Quarantine-free travel from Australia has been suspended. More information can be found here.
The country is at alert level 1, with masks still mandatory on public transport. A list of exemptions around mask use can be found here.
People should continue to use the Covid-19 tracer app. Some helpful tips on using the Covid tracer app can be found here.
If you are sick, call your GP before you visit, or Healthline on 0800 358 5453.
To avoid contracting and spreading the virus, wash your hands properly, cough and sneeze into the crook of your elbow and throw tissues away immediately.
Reach out, find support from people who care, connect with your community or help a neighbour in need.
More on SunLive...