Rescue reunion 21 years on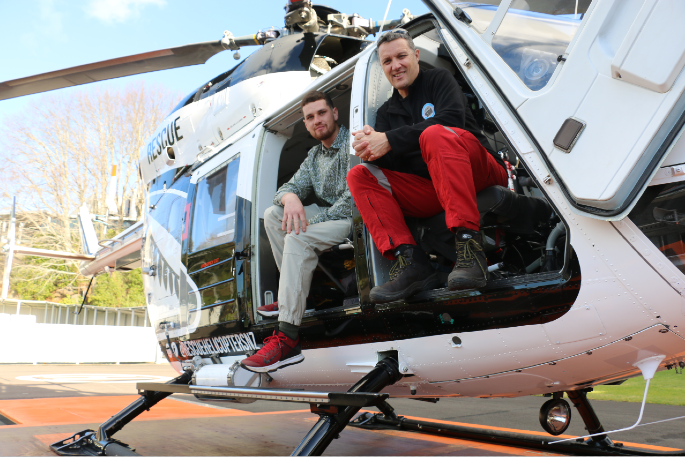 Emotions are visibly on show as a special reunion at Tauranga's Ian Pain Memorial Hangar, home of the TECT Rescue Helicopter, takes place.
Lathan Borell, along with his mother Jackie and other family members, is meeting the people who saved his life in the rescue helicopter's first ever mission 21 years ago.
Lathan was just two-years-old when an incident occurred that is seared into his mother's memory.
The toddler split away from the group at a farmhouse property in Whakamārama. After scrambling under a fence, the intrepid youngster fell into a septic tank which had filled with rainwater.
When Jackie's then sister-in-law Lee Geros, who had been taking the kids around the farm to stave off boredom, asked Jackie where Lathan was, the panic began.
"Everyone started running to this hole and said 'Lathan is in there'," she remembers, highlighting how she hurdled a fence with previously unknown spring to get to her boy.
"When I got there he was floating head down. It was a horrific experience. I can still see it, that vision will never go away."
Lathan's lifeless body was pulled from the water before Jackie held him in her arms, screaming.
"I was holding him and he was dead. His face was blue, his lips were blue."
Mike Geros, Lee's father, was working on the property's bathroom when he heard a "bloodcurdling" scream and jumped from the window to investigate.
When he arrived at the scene he found Lathan motionless and cold on the ground.
"He was tiny at this stage and was just like a ragdoll," Mike remembers.
"He was as dead as anything I have ever seen. I didn't hold much hope for him."
Mike, however, had some first-aid training but admits his methods were not by the book. At one point he was dangling Lathan by his feet. But he also performed CPR and started to see results, with Lathan coughing up volumes of water.
"Then he sort of convulsed and let out a little whimper, and then a hell of a cry came out of him," says Mike.
"I have never experienced a feeling quite like that. It was amazing."
The chopper, then known as the Tranz Rail Rescue Helicopter piloted by Liam Brettkelly, was there in minutes and Lathan, by this point out of immediate danger, was transported to hospital for check-ups.
Jackie admits the ride in the helicopter was as nerve-racking for her as it was her son, but praises the work of the rescue team.
"We went in the helicopter and it was my first time flying," she says. "I don't know who was shaking more - myself or my son - because I have got a great fear of heights.
"The rescuers were absolutely wonderful, checking he was okay and his vitals."
Lathan, now 23, travelled down from Auckland to meet those involved with saving his life, including Mike and Liam.
"I've been pretty excited about it," says Lathan when talking about his trip back to Tauranga.
"It actually feels great to meet them. Even if I did meet them when I was younger, I don't remember that. I'm relieved that I actually got to meet them in person."
For Liam, seeing Lathan grown up is clearly rewarding.
"We don't really know a lot of the outcomes," says the pilot, who remembers this rescue well despite the thousands of callouts the helicopter has received since.
"It is nice to catch up 21 years later to see he is doing so well. He's a young man now, making his way, which is awesome."
As for Lathan, he is pleased to have finally gotten the chance to say thank you to the people responsible for him still being here, 21 years after he was the Bay of Plenty rescue chopper's first rescue mission.
"This is something really important to me," says Lathan.
"It has always stuck with me - wanting to meet those that saved me. It is something I will keep with me throughout my life."
To donate to the TECT Rescue Helicopter go to rescue.org.nz/quick-donate.
More on SunLive...