Tauranga Takeover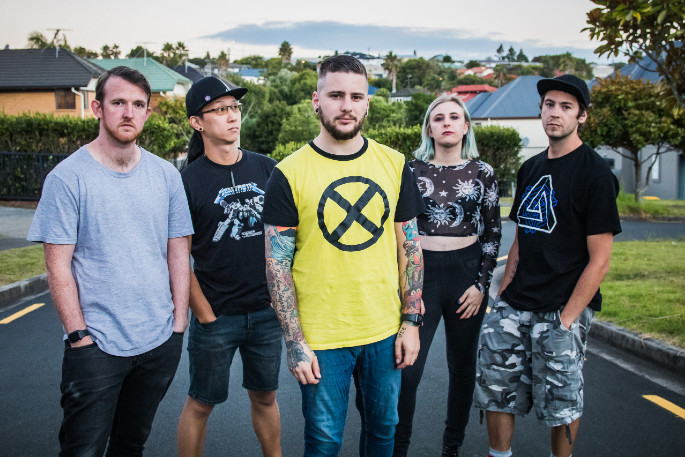 Calling all metalcore, groove metal, black metal and doom metal fans!
Tauranga is set to be taken over on Saturday by pop-punk and heavy metal bands.
"We've been wanting to start putting on shows again," says organiser and guitarist for Tauranga metal band Thy End Cometh, Blahr Stimpson.
"The last show we ran was just over four years ago, and we're getting together with six other bands to play to a very eager audience."
They End Cometh is a five-piece black/death/doom metal band made up of Josh Wanhill on bass, Blahr Stimpson (guitar), Ian Smilie (drums), Jeremy Wanhill (guitar) and Zak Scheerschmidt (vocals). The band has a focus on mental health issues but are ultimately five guys who enjoy heavy music and want to write music they enjoy.
"We love putting together and creating live shows where everyone - young and old, hence the show being all ages and alcohol-free - can come along.
"We want people to have a good time and see some really incredibly talented bands and musicians playing styles of music ranging from pop punk to the heavier side of music, being death metal and deathcore and everything in between."
Blahr says Pale Flag and Fire for Glory are making the trip down from Auckland. Fire for Glory will be celebrating ten years of being together as a band this weekend, which is quite an accomplishment for an unsigned outfit.
"Mega Maw and Leave the Dead are both travelling over from the Waikato," adds Blahr. "The rest of the bands are Tauranga based - Antebellum, Thunderchild, and us."
Antebellum, formed in 2016, is a three-piece melodic instrumental metal-infused rock band, influenced by 1980s rock through to modern metal music.
"We had another Waikato-based band, Divisionary, pull out due to their guitarist's wife being really sick and in need of a liver transplant. We are fundraising at the show to help them through this difficult time."
Blahr says the show is a "whole bunch of fun with some incredible people showcasing their talents and having a great time while they do it".
"We have the amazing food truck team C4 Street Food and Espresso supplying coffee and food, and the event is alcohol and drug free as we want this to be family friendly and aimed at young and old people alike."
Tauranga Takeover, an all-ages show, is being held at the Elizabeth Street Community and Arts Centre from 4pm on Saturday, July 31. Entry is $10.
More on SunLive...