Blackcaps school visit can inspire students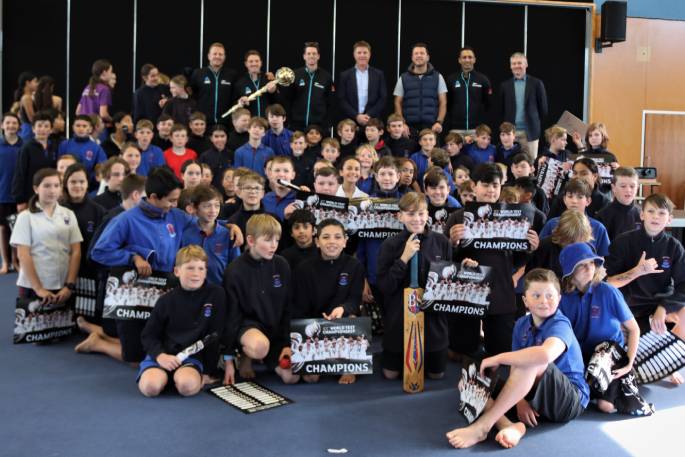 Tauranga Intermediate School principal Cameron Mitchell is hoping a visit from the world-leading New Zealand men's cricket team can inspire students at the school, whether they are cricketers or not.
Neil Wagner, BJ Watling and Mitchell Santner all visited the school this week as part of the Mace trophy tour, celebrating the Blackcaps winning the ICC World Test Championship last month.
Students from Tauranga Intermediate, and other schools across the area, were present and Cameron says he is happy his students got the chance to meet the world champions.
"It was a great opportunity for the students to witness something pretty special," he says.
"The first ever test match cricket champions."
For Neil, the South-African born bowler who now calls Pāpāmoa home, it was a pleasure to visit the school and hopefully inspire the next generation.
"I have been fortunate enough and lucky enough to do this as a job," he says.
"But we were there, in those seats at school watching our players and wanting to aspire to be them so hopefully we do that for young kids as well and be role models."
Cameron says the school has a strong cricketing background. He highlights Trent Boult, a fellow member of the world title winning side, and two other former Blackcaps, Doug Bracewell and Daniel Flynn, as examples of ex-pupils who have gone on to excel in the sport.
"So for students here it is no doubt a reality that you can go on to represent your country," he says.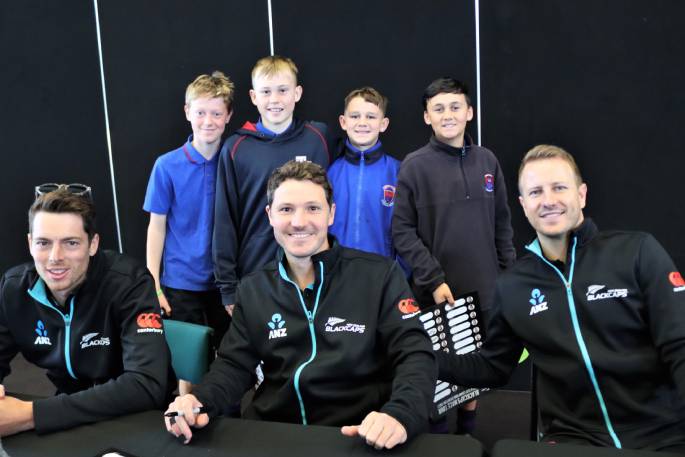 Mitchell Santner, BJ Watling and Neil Wagner visited Tauranga Intermediate School. Photo. Jen Jones.
But it is not just the cricket fanatics he is hoping the New Zealand cricket team can inspire. Their moniker as 'the good guys' of international cricket is well-known in cricketing circles and their humble approach, as well as elite level competitive success, makes them excellent role models in Cameron's eyes.
"I am just very honoured to host them," he says.
"The kids were very excited and it was inspirational not just for our cricketers but all our students with what they have achieved."
More on SunLive...