Desert Road shallow grave trial begins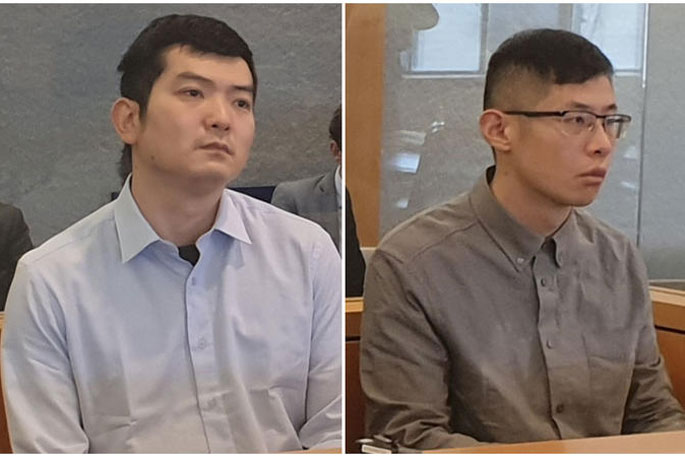 This story contains graphic details of violence.
A man whose remains were found in a grave off the Desert Road was killed because a meth-boss thought he had stolen drugs from their manufacturing ring, the Crown has told a jury.
The trial of two men accused of murdering Wang Baochang, known as Ricky, started in the High Court at Auckland on Monday.
Zhao Jianqi and Gu Zhicheng, known as Michael, are each charged with murdering Wang in August 2017.
Wang's body was found set in concrete in the central North Island two-and-a-half years after he went missing.
The court heard his body was so badly decomposed that a pathologist could not determine which of his injuries killed him.
Three men have already pleaded guilty to helping hide the body - Yu Gaoxiang, Piao Yanlong (Tony), Zhang Yuzhen. Now the trial for his murder has started, nearly four years on from his death.
The defence for both men said the Crown's case relies heavily on the account of "a successful and persuasive liar", Tony Piao, who claims to have blown the whistle on the crime.
"He has lied to all sorts of people, about all sorts of things. He has lied to the police, not just once, but a number of times," said Gu's lawyer, Julie-Anne Kincade QC.
The men deny any involvement in Wang's death.
The Crown said Wang's marriage started to fall apart in 2016. He had started to gamble, take drugs, and see prostitutes, and spent more and more time away from his wife and their child.
He started making and dealing methamphetamine with some friends, a group the Crown said was led by Zhao Jianqi.
But then that started to unravel, according to Crown prosecutor David Johnstone.
"Ricky Wang had made at least one fatal error... He either tried to go above Mr Zhao in the drug dealing hierarchy, trying to cut Mr Zhao out of the action, or when he was making methamphetamine he either bungled the cook or stole Mr Zhao's ingredients so he could make his own meth," Johnstone said.
Either way, Johnstone said, some of the group's lucrative supply of drugs was missing. The Crown said Zhao decided to kill Ricky Wang over this.
So one night, the Crown said, Zhao's associates lured Wang to a house in Massey in West Auckland, where a group including the other murder accused, Michael Gu, was waiting.
"On Mr Zhao's orders, his men at the house tied Ricky Wang to a chair... Michael Gu used a knife to cut Ricky Wang's arms, his chest and his stomach.
"His upper and lower jaw and his teeth were broken as a result of multiple blows. Blood flowed across the floor," Johnstone said.
He outlined how the group searched for an appropriate place to hide Wang's body - West Auckland, the Coromandel - before settling on the central North Island. Johnstone said they scrubbed the location of the killing with bleach and removed any evidence and cleared out Wang's apartment.
It was not until two-and-a-half years later that Ricky Wang's body was found, hundreds of kilometres away from that Auckland house, off a service road, Rangipo Intake Road, off the Desert Road.
And it might have remained there, but for one of the men who admitted helping dump the body, who cold called the police and told them what happened.
That man, Tony Piao, is now a key Crown witness. The court was told he was enlisted to help hide the body, and then got caught up in the drug trade after this. He was arrested early in 2018 in a drug bust in Mt Albert.
Piao had been a friend of Wang's. Wang had stayed with Piao and his family after his marriage broke up. The Crown said Wang had borrowed money off Piao and did not repay it, leading to some bad blood.
While in jail on the drugs charges, Piao contacted police to tell them his side of the story of what happened to Wang - to dob himself in, effectively, as well as bring down the others.
Ron Mansfield QC, acting for the accused Zhao, said the Crown's entire case rests on Tony Piao, who is completely unreliable.
"Who is Mr Piao? He was a loan shark, a brothel keeper, a commercial drug dealer in meth, a successful and persuasive liar," Mansfield said.
Mansfield said Zhao had no involvement whatsoever in Wang's death, and Piao would gain from lying about this.
Julie-Anne Kincade QC, representing the other accused, Michael Gu, put it more bluntly.
"Tony Piao is a liar... So many lies, about so many things, so many times," she said.
"There is not one piece of evidence outside the word of Mr Piao that places Mr Gu before you for your consideration. What Mr Piao says about Mr Gu is a lie - it's a preposterous and outrageous lie. Mr Gu did not stab Ricky Wang or kill him in any way."
The trial is set down for four weeks, in front of Justice Lang and a jury.
More on SunLive...