Career connecting at Canvas Careers Expo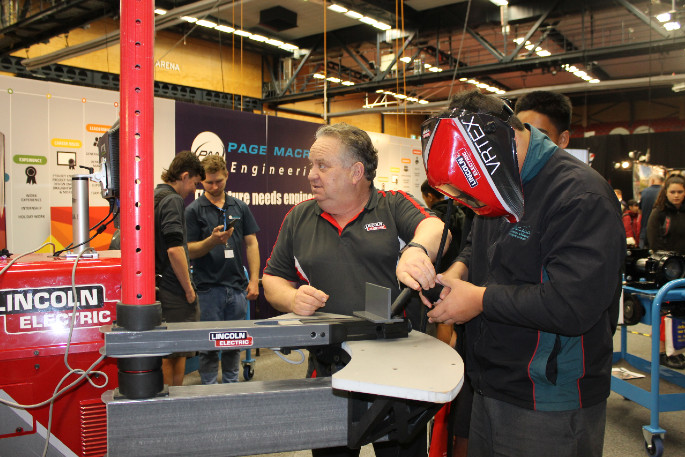 Whether you're looking for a new career, or you have a son or daughter grappling with their career options, the Canvas Careers Expo is the place to be this Friday and Saturday at Trustpower Arena.
Hosted annually by Priority One and Tauranga Rotary, the free, two-day expo features interactive displays and representatives from across New Zealand, who are ready to engage and help students and adults alike plan their career pathways.
Organiser Sue Boyne from Tauranga Rotary says the expo is the perfect place to connect your dreams and skills with industry providers.
"The expo features interactive displays, university and training providers from across the country and some of our region's leading businesses," says Sue.
"No other expo is like it - especially because of the opportunity for those attending to chat one-on-one with industry representatives."
Sue says this year's expo line up is one of the best yet.
"Whether you're planning a career in engineering, diving, the trades, the beauty industry, media, the defence forces, tourism, law - or maybe you're just not sure what to do - this expo connects you with the right people to talk with and inspiring examples of what each career actually looks like."
As co-hosts of the event, Priority One sees the expo as a great opportunity to better prepare students for the real world.
"The reality is that we don't know what new jobs may exist in five-to-ten years; the future of work is always changing," says Instep manager Andy Howells.
"It might be more useful to think about the skills you have, the things you are passionate about and the kind of environment you work best in as starting points.
"And don't assume creative people cannot work in finance, or that structured thinkers cannot work in the arts; there's more flexibility than you might think in each sector and the expo is a fantastic opportunity to explore this."
Whilst Friday sees bus-loads of school kids from colleges across the region attending, the Saturday is earmarked for the public and return visits by students.
"We often see a lot of students return on the Saturday, with their parents or care givers, for a more in-depth discussion with some of the exhibitors," explains Sue.
"Saturday is also a great opportunity for people of any age to come in and consider a change in career or upskilling. This expo is really for anyone wanting to connect with career possibilities."
The Canvas Careers Expo runs from 9am–3pm next Friday and Saturday, July 30 and 31, at Trustpower Arena, Baypark and is free to attend. Visit: www.canvascareers.co.nz
More on SunLive...