Tauranga woman's surprise concert engagement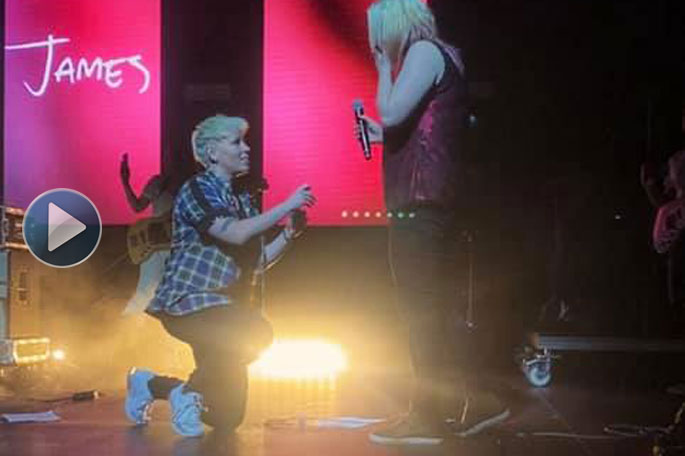 A surprise engagement became a show stopper on stage at singer Mitch James' concert in Hamilton on Saturday night.
Tauranga woman Kat Clark, 30, had set up the plan with Mitch himself, after talking to him on his live Instagram, telling him she wanted to propose to her girlfriend Hannah Mae, a senior florist.
"Hannah is a massive Mitch James fan, so I got her tickets to his show for her birthday! After chatting to Mitch we made a plan where he would invite us on stage," says Kat.
"After a song, he said out to the crowd 'I think we have a surprise, and he looked straight at me and said let's go get up here.' Hannah didn't know he was looking at her telling her to get up on stage so it took her for a few seconds, and I said to her 'just go with it, just go.'
"Hannah had no idea what was happening, but soon there I was down on one knee in front of thousands, with a ring I had got months earlier."
In the background was one of their favourite Mitch James' songs, Got Today.
"Mitch came over on stage to congratulate us and spoke to Hannah - she was so thrilled to meet him. The crowd made it epic I think," says Kat.
"They were so accepting and loving. When the show stopped for a break we went out to get a drink and we were swarmed by hundreds of people!"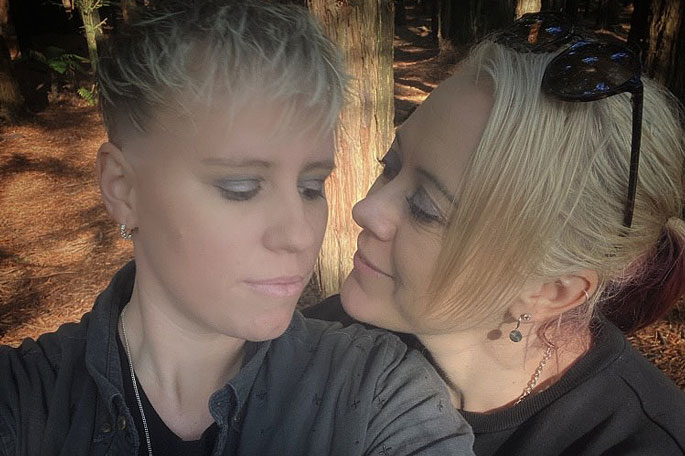 Kat, left, and Hannah.
Kat, who works as the Support and Engagement Manager at Waikato University in Tauranga, has come a long way from the shy girl at school who used to isolate herself in her bedroom and self-harm, because she was terrified to tell people she was gay.
"At my religious school, we would be told things that it is wrong, that gay people go to hell. I felt so awful that I attempted to take my own life. I am thankful I survived because with support, I came out to my parents who totally accepted me."
From that experience, Kat has become what she calls a "Rainbow Warrior", advocating for LGBQTI+ in the community.
"Love is love, and everyone deserves love," says Kat.
"I wouldn't want anyone else to go through that feeling of fear, confusion and depression that I had growing up."
Kat started the first Tauranga Pryde meetings here, and continues to provide ongoing support at the University of Waikato.
She did a TEDx talk "Your words have the power to end suffering pf LGBTQI" and has won two Youth Week awards.
She is a Local Hero New Zealander of the Year.
Kat's friends and family were delighted by the proposal.
Adopted by her Kiwi parents from a Russian orphanage when she was just three, her adopted parents have always supported her on her journey.
"Everyone felt it was a special and meaningful proposal. I remember texting dad that I had met someone and he replied 'Cool, what's his name?', And I replied 'It's a her'. And he replied 'Cool, what's her name?'. Just like that - with acceptance and love."
The girls now will get stuck into the wedding planning, and there will be one special guest.
"We will be inviting Mitch James to our wedding that's for sure. He's the most humble guy, and so fun to see live. What an awesome dude, so big thanks to him and his team for allowing me the opportunity."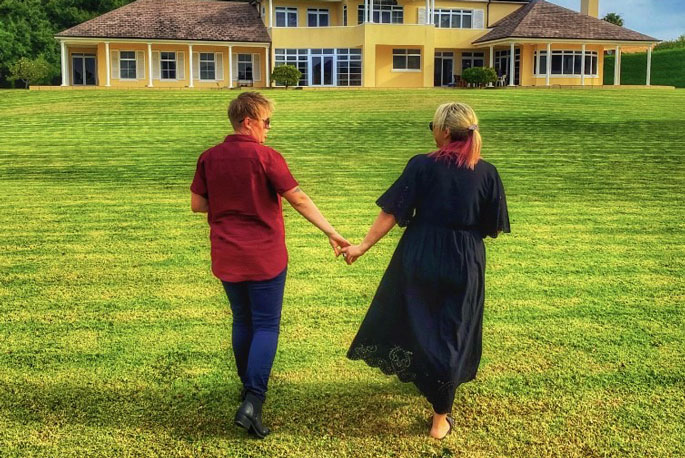 The couple are now busy making wedding plans.
More on SunLive...