Power of pizza and song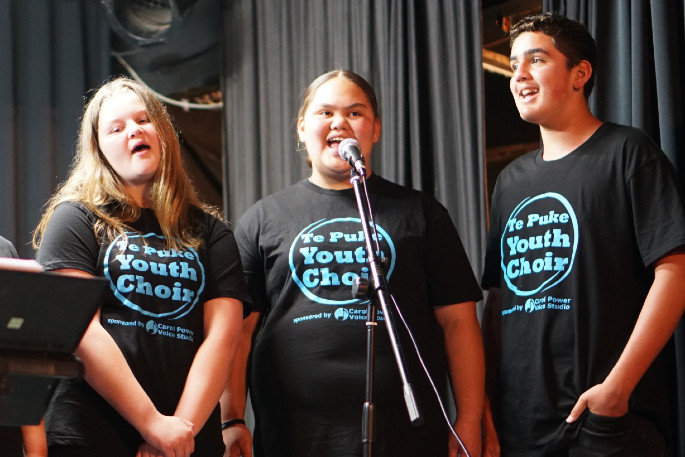 Pizza and song is bringing Te Puke youngsters together in a way that only food and music can.
Te Puke's Youth Choir has over 25 members, and they'll be singing at a free monthly pizza night at Te Puke's Daily Café in August.
Director Carol Power has been running the after-school choir at Te Puke Netball Centre for the last two years, taking them to sing once a term at the Daily Café.
"This is no ordinary choir," says Carol. "The kids get to dance and move to the music; they choose songs ranging from pop, rock, country, RNB, soul, gospel, musical theatre and cultural songs."
Open to any pupil from 5-to-15, the junior choir - age 5-9 years - meets after school on Tuesdays, and the senior choir - age 10-15 - after school on Wednesdays. The cost is $40 a term, per student.
Carol gives her own time freely to the choir as she believes that it's important for her community.
"It's building kids' confidence and is an alternative to sport," she says. "They learn to sing and it helps with literacy.
"It's also about working together as a group, and they learn to be part of a community and sing at different events."
The choir's values include being kind, having fun, and building confidence and inclusiveness.
"At present we are working on music videos, which are student-driven and lots of fun," adds Carol.
As well as performing locally, the choir has sung at the Bay of Plenty Garden and Art Festival, the opening of the new Te Puke Stadium and Te Puke's Christmas in the Park.
"The choir sings all over the place, but we love singing at the Daily Café's pizza night as it has such a lovely community feeling."
"It's amazing how much the Daily Café give to the community. They also run lunches in the school programme in the Te Puke area."
Carol, who has an MA in Music with Contemporary Singing and a Bachelor of Teaching, is also a registered music teacher, but sees the youth choir as a way of giving something back.
"I come from parents who believe in serving our community."
She would love people to help sponsor students who are keen to join the choir.
"For $40 a term, they get afternoon tea, printing, hall hire, music rights and a tee shirt. The hall hire money goes to the netball centre, so that's another way to indirectly support that organisation as well as the choir."
If anyone wants to join the Te Puke Youth Choir, find them on Facebook, email Carol Power at: carolpowervoicestudio@gmail.com or call: 027 498 3947.
More on SunLive...