Nine-year-old chef crowned king of the salmon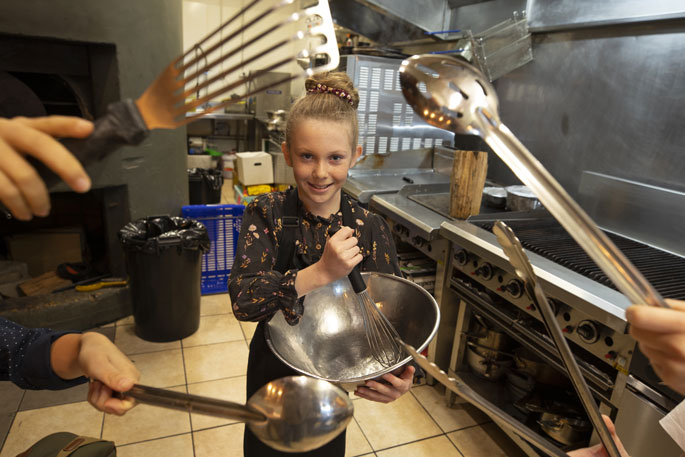 Tauranga young chef Sabine Hislop's winning Ora King Salmon dish will be featured on the menu at Norris and Bell this Saturday.
Nine-year-old Sabine and fellow chefs Katy Picard and Alex Morgan, both 10, have battled it out during the school holidays to get their dish on the menu.
The trio were part of the Norris and Bell Junior Chef Competition, which called on kids from all over the Bay of Plenty, aged eight to 13 years old, to put together their best recipe and post it on social media.
The three finalists, carefully picked out of 24 entries, cooked for a panel of five judges this week in the Norris and Bell restaurant kitchen on The Strand.
Judging took place on Thursday, with Sabine, who attends Ōmokoroa Number One School, being announced the winner of the competition.
"All three finalists did an outstanding job," says the judges.
"Every element of this dish had a purpose that worked with each other. The dish was full of flavor and beautifully balanced. Loved the Ora King caviar."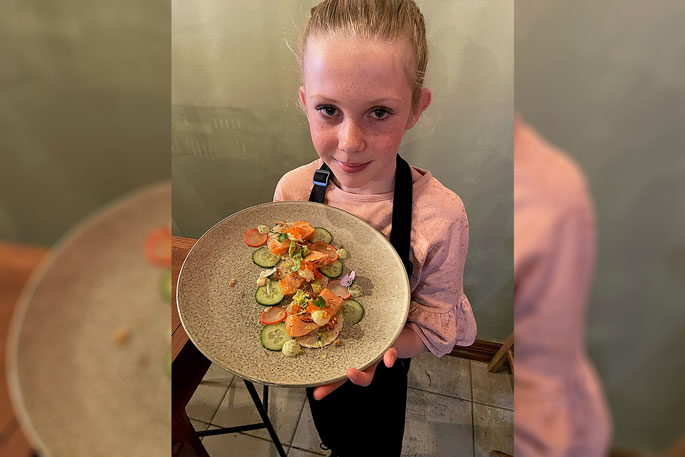 The winning dish. Supplied photo.
Not only will Sabine have her dish on the menu from July 24, but she will have the opportunity to join the team as a volunteer on the night.
She will also receive her name engraved on a chef's knife and $300 worth of vouchers to enjoy with friends and family.
Norris and Bell chef Daniel Lee says the competition was a way to do something for the community.
"Our aim was to get families to come together through something as simple as food," he says.
"It was to get children to learn about food; to see where it comes from, what other foods are out there and not just what sits in front of them on their plates.
"But mostly, it's not just a competition, it's more about the experience and doing something fun during the school holidays."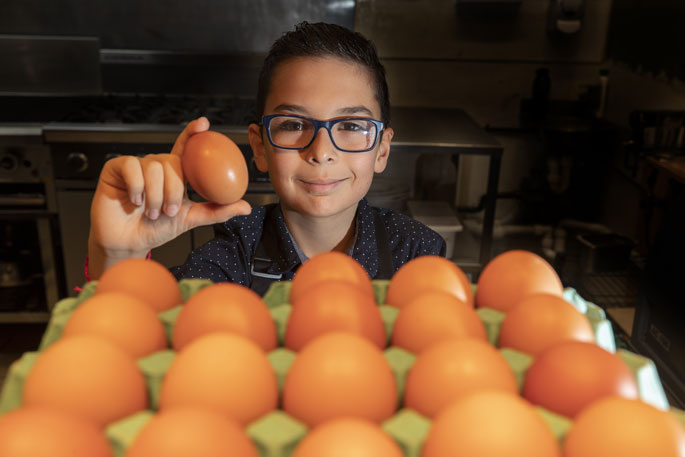 Alex Morgan. Photo: John Borren.
Welcome Bay Primary School student Alex Morgan, 10, says he's been cooking since he was about four.
Although Alex wants to be a Black Caps cricketer when he is older, he also enjoys cooking with his family, especially when he's making pasta.
For Alex's entry, he created deconstructed lamb meatballs, which he says were really fun to make.
"I'm quite excited for the competition but also nervous," says Alex.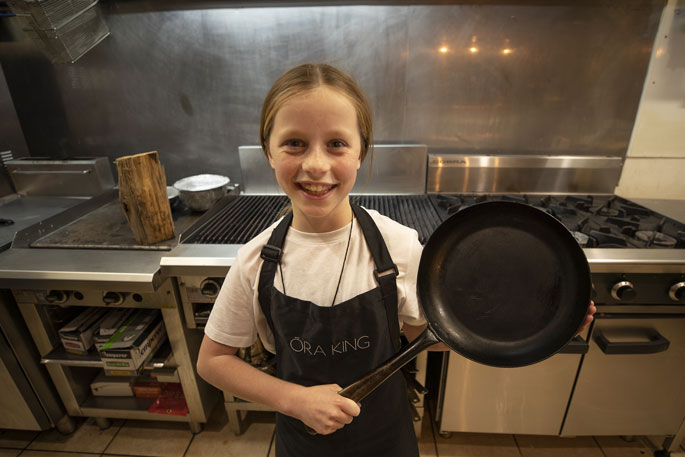 Katy Picard. Photo: John Borren.
Pahoia School student Katy Picard's game plan for the cook off is not to rush and to follow her steps carefully.
The 10-year-old, who loves to bake desserts, created a lemon meringue pie with homemade ice-cream as her entry, but her final dish is being kept a secret.
More on SunLive...