Radio tags future-proof Tauranga bins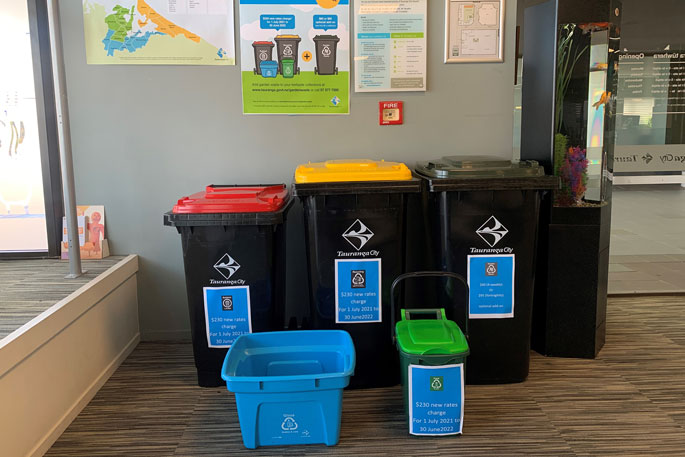 Both Tauranga City Council and Western Bay of Plenty District Council suggest the fitting of bins with radio frequency technology has future-proofed the rollout.
The councils implemented their new kerbside collection service across the area at the start of the month.
The new bins, which have received a mixed reaction from the community, are fitted with radio frequency identification, known as RFID tags.
Tauranga City Council highlight the fact the bins are now prepared for any future changes to a pay-by-weight system, should the community want that change.
"These RFID tags also future proof the bins," says TCC's sustainability and waste manager Sam Fellows.
"We now have the option to switch to a pay-by-weight system when the technology becomes available."
WBOPDC also confirm the implementation of the RFID's gives them scope for changes going forward.
"In the future we may be able to use this technology to assist with charging for refuse collection and disposal," says WBOPDC deputy CEO and group manager infrastructure services, Gary Allis.
The tagging system will also help prevent the loss or theft of any bins.
"Currently, our bins have RFID tags coded with the address they are assigned to," says Gary.
"This will assist us with locating lost or stolen bins as the tag is scanned each time it is lifted.
TCC also confirm the RFID's main purpose will be to ensure the bins are not going missing as the key reason behind the RFID system being utilised.
"With an operation of this size, we need to keep track of bins in the community and identify lost or stolen bins," says Sam.
"That's why we have fitted all council kerbside bins with a radio frequency identification tag."
Other rollouts of bins with similar RFID tags installed across the country have caused some controversy.
As reported by RNZ, implementation of a similar scheme in the Hutt City Council area led to a small number of people taking to social media with varying conspiracy theories.
Such theories are also doing the rounds on social media throughout Tauranga, again, on a small scale.
One social media comment suggests it is "state control".
"Why on earth does rubbish need to be tracked with radio frequency identification."
But TCC point out the type of RFID being used in the area are in common use.
"RFID technology is very common these days," says Sam.
"It's used in libraries, stores and even when microchipping our pets."
More on SunLive...