Increased heat flow observed at Whakaari/White Is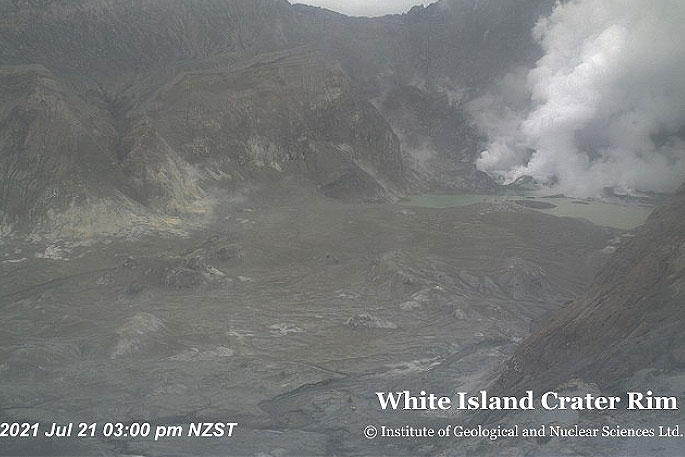 Increased heat flow confirms there is ongoing volcanic unrest at Whakaari/White Island, reports GeoNet.
An observation and thermal infrared measurement flight has confirmed high temperatures are again present, says duty volcanologist Michael Rosenberg.
"These are from locations on the 2019 lava extrusions where high temperatures have been recorded before.
"These observations confirm the source of glow on the web cameras. There is no evidence of eruptive activity."
The Volcanic Alert Level remains at 1.
Further information about the volcanic alert levels and what they mean can be found at https://www.geonet.org.nz/about/volcano/val
Observation flights on Thursday, July 15, and Tuesday, July 20, have confirmed that the 2019 Primary Crater remains flooded, with minor steam/gas driven activity occurring around that area.
Michael says emissions from the small steam vent formed in early June on the north side of the 2019 crater have also declined.
Other steam and gas vents remain active and unchanged.
"There is no evidence of eruptive activity. Thermal IR measurements on July 15 ranged from 498 to 654°C for vents on the 2019 lava extrusions (domes) and show a dramatic rise from 110-111°C measured there in late May-June.
"The high temperatures are like those measured in early-mid 2020."
Volcano-seismic activity, including volcanic tremor, has generally remained at low levels during the past months.
But Michael says there have been exceptions.
On June 2, there was a short-lived tremor episode.
He says discrete acoustic signals were recorded on June 18, and then overnight on June 19-20 some sharp increases and decreases in acoustic signal occurred with related geysering in the new vent north of 2019 Crater.
"A 15-minute-long low frequency volcanic earthquake was recorded on June 30.
"Night glow, reflecting higher vent temperatures, has been present since the 30 June earthquake."
For several months, ground elevation change derived from the InSAR satellite data has consistently showed minor uplift of an area near the 2019 Primary Crater.
However, in the past few weeks a mix of signals has indicated both subsidence and continued uplift.
A gas flight yesterday has confirmed that the amount of gas being released from the volcano has not changed significantly over the past few months, says Michael.
"The volcano continues to produce a weak-to-moderate gas and steam plume, and this may continue to cause weak acid rain downwind of the island.
"Recent observations and data confirm volcanic unrest continues, albeit with some variability."
More on SunLive...