NZ broadcasting stalwart Philip Sherry dies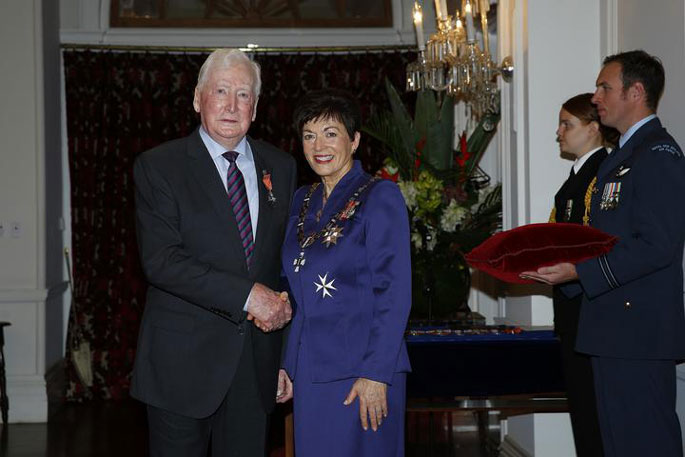 One of New Zealand's longest-serving newsreaders Philip Sherry has died at the age of 87.
The Papamoa resident was one of the nation's most prominent journalists both on radio and television, presenting for RNZ, TVNZ and NZBC and notably reading the very first news bulletin on TV3 when it launched in 1989.
He was also a Bay of Plenty regional councillor for 12 years.
The Tauranga community has paid tribute to Sherry, with many people commenting on Facebook.
Many people describe him as a "wonderful man" and a "really fine gentleman".
He has also been called one of the "great newsreaders".
Former newsreader Judy Bailey says he will be remembered as a consummate professional, with a great sense of humour.
"His voice had that wonderfully credible, mellow delivery. He was, I think every man's newsreader.
"He'll be remembered for his professionalism and his wonderful, dry wit. He could be very funny in a kind of droll and understated way."
Judy says his professionalism was something she always aspired to.
"You could always rely on Philip.
"No matter what was going on he was always a steady, calm presence... I don't think I ever once saw him flustered.
"My thoughts are with [his family]."
In a 2004 interview with the Bay of Plenty Times, Philip spoke of working for both Morning Report and television news at the same time.
"I started work at 5am for radio and would be reading the television news at 9pm. It was a longish day but very disciplined."
"Sherry belongs to a generation of news readers who were committed to the formal bulletin format," NZ On Screen wrote in its page dedicated to Sherry's career.
"The style, which Sherry would in New Zealand become emblematic of, was focused on a single reader concisely delivering news, without personal comment."
After retiring from news reading in the early 1990s, Sherry moved into politics, including six years as deputy chairman of the Auckland Regional Council and a councillor in the Bay of Plenty.
In 2018, he was named a Member of the New Zealand Order of Merit for services to local government and broadcasting.
More on SunLive...