Bay weightlifter takes home gold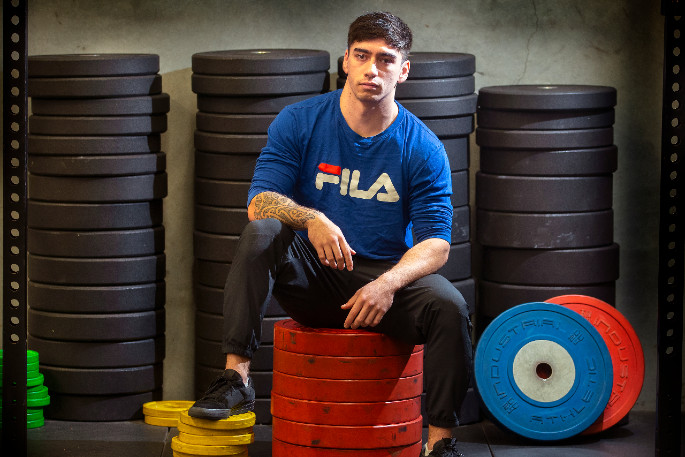 A self-trained Bay of Plenty weightlifter won gold at the recent 2021 North Island championships.
Former Tauranga Boys' College student Xavier Albert, 23, took home first place with a personal best lift of 165kg at the event, and will head to the NZ Nationals Competition in October as a result.
The Fielding event earlier this month brought together athletes from all over the North Island, and featured over 150 competitors.
Xavier says the competition is the biggest he's competed at so far.
"I first got into weightlifting as a hobby when I was in school," he says.
"The very first time I picked up the bar was when I was 15. My close friend introduced it to me because he used it to get stronger for rugby.
"I didn't start weightlifting properly until about three years ago.
"I pursued it because I loved it. I just enjoy training and being in the gym more than anything."
Xavier went into the North Island Champs determined to set a marker of where he wants to be.
And after making a statement to New Zealand Weight Lifting, there's little doubt he's heading in the right direction.
"If I didn't hit the numbers I wanted, then I would know what I needed to work on in the future," says Xavier.
"I always get silver, so it was pretty overwhelming that I got a gold."
Xavier says during the whole competition, his mind-set was to not worry about the numbers.
"I was in a phase where if I hit a good number then it wouldn't matter to me because I had more numbers to hit.
"Because it's such an individual sport, you have to worry about your own numbers, and you can't really think about others.
"My whole focus was just on me, and if anything, I just love the atmosphere of the competition," he says.
Although weightlifting is a solo sport, Xavier says other athletes and competitors support each other throughout.
"When we were all warming up, Cam Urgert, who got second, was right next to me saying things like 'you got this' and 'put on a show'.
"He's one of the best lifters in New Zealand and is also an NZ representative, so all credit to him and also Jordan Robert, who got third."
For Xavier, his competing days have been quite different to many others around the country.
He hasn't had a coach throughout his competing years, but has benefitted from having the right people guide him at times.
"It's quite rare to not have a coach, but when you're out on the platform you're your own coach anyway," he says.
"It's an individual sport and you have to coach yourself.
"I stay motivated through a love of the sport and the curiosity of it."
More on SunLive...