Heavy rain expected this afternoon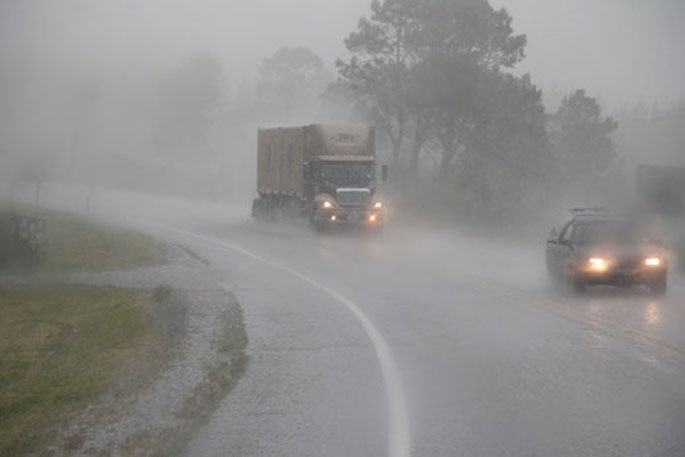 WeatherWatch advise that a vigorous front is moving over the North Island today bringing heavy rain to some western regions and very strong northerly winds.
Police advise that everyone on the roads drive to the conditions and take extra caution.
For the Bay of Plenty, Waikato, Auckland and Northland more showers are expected during the morning with heavier rain in the afternoon. Temperature highs are expected to be around 17 to 18 degrees Celsius.
"Heavy falls are possible then easing in the evening as strong northerlies - gale force at time especially about the coast - then change northwest," says a WeatherWatch spokesperson.
"The top of the South Island still sees some very unsettled weather which should start to ease from afternoon."
Earlier, a cow was spotted wandering on N.o. 1 Road near Te Puke but Police report that the cow has now been found and returned to its paddock.
Western North Island (including Central North Island)
Rain, heavy in areas especially about Taranaki then elsewhere from afternoon. Strong northerlies, gales about the coast then changing northwest in the evening with rain easing to showers.
Highs: 12-17

Eastern North Island
Cloudy, rain develops about Wairarapa in the morning then spreading northwards during the afternoon. Gust strong northerly winds tend northwest later in the day, conditions clear up at night.
Highs: 17-19

Wellington
Rain, becoming heavy by midday then easing in the evening as gale northerlies (possibly severe) tend strong northwest.
High: 14-16

Marlborough & Nelson
Heavy rain, strong to gale northerly winds, especially about coastal areas. Rain eases to showers in the afternoon as winds change northwest.
Highs: 14-17

Canterbury
Mostly cloudy with scattered rain, mainly north of about Banks Peninsula. North to northwesterly winds, perhaps tending southwest for a time in the afternoon south of Christchurch along the coast.
Highs: 9-14

West Coast
Rain, there may be a few heavy falls and thunderstorms, more so about North Westland and Buller. Northeasterlies tend to the northwest in the afternoon.
Highs: 11-14

Southland & Otago
Mostly cloudy, some morning rain then clearing. Showers start to push back in from evening.
Highs: 7-12
More on SunLive...