A lifetime of outdoor living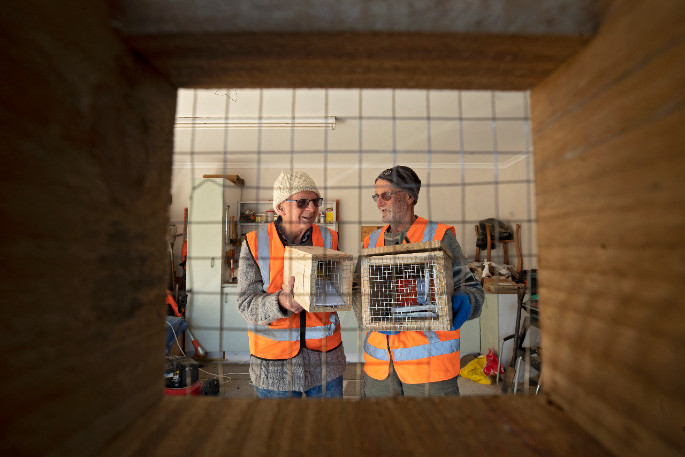 Colin Hewens and Des Gardiner have spent their fair share of years in the bush.
From building tramping huts during the Second World War, to trapping pests in their later years, the two Bay of Plenty locals have volunteered years of their lives to ensure New Zealand's bush is safe and enjoyable for both wildlife and the community.
Every week, Colin and Des head down to a part of the Kaimai Mamaku State Forest Park to carry out volunteer work for the group Friends of the Blade.
Although the name sounds like the title of a fantasy fiction novel, the Friends of the Blade is a group that aims to protect the bush and birds in a part of the Kaimai Range by pest eradication.
It was established by Colin in 2016 whilst volunteering with Friends of Puketoki in Whakamārama.
He started the group with eight trapping lines which were 75 meters apart, creating a grid of traps stretching over 80 hectares.
"Over the years we've expanded to 23 lines over 240 hectares," says Colin.
"As the trapping lines grew, so did our volunteers."
Since May 2016, the group have noticed a steady increase in bird life around the area - proof that their hard work is paying off.
"We do bird monitoring every three months," adds Colin. "We go to five different spots around the walkway and listen for five minutes at every spot.
"Our volunteers have noticed the birdsong has increased.
"The toutouwai (North Island robin) now follow you along the tracks. The birds eat off the ground, so when you walk your feet kick up the dirt for them."
Des, who first started volunteering with pest eradication groups 21 years ago, grew a passion for the outdoors when he was still in school.
"The Auckland Tramping Club started a junior section during the war," says Des, "so I spent the Christmas holidays working on a hut in Ruapehu.
"I have since been back for my honeymoon and my 90th birthday. It is still there almost 80 years later, and has now been donated to a collection of schools."
Friends of the Blade has completely taken over the 92 year-old's garage, which is something he doesn't mind.
Des' garage is filled with traps that he builds himself for the group, and his freezer is filled with deer carcasses which are used for bait.
Colin, who spent his childhood in the UK, says he got out into the nearest thing he could find to the bush in urban London.
"When I came out to NZ in 1962, I loved the access to the forests," he says.
He decided to become a teacher, and specialised in outdoor education. During his first position at Matua School, he took the kids on a bush camp.
"It was a fairly unusual thing to do in the 1970s," says Colin.
After moving to Otūmoetai Intermediate, he started taking regular camps into the bush at Ngatuhoa Lodge.
"I got some kids together and we marked up all the tracks at the Lodge so that other teachers and groups could use the area safely," says Colin.
"I took up a lot of practically useful kids — the kids who shone in their camp as being real outdoorsy. After that we ended up as a club called the Illusive Trackers.
"We did tracks when Forest Service wasn't, and in 1976 we assembled a hut on the ridge of the Kaimai Range with 80 Elusive Trackers.
"We assembled that hut in one day, slept in it, and walked out the next day. It's still there.
"That's where my love for the outdoors stems from; seeing the results of kids when they're exposed to nature, especially the less academic kids as they get so much out of it and it changes their attitude to school."
Although both Colin and Des have a history with the bush, and enjoy their time with Friends of the Blade, they are now both looking to the future of the group.
"In the modern day, volunteering has reduced from what it used to be in the 70s and 80s where society was more inclined to volunteering," adds Colin.
"I am so grateful towards our 40-odd volunteers because they always come back. Wet, cold, dry - they always turn up.
However, Colin says the average age for volunteers with Friends of the Blade is 65-plus.
"We're currently in the process of getting a new leader. We're going to break up my commitment into manageable lumps for 15 or so other people.
"I won't be so involved after this year is through," says Colin.
"We are always looking for volunteers," says Des.
"With a pace maker and a bad hip, I can't walk the steeper tracks like I used to."
More on SunLive...