An end to a lifetime of memories at Little Waihi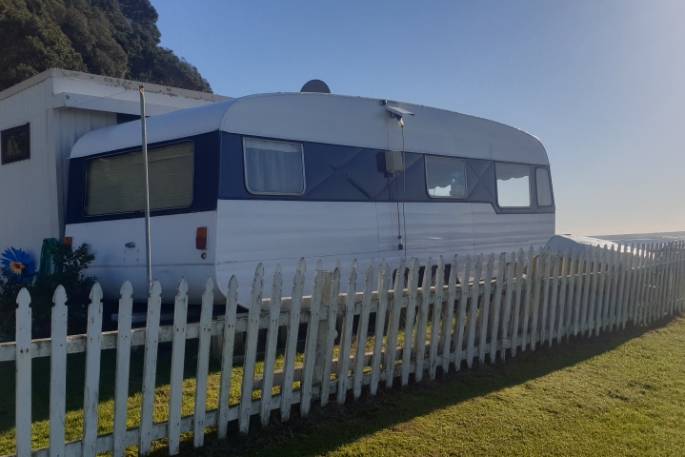 Permanent site holders at the Bledisloe Holiday Park in Little Waihi have been told to pack up their caravans and annexes, and move on.
The news comes as a shock to the 60 plus people that hold permanent sites there, with some having come to the area to holiday their whole lives.
The current lease holders, who have held the camp for 20 years, are retiring and with the new lease, the Bledisloe Holiday Park Board of Trustees have decided to add in some new requirements.
The requirements include the removal of any item covering a site between each booking (which can be no more than 50 days under the regulations).
This means that any caravans, buses or other structures that rest on a site must be removed after each stay.
Bledisloe Holiday Park permanent site holder Clinton Robertson has been going to Little Waihi every year for his whole life, and his current caravan has been in situ for over 35 years.
"I've been going to the camp for 44 years and I'm 44," he says.
"I first went to the camp in 1978, and haven't missed a year since.
"If my grandfather was still alive, he would have been going probably close to 50 maybe 60 years.
"Also, my mum has been going her whole life and she's currently residing there in our caravan on site. To us, the removal of the caravan and annex means her safe place will be gone.
"So people are upset, obviously very upset and quite distraught about it because it's displacing a lot of people, there's a lot of families that go there, some big families too."
Clinton says there's a lady in the camp who he's known since he was a child and she has a son who is wheelchair bound. He's stuck in a wheelchair and she has a hospital bed set up in there in her awning.
"She's 85 years old and she looks after her son full time. She comes down in the van and then puts her son in the hospital bed set up in the annex. There's a window there so he can look out and see the ocean.
"This will totally displace them for instance, it basically makes it impossible for them to holiday ever again."
Clinton says there is also no way his family can afford to keep going to the holiday park if they were to lose the awning and the caravan at the site
"It's an end to an era.
"I'm finding it really hard to put it into words, there's just so much emotion and if I'm honest I'm just scared to lose it. I'm totally scared to lose it," says Clinton.
Another permanent site holder who has been going to the camp for many years is Anne Whottom.
Anne has been going to Bledisloe Holiday Park since 1961, and in 2002 she and her husband bought a caravan for a permanent site at the park.
"Our children, grandchildren and two little great grandsons visit," says Anne.
"We've made some really good friendships with people there, and the people that do have sites there care for each other.
"We're like a big family there."
Anne says the group reaction to the news is anger, shock and a mutual wondering of how they're going to afford to move.
Many of the campervans at Bledisloe Holiday Park are in no condition to be moved, and others do not have people that can physically carry out the task of moving them.
Clinton says an urgent meeting was held for permanent site holders of the park where attendees were then handed a piece of paper with the news.
"I guess it feels like we're losing a part of our own lives and history and that sort of thing as well.
"The thing is, it's a good cheap holiday and it's something that us average Kiwis can afford," says Clinton.
"We can go down there and stay for even just a weekend, a couple of nights, we can drive down on a Friday after work and stay just the weekend before packing up and coming home.
Clinton believes the board have used this opportunity to alter the lease.
"The current lease holders have held the lease for the last 20 years and they've become family out here. Most people know them as Aunty Bubs and Uncle Ian.
"The board have made it sound like it's a new law that had been passed by Government. But as far as what I can work out, it's not actually a law as such, it's just a new requirement that the board have decided for the new lease holders that are purchasing the lease," says Clinton.
A Board spokesperson says the Bledisloe Park Board has been working with the park leasee for a number of years about activities at the park, to bring operations in line with the terms of the lease and relevant regulations.
They declined to comment any further.
To help keep the permanent caravans and annexes at the Bledisloe Holiday Park, sign the petition here
More on SunLive...