BWN proves popular in Tauranga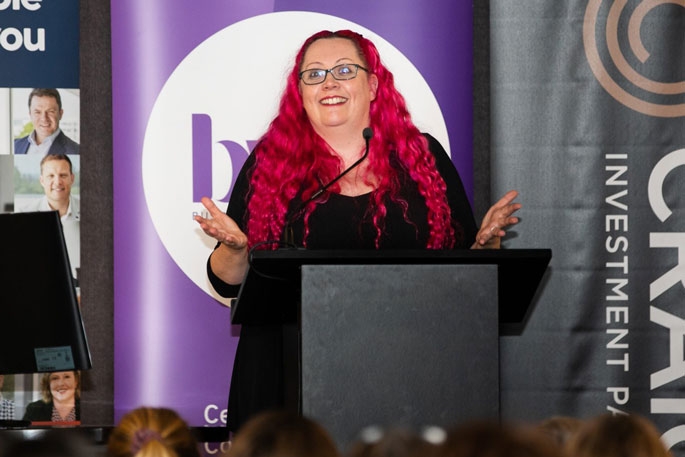 Dr Siouxsie Wiles is making her mark on the Business Women's Network after opening day two of the BWN Speaker Series.
The Business Women's Network, hosted by the Tauranga Chamber of Commerce, attracted nearly 280 women to the first day of the event on July 8.
Tauranga Chamber of Commerce marketing and communications manager Laura Boucher says it was a great afternoon of inspirational speakers, business insights and connections made with local business women.
The highly anticipated Dr Siouxsie Wiles opened the event, immediately making an impression (and not just for her hair), and receiving a big cheer from the audience as she took to the stage.
"She spoke about her fascinating journey to date, becoming one of the most famous communicators during the Covid-19 pandemic," says Laura.
"As she says, distilling science into a language the masses can understand is an artform and Siouxsie has spent the last 10 years working that skill through her own blogs and content with her daughter Eve.
"Little did she know the pandemic would hit and suddenly she would be propelled into the public eye."
Siouxsie spoke about the flack she gets for being this figure, with other academics questioning why she gets this privileged role, particularly in the media.
As she says, it's because she has honed that skill to explain science, says Laura.
"She's accessible to media and, above all this, it's her area of expertise.
"Heartbreakingly, this attitude towards her skills and experience is not uncommon, and Siouxsie spoke about a certain individual who has gone to great lengths to discredit her PhD. Needless to say, she had two choice words for this man."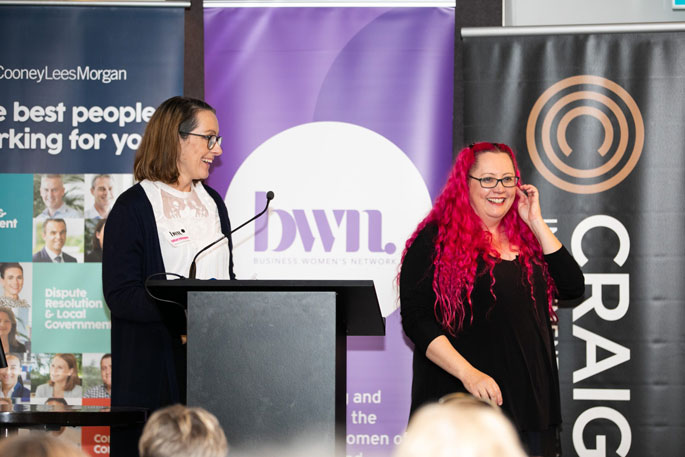 The next three speakers were from local businesses and organisations.
First was Fiona McTavish, CE of Toi Moana Regional Council.
Fiona spoke about her why and shared some insights into how she has brought her why into the workplace.
"With huge empathy and support for her people," says Laura, "she calls it the ripple effect and demonstrated some ways in which it is being felt across the council – including giving people from all walks of life a chance to be involved in council through their Summer Experience programme."
Next was double act Gordy Lockhart (The Kollective) and Tania Wilson (Momenta, which is a tenant at The Kollective).
Taking to the stage in his kilt (at event organiser Anne's request), Gordy very quickly engaged the crowd with a group wave, which he filmed for social media.
"It was an easy way to demonstrate the power of collaboration, the central theme of The Kollective and its guiding principles.
"The unique co-working space has been established to (predominately) support not-for-profit organisations and community groups, reducing their overheads, helping them upskill and connect them to people that can help them achieve their goals."
Closing the afternoon was Brianne West from Ethique.
Known globally as the world's most sustainable beauty brand (which is all run out of Christchurch), Ethique has smashed numerous sustainability goals, including stopping 11m plastic bottles going to landfill, says Laura.
"But while this is what grabs headline for Ethique, Brianne dug deeper in our session and explained how the whole process and supply chain are sustainable, from direct trade partnerships to source ingredients such as coconut, through to achieving climate positive status this March."
After her presentation, the Chamber's marketing & communications manager Laura conducted a Q&A with Brianne. Read more here.
The chamber has a number of other BWN events coming up this year.
More on SunLive...