Farmer frustration to boil over in streets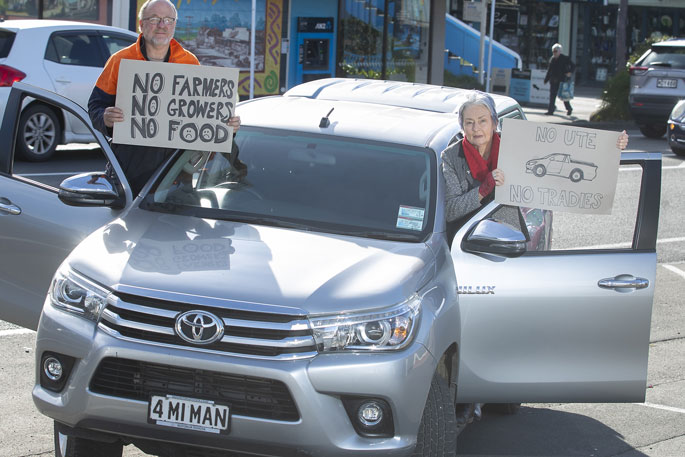 Frustrated farmers, growers, tradies, and their dogs, are expected to converge on Katikati to howl in protest of new regulations and costs from central government.
On Friday, farmers in a number of districts, including Katikati in the Western Bay of Plenty, are rounding up dog teams and firing up utes and tractors to head into their nearest town for peaceful protest rallies.
In his speech to the Federated Farmers National Council in Christchurch last week, Federated Farmers president Andrew Hoggard referred to a "winter of discontent" in rural communities, with the so-called ute tax a straw that broke the camel's back for many farming families.
Andrew says the new fee on the farm vehicle work-horse to fund electric vehicle grants, when suitable EVs are not yet a realistic option for farmers, "has just highlighted in farmers' minds that the Wellington Beltway thinkers just don't get regional New Zealand".
The Katikati protest, organised by the KKCando Concerned Ratepayers in conjunction with Groundswell NZ, is also an opportunity to "remind people of Katikati's road congestion issue and our need here for a bypass," says local coordinator Christina Humphreys.
"This is a nation-wide protest against Jacinda Ardern and Labour Government's proposed tax on diesel utes, tractors, trucks, etcetera, all in the bid for New Zealand to have all electric vehicles, which is not possible or practical."
Starting at noon on Friday, July 16, the Katikati protest will have a Hilux leading a convoy coming from the south side of town, with another convoy coming from the Kauri Point northern end of town.
After proceeding slowly along Main Street Katikati, the two convoys will converge on Moore Park.
Following a short speech from Groundswell, there will be a 'dog's howl'.
Andrew hopes the protest all over the country will make the Government sit up and take notice of the frustration and anger people have for the new regulations.
"Overall, my message to the government is we need to organise the workplan better.
"We have a siloed haphazard approach right now, which is causing stress and anxiety for many. Not just for farmers and growers, but other sectors and quite frankly probably the government's own officials."
More on SunLive...