National launches campaign for "left out' Kiwis"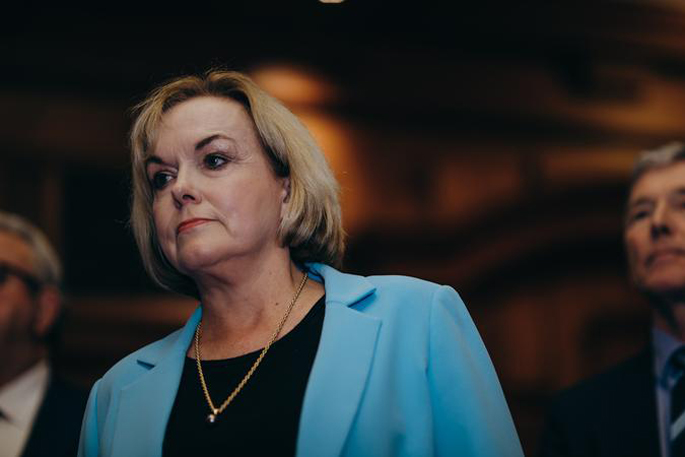 The Leader of the Opposition says New Zealanders are being left out of important decisions by the Labour Government and today she has launched a campaign for Kiwis to "Demand the debate".
"The Labour Government continues to make policy announcements that were never campaigned on and will have a significant impact on New Zealanders," says Judith Collins.
"From the Car Tax, cancelling promised infrastructure projects, the $785m Auckland cycle bridge, rushed law changes to deliver Māori wards, to the hastily announced oil and gas exploration ban; New Zealanders are starting to feel left out," says Collins.
"At the same time, more than 4000 children are left to grow up in motels, mental health services are in crisis, the Government is looking to criminalise speech they disapprove of and tell you what car you can drive."
Bay of Plenty Labour MP Angie Warren-Clark says the Government is getting on with the priorities they were elected on – "managing our recovery from Covid, rolling out the vaccine, addressing the housing crisis we inherited from National, reducing child poverty and tackling climate change".
"A year after the arrival of Covid-19, our plan is working," says Warren-Clark.
"New Zealand remains in a very strong position with no community transmission, freedoms few others countries have and an economy with higher growth and lower unemployment than countries we compare ourselves to like Australia and the UK."
Collins says Labour was elected on a Covid-19 mandate.
"Nine months later, we are still waiting for border workers to be properly vaccinated and MIQ beds sit empty while migrant families wait in desperation to be reunited.
"We are still last in the developed world for Covid-19 vaccinations. Kiwis deserve better."
Collins says every week, she is contacted by thousands of Kiwis who are worried they just don't have a say in the future of their country anymore.
"They're being kept in the dark and their questions go unanswered by Ardern's Government. So, we launch the first in a series of billboards on important issues that Kiwis deserve to have their say on.
"The first campaign relates to the Government's 2019 He Puapua report. Kiwis were never told about it at the time and it was never campaigned on by Labour."
The He Puapua report looks at how the government can achieve the United Nations Declaration on the Rights of Indigenous Peoples.
The working group's report suggests separate Māori health and justice systems, RMA rules and electoral arrangements, and Māori Development Minister Willie Jackson described it as a collection of ideas, separate form government policy.
Collins says the report contains recommendations for fundamental changes to the legal, constitutional, and democratic governance arrangements.
"New Zealanders deserve a say on their country's future and together we must demand the debate," says Collins.
More on SunLive...