Heavy rain and strong winds forecast this week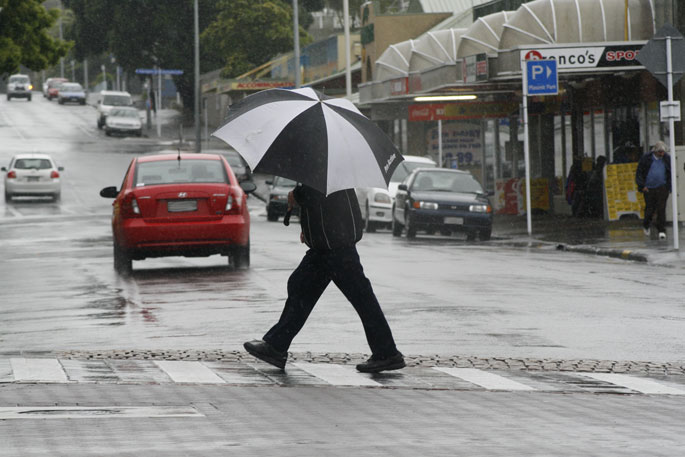 A deep low brings heavy rain and severe southeast gales to northern parts of New Zealand to start the working week.
MetService warns that a frontal system will likely bring prolonged rain to western parts of central New Zealand later this week.
"Parents of children who are enjoying the first week of their school holidays should plan some indoor activities, especially those who live in central New Zealand," says MetService meteorologist Peter Little.
On Monday, a deep low just north of Cape Reinga was forecast to continue moving eastwards, bringing a period of heavy rain and severe southeast gales to parts the upper North Island.
"A Heavy Rain Warning is in force for Northland, and a Strong Wind Warning is in place for Northland and Great Barrier Island.
"Severe Weather Watches have also been issued for heavy rain and southeast gales that may affect other parts of northern New Zealand today and Tuesday morning."
Meanwhile, a trough was expected to move northwards over southern New Zealand on Monday, bringing a brief period of rain.
The rain will likely fall as snow above 600 metres, affecting some high roads, and Road Snowfall Warnings have been issued.
The northern low moves away to the east on Tuesday, and a narrow ridge of high pressure moves onto the country from the Tasman Sea.
This leads to a brief pause in the heavy rain and strong winds, and frosty weather continues over parts of central and southern New Zealand.
"Frosts are likely across much of the South Island and about inland parts of the North Island on both Tuesday and Wednesday morning. Some of the frosts could be severe about inland parts of the South Island, where temperatures could approach -10°C."
On Wednesday, a frontal rainband is forecast to move onto southern New Zealand from the Tasman Sea, while the ridge that brought calm conditions retreats to the upper North Island.
The frontal rainband is expected to weaken and stall over central New Zealand on Thursday, but then become more active on Friday.
"A prolonged period of rain is likely across much of central New Zealand during the second half of this week, with the rain becoming heavy in some places on Friday.
"Surface flooding and slips are possible, especially about western parts of central New Zealand."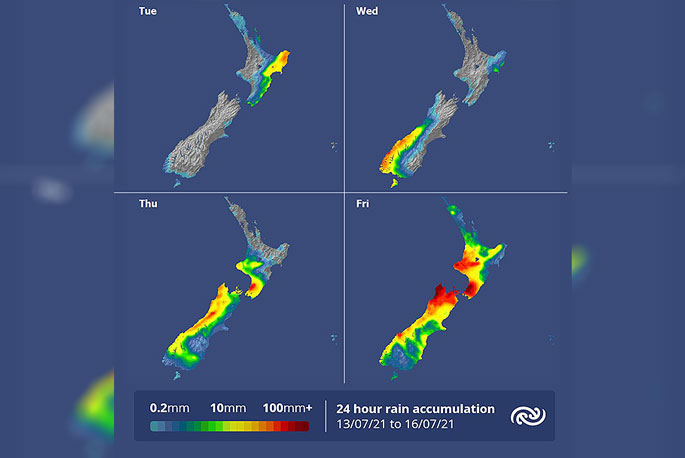 Image: MetService.
More on SunLive...