Whakatane goalkeeper's Olympic dream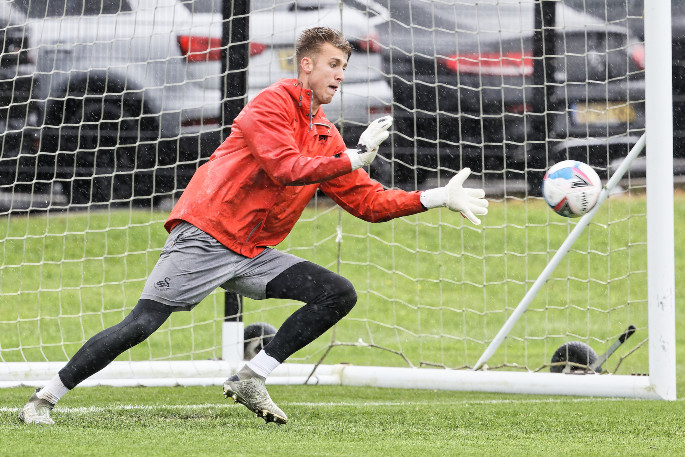 Jamie Searle is still reeling from a remarkable 10-day period.
Earlier this month, the 20-year-old from Whakatane signed on the dotted line of a new one-year professional contract with top Championship side Swansea City in the UK. Just 10 days later, he was also named in Danny Hay's New Zealand squad for the Olympic Games in Tokyo.
It's all very impressive considering the talented goalkeeper has never represented his nation before, and was building caravans just over two years ago.
"It is going to be an unreal experience," says Searle.
"Going straight in for your first international call-up at the Olympics is not something you really think about.
"I am excited, but it has not really hit me yet. I don't think it will until I am on the plane or in Tokyo and getting to meet the boys."
Searle's journey from the Bay of Plenty to South Wales started when Sam Wilkinson, a coach of his at Hamilton-based Melville United, asked him what his plans were after finishing his education at St Peter's College in Cambridge back in 2018.
"I said 'I have no idea'," Jamie laughs.
"So he asked if I would be interested in going out to the UK as he could sort me out with a few trials. Obviously I was."
Jamie admits he expected to head over for six months, enjoy the experience and the learning curve of playing football in England, before promptly heading back to the Bay.
However, one week in, he headed to Aston Villa and, after a successful trial period, found himself joining the Premier League side's academy.
"I haven't really looked back since," Jamie beams.
Initially, Jamie was accompanied by his mum, who is English, for the first six months abroad. His dad subsequently joined him for a further month. However, the youngster has been away from home by himself since then, living through the Covid-19 pandemic and various lockdowns.
During that period, his time at Aston Villa came to an end and trials at other historic English clubs Blackpool and Sunderland followed. But it was across the border in Wales, with Swansea City, that Jamie found his new club last September.
A season on and he says he is still learning and improving, as he enters his third year as a professional footballer.
Any potential homesickness is offset by Swansea's similarities with his hometown. Glorious beaches, rural walks, rugby posts. Even the place names, much like Whakatane, can trip up the most linguistically competent. Llanelli, for example, causes many a tongue-tie.
However, living in one of the UK's wettest locations jars slightly with Whakatane's envious position as New Zealand's sunniest place.
"I look at the signs and I think 'how on earth do you pronounce that?'," Jamie jokes.
"But it is very similar to New Zealand. Just not the weather!"
Jamie, who also played football with Whakatane Town, Tauranga City and Cambridge FC in his formative years, has plenty of people to thank back in New Zealand for his path to success.
But it seems backyard sessions with his older brother Luke, a defender who has regularly graced the WaiBop football scene himself, has formed the basis of his football career.
"Luke opened many pathways for my footballing career in NZ and I owe a massive thank you to him," says Jamie.
Jamie admits that the Olympics were not on his mind during those "muckabouts" with his big brother. But playing for New Zealand was.
"Growing up in Whakatane I was always dreaming about World Cups, international football, and playing for New Zealand," he admits.
The stopper believes the presence of an all professional Olympic team is a sign of the progress in New Zealand and Bay of Plenty football, with Jamie joining Ngongotaha's Nando Pijnaker in the OlyWhites squad.
So could this impressive group of youngsters, helped by the experience of Premier League striker Chris Wood, sneak under the radar and claim a surprise medal?
"I do think we are going under the radar a bit and we will just come out firing," Jamie promises.
"Winning a medal is an unthinkable achievement.
"I believe we can do it and, if we do, it would be mind-blowing."
New Zealand's men get their Olympic football campaign underway against South Korea on July 22.
More on SunLive...