Bay Oval receives $1.7m grant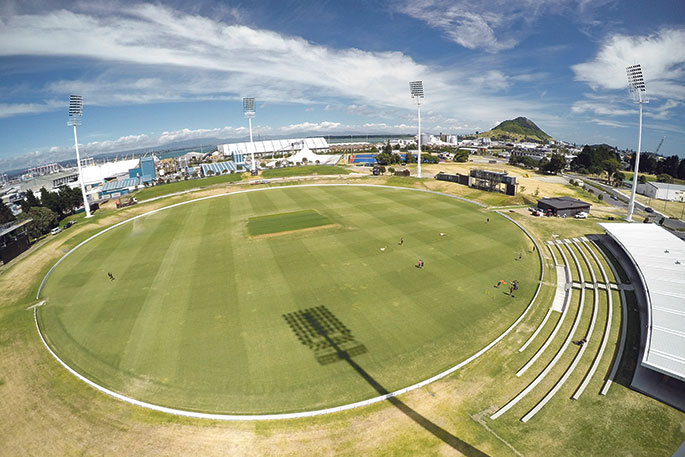 A capital grant, confirmed as part of Tauranga City Council's Long Term Plan, will see the Bay Oval cement its status as a premier cricket venue, according to the ground's general manager.
The grant, totalling $1.72 million, will go toward funding for the completion of the ground's pavilion, event day toilets, a generator shelter and broadcast towers.
"We were pretty delighted to be recognised and to receive a grant," says Bay Oval Trust general manager Kelvin Jones.
"It has been a long road toward finding a few components to finish what we have started here."
Cricket in the Bay of Plenty is arguably enjoying an all-time high.
New Zealand are now World Test Champions, helped by the performances of Tauranga-born captain Kane Williamson and other locally based players such as Trent Boult and Neil Wagner.
The Bay Oval will also host the opening game of the Women's Cricket World Cup next March and with that in mind Kelvin believes the funding boost is timely.
"A little bit of the impetus has been the Women's World Cup which we are hosting in March next year.
"It is certainly nice to put your best foot forward when you have got a major event going out to the world."
Kelvin explains that up to 90 portaloos have been needed for big events whilst the generators, essential for running the floodlight system, are currently uncovered and "literally rusting away".
Money provided will help installation of toilet blocks as well as covers for the generators.
As well as improving on those factors, the funding will go toward completing the pavilion.
"Our pavilion was only ever half done," he says.
"There is a big gap in the middle.
"It is just going to be fantastic. Every international cricket ground in New Zealand, well the world, has lounge facilities and space for officials and workers whereas we have not had that until now.
"But we already think we are a top three venue in the country but this is really going to put us right up there."
The capital grant equates to a third of the overall funding needed for the proposals, with the debt to be retired over a period of up to 11 years.
With the improvements, Kelvin believes that the Bay Oval can start to generate its own funding as the venue continues to grow in stature and reputation.
"Importantly it is also going to enable us to drive a little bit of revenue so we don't have to keep going back to councils or funders for money," he states.
"We can actually get to that point where we are standing on our own two feet, which is pretty rare in itself for a venue like this. So I think that is a bonus and something that the council saw."
More on SunLive...