Te Tuinga celebrate Matariki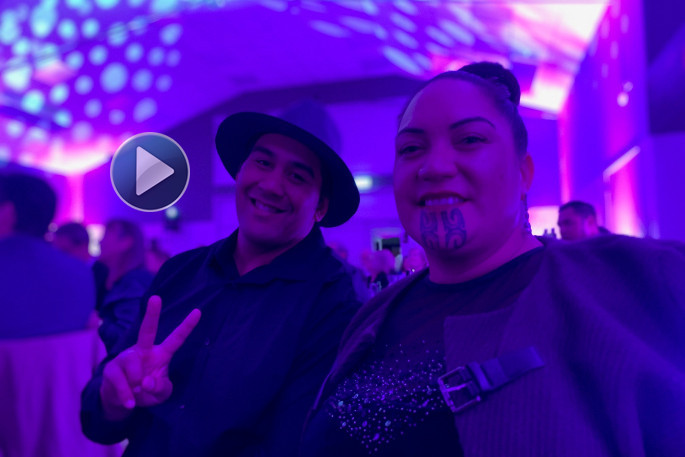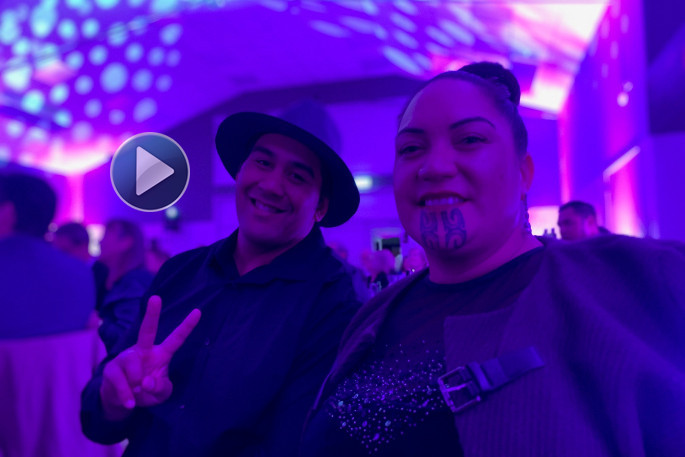 Click the image above to watch the video
Celebrating Tauranga as a safe anchorage for all was the theme for a final celebration of Matariki on Friday night.
Te Tuinga Whānau gathered their wider community of supporters together at the newly opened Te Puna Hall for an evening of feasting, art and speech.
"If you were to look at the nine stars of Matariki, the one star that says it all for Te Tuinga is the star Matariki itself," says Te Tuinga Whānau chief imagination officer Tommy Wilson.
Artwork on display at the Matariki celebration. Photo: Rosalie Liddle Crawford.
"Matariki brings people together - Te Tuinga means to weave together. Far out! Or should I say star out!
"We were started by the Māori Women's Welfare League 37 years ago and named Te Tuinga by our founding father Hauata Palmer, who is a respected kaumātua of Ngāiterangi Iwi. And the chairs of both of our Te Tuinga boards are woman."
Chair of Te Tuinga Whanau Beth Bowden welcomed everyone to the evening, and chair of the recently formed commercial arm of Te Tuinga Whanau Stacey Mareroa spoke on the organisation's plans leading into the future.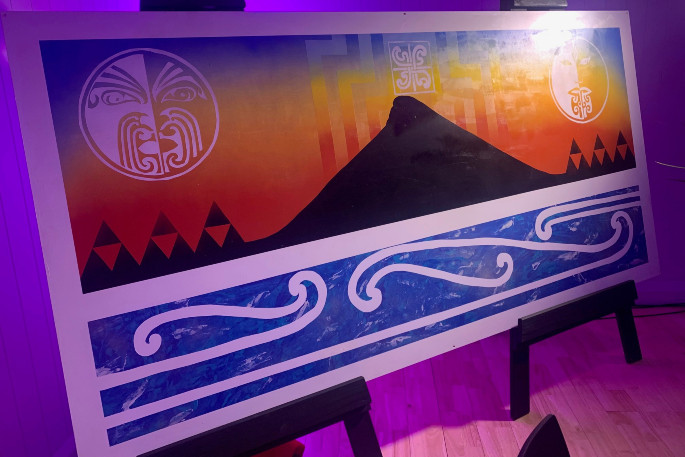 Artwork on display at the Matariki celebration. Photo: Rosalie Liddle Crawford.
Tommy says Friday night was a time of celebrating what has been achieved at Te Tuinga Whānau. Five years ago, they started with one family and one house opened by the organisation's patron Sir Paul Adams, and today are providing a service to 200 families with many whare and motels, including RSA Tauranga.
"Matariki is a time to reflect on our health and our well-being and nurture our connections with family and friends," says Tommy.
Traditionally Matariki has been a season for manaakitanga or hospitality that brings communities together. Weaving, carving, oration, singing, dancing, story-telling, feasting and game playing would be practised prolifically during Matariki festivals.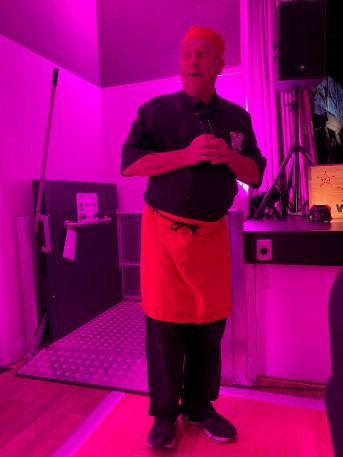 Chef Stephen Wilson talking about some of the dishes prepared for the evening. Photo: Rosalie Liddle Crawford.
"We have gathered 50 community king pin couples from across the business, cultural, sporting and academic spectrum together with the regional commander of police and iwi leaders," says Tommy.
Tommy compèred the evening, entertaining the audience with stories from his past and along the way weaving in stories of the beginnings of Te Tuinga Whanau. He honoured the late Des Ferrow as "the godfather of giving" and wiped away tears thanking Sir Paul Adams who attended the evening with his wife Lady Cheryl.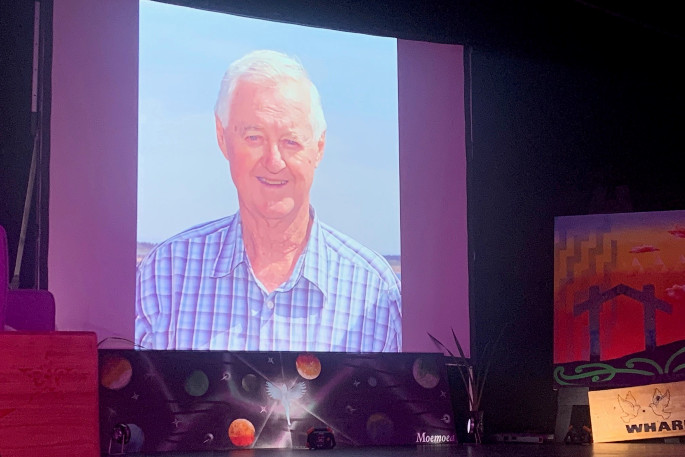 A photograph of Des Ferrow was displayed during the evening. Photo: Rosalie Liddle Crawford.
Sir Paul Adams and Lady Cheryl Adams were thanked for their support of Te Tuinga Whanau. Photo: Rosalie Liddle Crawford.
Tommy says the evening was "by the homeless, for the homeless" with a seven-course kai put together by The Happy Puku and sponsored by Priority One and Good Buzz. Tommy's brother chef Stephen Wilson joined him on stage and sang 'Man shall not live by bread alone ...Alleluia' in French, accompanying himself on guitar.
"All of the kai was gathered, grown and caught by our staff, residents and clients," adds Tommy, who says they also were blessed with freshly caught fish from good friends who helped.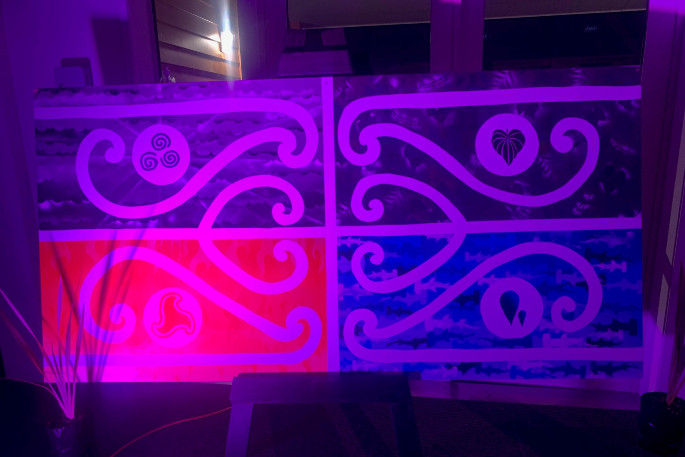 Artwork on display at the Matariki celebration. Photo: Rosalie Liddle Crawford.
Tommy says the highlight of the evening was an 18-piece art exhibition by talented street artists Iritana Te Moana and Picasso Amouta under the tutorship of master tā moko artist Stu McDonald. There were also carvings by Xavier and a Matariki masterpiece by an inmate of Waikeria Prison titled 'Matariki ki Matakana', which reflects where he comes from.
There were other highlights too though, including the many Te Tuinga Whanau staff who served in the kitchen preparing food with Chef Stephen and who came and served the guests at each table. Between courses, staff gathered at the back of the hall and sang waiata.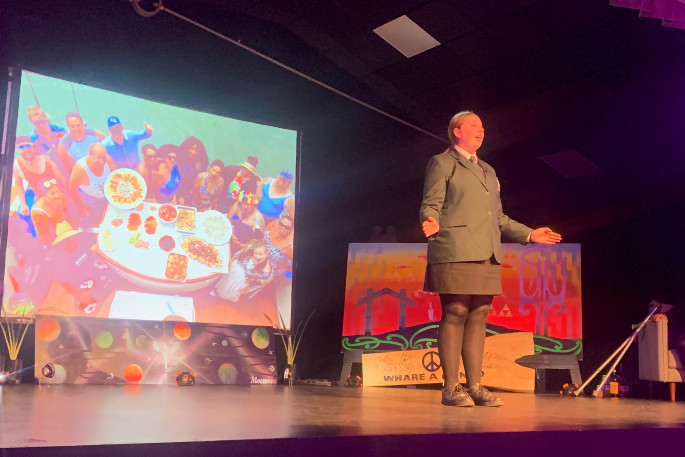 Hayley Jacob delivering her speech. Photo: Rosalie Liddle Crawford.
Also appearing was Hayley Jacob from Otūmoetai College, delivering her perfect 100 out of 100 scoring speech at the recent Bay of Plenty Regional Manu Kōrero speech contest.
In a side room was the 'dream room' which had on display plans and images of the future including building new housing and a village to provide sustainable and viable accommodation options for individuals and families experiencing homelessness.
"The theme of the evening 'Tauranga a safe anchorage for all' covers what Te Tuinga has done and will be doing to make Tauranga a safe place for all," says Tommy, "especially the homeless, the addicted, the lost and lonely."
More on SunLive...