What's on - racing, markets and music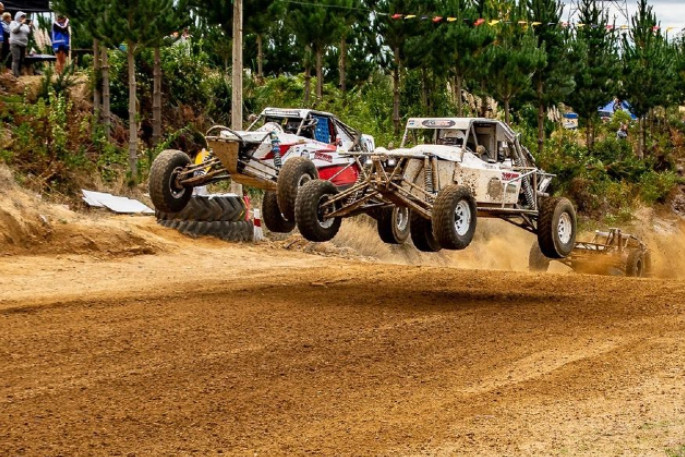 Good morning and welcome to Sunday. Ko te ra tenei i hanga e te Ariki. Ka koa tatou, ka koa hoki ki reira.
MetService are forecasting a partly cloudy day with southeasterlies.
It's a three-to-four-clothing-layer day with an expected high of 12 degrees, and an overnight low of 5 degrees. High tide is at 8am and low tide at 2.03pm. Sunset is at 5.13pm.
What's on today?
The Hauraki Regiment the 6th Battalion (Hauraki) Regimental Association are holding their 123rd birthday celebration this weekend, which will feature a parade today. For more information click here
The Papamoa Lions Club are holding a market at the Gordon Spratt Reserve, Papamoa from 8am – 12pm.
At Mount Maunganui, the Farmers Market is on this morning at Mount Mainstreet from 9am – 1pm.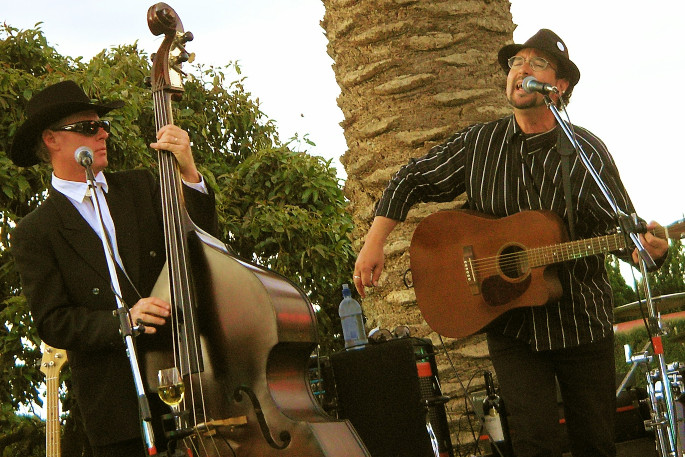 At 3pm, at Jack Dusty's Ale House, Self Righteous Brothers Derek and Nigel and getting out there again with an eclectic selection of blues, country, folk, jazz and anything else that takes their fancy. Expect stripped-back takes on Kokomo tunes, a few Bob Dylan songs, some old Delta blues and early rag-time, all with harmonies, some groovy upright bass and a dash of slick and sparkling acoustic guitar.
For more events visit My Tauranga.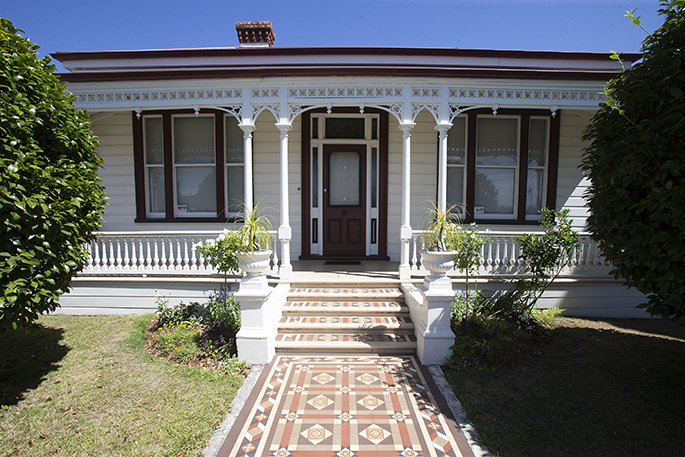 The Brain Watkins House Museum is open today from 2-4pm. Located at 233 Cameron Rd, adults $5, and children free to visit this historical home.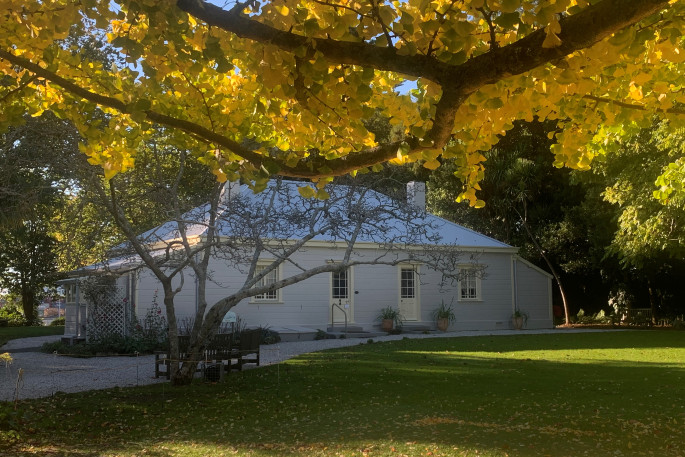 The Mission House at The Elms | Te Papa Tauranga. Photo: Rosalie Liddle Crawford.
The Elms | Te Papa Tauranga in Mission St is open from 10am - 4pm. Come and view the Mission House and gardens. For more information click here
Take a walk through Tauranga Art Gallery and view the many exhibitions on display there this week. The gallery, in Willow St, is open from 10am - 4pm.
Love public art? CITY ART WALK TAURANGA app is a free to download walking tour of 20 public artworks in Tauranga's city centre. For more information click here
Enjoy workshops at ReMaker, with the community of makers, located at Our Place in Willow St. Click here for more information.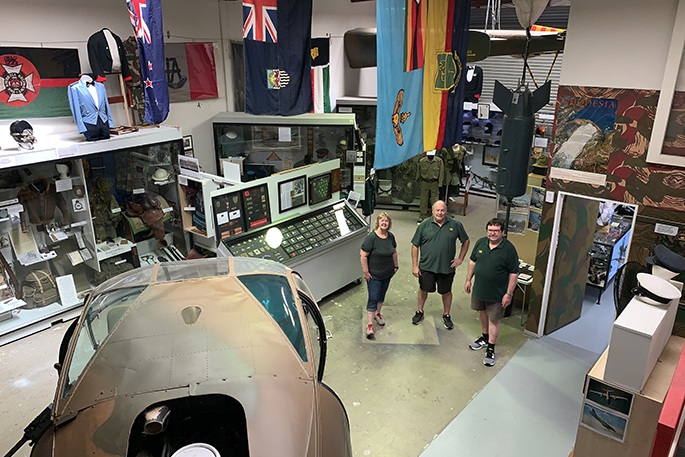 Diana Bomford, Tony Fraser and Hugh Bomford at the Lion and Tusk Museum at Mount Maunganui. Photo: Daniel Hines.
Have you been to the Lion and Tusk Museum yet? It's open today from 10am - 3pm at Unit 4, 14 Portside Dr, Mount Maunganui. Come and see a massive display of Rhodesian military history records and exhibits of uniforms, medals and equipment. Opening hours are 10am – 3pm Thursday to Sunday. For more information click here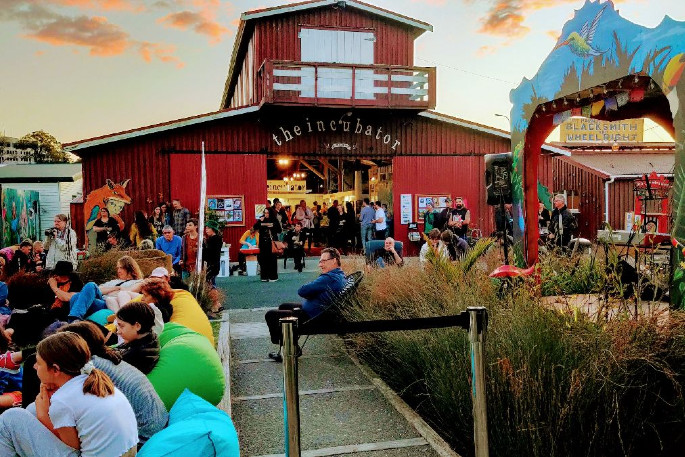 The Incubator. Photo: Supplied.
At The Incubator Creative Hub at Tauranga Historic Village, there are many exhibitions, workshops and events happening daily. For more information click here. Exhibition hours are 10am – 2.30pm.
What else is on today?
Tennis Gate Pa
Wednesday club Night 6pm - 7.30pm newbies welcome - $10.00 to play plus get dinner. Relaxed, fun & good night out.
---
16th Ave Theatre
Neighbourhood Watch, a brilliant comedy by Alan Ayckbourn. What starts out as a well intentioned neighbourhood watch scheme soon develops into something quite different.
---
Brain Watkins House Museum
233 Cameron Rd, open 2-4pm. Adults $5, children free. Groups or classes by arrangement. Ph 578 1835
---
Bretts Goalkeeping Clinic
Free GK coaching 9-11am. Suits beginners to youth, 3 coaches available, At Waipuna Park. Please bring your own gloves.
---
Comedy Improv Music Jams
Hilarious Comedy Improv at The Jam Factory feature musical guest Stone Immortal. BYO, Band at 6pm show at 7pm. honestliarsimprov.co.nz
---
Croquet
Tauranga Domain, Cameron Rd, Sun, Tues, Fri, 12:45 for 1pm start. Beginners welcome. Ph Peter 571 0633
---
Enjoy travel, being hosted?
Friendship Force travel, hosting in NZ and world-wide. Visiting Northland November 2021, Australia & Winnipeg, Canada 2022. Ph Dianne 027 249 9859 or Jonathan 572 2091, Meetings monthly
---
Exhibition by Janet Collenette
Janet Collenette is exhibiting her fine art paintings, featuring the monarch butterfly life cycle, in the Art Gallery, 33 Devonport Road, for July.
---
Falun Dafa Exercises
Sunday 10:15am.Free to join us in the Parks. Ph/text Judy 021 042 5398 for the Locations in Tauranga, Papamoa & the Mount.
---
Golf Croquet
At Club Mt Maunganui, 45 Kawaka St. Tues, Thurs, Sun 9.15am for 9.30am start. New players & visitors welcome. Ph. Nev 575 5121
---
Honest Liars Improv @TheJamFactory
Improvised Comedy, like 'Whose Line is it Anyway'. Anything can happen! Special guests: Improvised jam band 'Stone Immortal'. 6pm,Jam Factory,Historic Village,17th Ave. Tickets $15: www.theincubator.co.nz/the-jam-factory-music. Ph 07 571 3232.
---
Neighbourhood Watch
Gnomes, neighbours and mayhem. A great comedy for a good nights entertainment at 16th Ave Theatre. Book @ iTicket
---
Orchid Auction
Noon at Masonic Lodge Hall, Oxford Street, Te Puke. Fun auction. Mostly plants. Free entry. Tea and cake to follow. Ph 021 118 1260
---
Papamoa Farmers Market
Connecting our community with local produce. Rain, hail or shine, it will be on! At Redefined, 58 Ashley Pl, Papamoa
---
Radio Controlled Model Yachts
Sundays & Thursdays 1-3:30pm. Pond behind 22 Montego Drive Papamoa, sailing "Electron" Radio Controlled Yachts for fun. Adult beginners welcome. Graham 572 5419
---
Taoist Tai Chi Arts
Cultivating Balance, New beginning classes, Mon - Sat, Tauranga, Te Puke, Papamoa, Mt Maunganui, Katikati.www.taoisttaichi.org for schedule & times or Margie Ph 02 150 0320
More on SunLive...