New JP service desk site for Otumoetai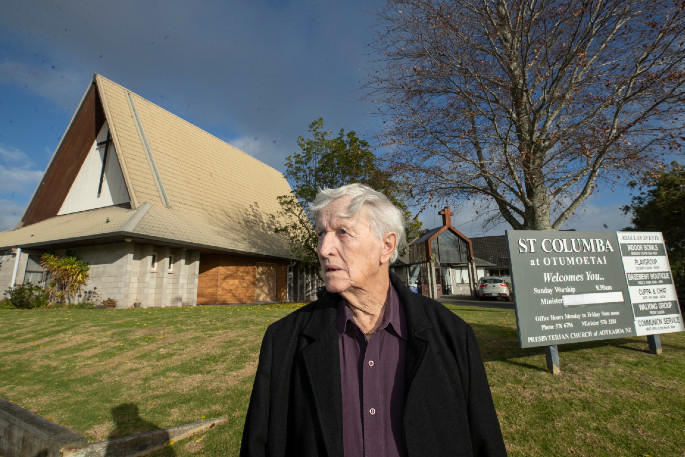 Otūmoetai's first service desk for the Bay of Plenty Justices of the Peace opened earlier this month at St Columba Presbyterian Church.
The Otūmoetai Road site brings the total number of service desks across the Western Bay of Plenty, located in libraries, churches and community facilities, to 15.
Bay of Plenty Justices of the Peace service centre coordinator Kelvin Bennett has been a JP for 20 years, and is responsible for all service desks from Katikati to Te Puke.
"I oversee all of them, but they all have their own convenors and rosters," says Kelvin.
"Every day of the week, you'll find a JP somewhere. The Tauranga courthouse is our busiest place, which operates every week day, whereas other sites operate one or two days of the week."
As well as Tauranga District Court, other locations include Tauranga City Library, Greerton Library, Tauranga Historic Village, Mount Maunganui Public Library, Arataki Community Centre, Pāpāmoa Library, Welcome Bay Community Centre, Te Puke's St John the Baptist Anglican Church, Bethlehem Community Church Centre, Ōmokoroa Library and Community Centre, Te Puna School Library and Katikati Resource Centre.
"Otūmoetai is one area of the city where we haven't had any coverage at all," says Kelvin. "The rest of the city is well covered by JPs."
The new site opened on Tuesday, and will operate from 10am until noon each Tuesday with four JPs rostered to work there.
"People don't need to make a booking, they can just turn up," says Kelvin.
Some sites are very busy, while he admits others are far quieter.
"It varies somewhat. We won't know how many we will get in Otūmoetai."
Justices of the Peace help people to obtain copies of documents, affidavits, marriage dissolutions, statuary declarations and immigration papers. As well as verifying hard copies of documents, people also bring copies to verify on a mobile phone or tablet.
"People can bring their devices and we can verify documents. Anything that we can verify on hard copy paper, we can also verify on phones or tablets."
Kelvin says being a JP can be very satisfying.
"It's the people you meet and the tasks that you do for them that's the most enlightening and interesting thing about the role."
Justices of the Peace are New Zealand citizens or residents, have a good command of both written and spoken English, and have already been involved in other volunteer work.
"While we have in excess of 70 Justices of the Peace working out of service desks, there are many who choose to operate from home, for various reasons," says Kelvin.
"Up until the establishment of service desks we all operated from home, which we still do if and when clients contact us."
The new Otūmoetai JP service desk is now open. The addresses for each JP service desk location in the Western Bay of Plenty, as well as contact details for JPs, can be found at: www.jpfed.org.nz
More on SunLive...