Devonport Rd closure for new pedestrian crossings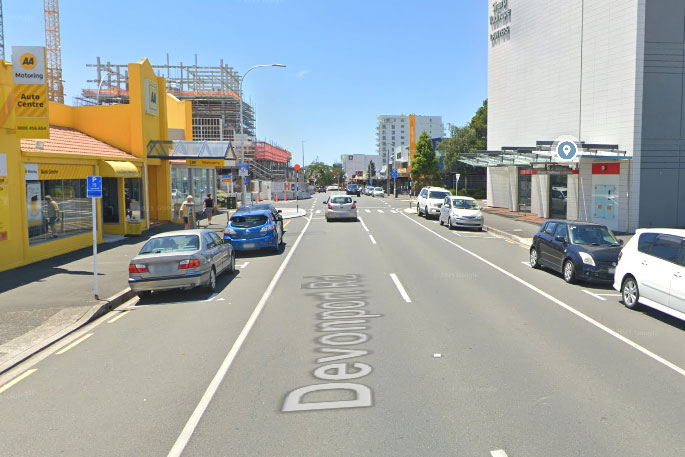 A section of Devonport Road will be closed for two weeks, starting on Monday.
The closure will be from Elizabeth Street and 2nd Ave, says a statement from Tauranga City Council.
"The road will be closed to enable the construction of two raised pedestrian crossings on the north and south sides of the Devonport Road and First Avenue intersection.
"The two raised pedestrian crossings are intended to slow the speed of cars as they enter the city and create safer crossing points for pedestrians."
During the closure, southbound vehicles will be diverted from Devonport Road, through Elizabeth Street, Cameron Road and 2nd Ave.
Northbound vehicles travelling along Devonport are best to reroute from Devonport Road down either Eleventh or Ninth Avenue along Cameron Road and back down Elizabeth Street.
Council says access to and from 1st Ave during this closure will only be via Cameron Road.
"During this time, right turns from 1st Ave and 2nd Ave will also be prevented to ensure safe driving while diversions are in place. See map below.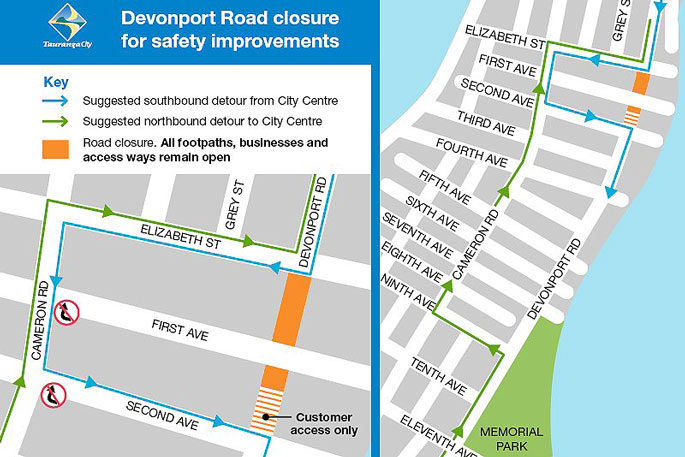 Elizabeth Street
Works to upgrade water and wastewater pipes are underway on Elizabeth Street between The Strand and Cameron Road and are due for completion in mid-July.
Streetscape works have commenced on Elizabeth Street, between Devonport Road and Grey Street, in front of Smiths Sports Shoes and Event Cinemas, says a council spokesperson.
"Streetscape works include a raised pedestrian crossing which will be the main entrance into the Farmers store due to open by Christmas. Businesses and footpaths are accessible during works.
"Traffic lanes remain open during the day, with some road closures at night between 8.30pm and 6am."
Bus routes servicing Grey Street have been rerouted down Durham Street. A bus stop is serviced outside 146 Durham Street to temporarily replace the bus stop outside 96 Grey Street. Signage for bus users is in place and latest service updates can be found at www.baybus.co.nz
In August, Elizabeth Street will become one lane to enable the construction of a green public space outside the Farmers development.
The lane between Elizabeth Street and 1st Ave
Works to lower the electrical cable and repave the 1st Ave end of the laneway are underway.
The 1st Ave end of the lane will be closed to pedestrians until mid-August.
Pedestrian access to the Elizabeth Street car park building and the public toilets will remain open, says the council.
1st Ave and Devonport Road intersection
Works to construct a raised pedestrian crossing midway down 1st Ave (between the council car park building and Alimento) are underway.
The road on 1st Ave will remain open.
2 Devonport Road: please take care when walking past the demolition site in this area. There will be footpath detours and some car park closures over the next few months.
More on SunLive...