A world of colour in Greerton Village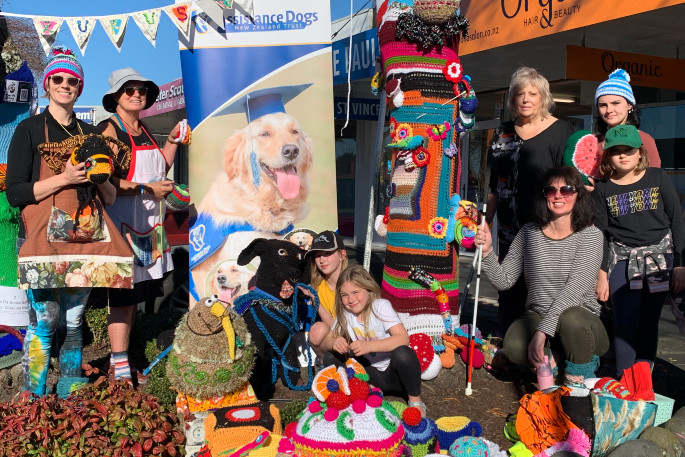 Greerton Village is once again bursting with colour with more than 35 cherry blossom trees wrapped in vibrant yarn for winter.
This year's yarn bombing theme 'Colour my World' has unlocked the creative brain juices with many groups creating three-dimensional works as they compete to raise funds for their chosen charities.
First timers 'Ruru's Tea Party' have an interactive display, showcasing their charity Assistance Dogs New Zealand Trust.
"We are one big family that's done this," says Ruru's Tea Party yarn bomber Helen Perry. "My auntie Margaret Muir, a retired GP from the Waikato fosters and raises Assistance Dogs pups.
"Seventy-two per cent of those dogs will go to children and young adults under 20 with epilepsy and psychological disorders 50 per cent of which are living with autism and multiple disorders nationwide. They've been hit hard with Covid with fundraising and we thought we'd bring awareness to the trust by making a hyper-coloured bush tea party."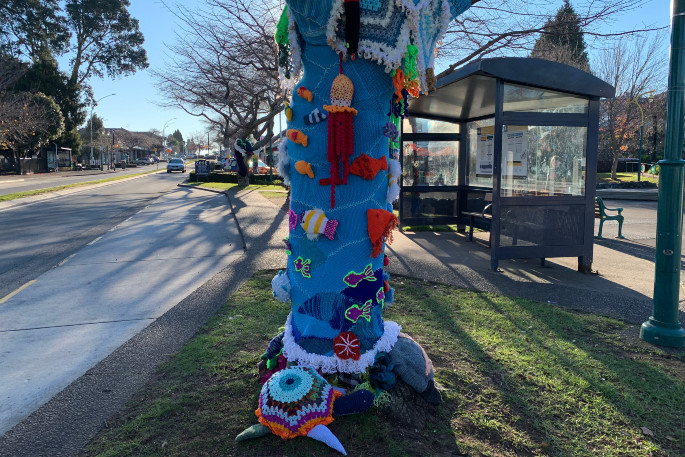 The Pacific Coast Village – Aquatic World tree, supporting Leukaemia & Blood Cancer NZ. Photo: Rosalie Liddle Crawford.
The group's creation features a giant weta, fantail, possum, ruru - owl, snail, dog, kereru, a kiwi on a log, worms and fungi. A table created from an old cable reel has a knitted teapot, cups and saucers, and much of the display is made from recycled materials.
"The actual picnic blanket is an old duvet. My sister Angela Muri is blind and has done all the knitting for the tablecloth. She does very chunky style knitting," says Helen.
"And it's interactive for the kids as well. We wanted a fun sense of that the kids could come and be at the tea party."
A giant-size labrador called Kevin sits high in the tree. Riding Kevin is a pukeko.
"Kevin is the name of my mother Margaret's assistance puppy," says Helen.
"We were worried about the dog being stolen but this is guerrilla art and the transformation of art when you bring it into the public domain is what it's all about. You're bringing things in, it's the story of it not so much the creation."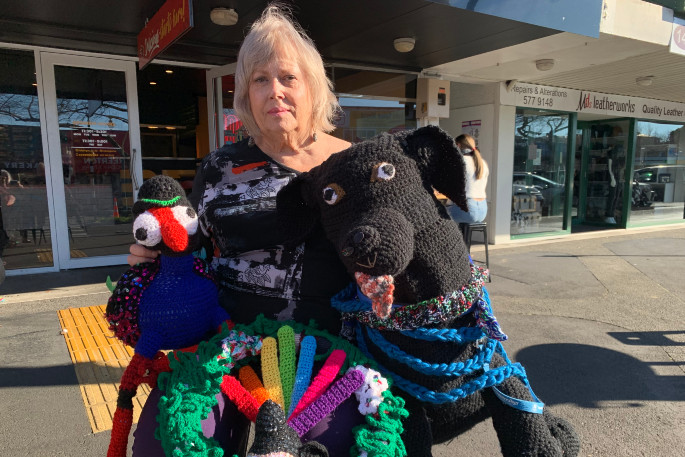 Lorraine Muir with Kevin the Labrador and his pukeko buddy. Photo: Rosalie Liddle Crawford.
Next to the Ruru Tea Party's tree is the Pyes Pa Senior School tree, created in support of Waipuna Hospice.
Other schools involved this year are Tauranga Special School knitting for Make a Wish, Pyes Pa Middle School knitting for R.R.R.- Rescue. Revive, Rehome, Pyes Pa Junior School knitting for SPCA and Greerton Village School knitting for Kids Can.
Groups from Bayview Rest Home and Tauranga Girls College Taggin' Team, as well as the yarnbombing duo of Aroha Mita and Chrissy St. Amant are all first timers.
The Te Puke Kiwicoast Lions Club are back with their spectacular tree created in support of the Te Puke Hub Kids P.J. Project.
Other yarnbombers are Marilyn Mouat, Tauranga Special School, Greerton Guerrillas, Betty Power, Maureen Kinchant, Arohanui Art and Education Trust, Karen Wood, Pacific Coast Village – Animal World, Carol Power, Nutty Knitters, Wendy Pedersen, Pacific Coast Village – Aquatic World, Multicultural Tauranga, Greerton Village Community Yarn Bombing Group, Pam Hunton, Dreamers, and Dani Barr.
The Wellington team Stitch and Butch are back again this year, creating their vibrant tree 'sleeve' in support of InsideOUT.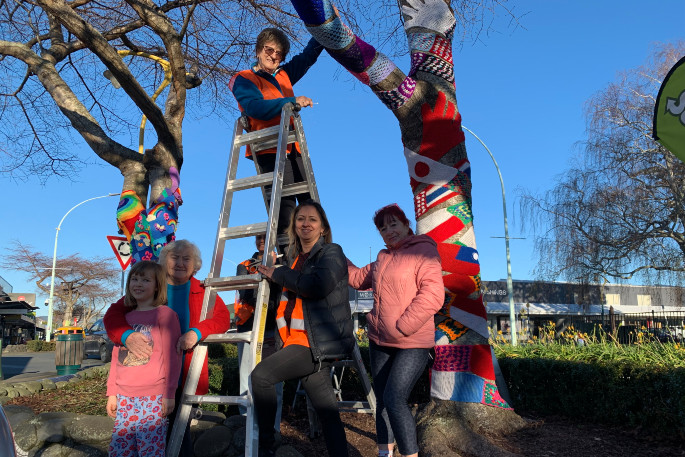 The Multicultural Tauranga group assembling their display. Photo: Rosalie Liddle Crawford.
Greerton Village Mainstreet Manager Sally Benning says this year's 'Colour My World' yarnbombing is a wonderful theme after the unsettled year of Covid-19.
"We are absolutely delighted with the calibre of all the installations – so many talented people, spending many, many hours of their time to bring our village to life over winter and to benefit charities is very special and we are rightly proud of our Yarn Bombers and their creativity," says Sally.
With help from Greerton Lions and coordinator Carol Power, the now famous cherry blossom trees were dressed on Sunday, resulting in a colourful array of trunks along Chadwick and Cameron Roads.
The Greerton Village Community Association is celebrating a decade of yarn bombing in the village, and inviting the public to join in through July and August by voting for their favourite tree.
For the first time this year there will be cash prizes in four categories.
The public is invited to join in through July and August by voting for their favourite tree and associated charity.
For the first time this year there will be cash prizes in four categories. The winning trees will take away a total of $2750 for their chosen NZ charities thanks to the generous sponsorship of Crockford Real Estate t/a Ray White Greerton and Greerton Village Mainstreet.
This year's judge Allan Smith has been an active member of the Bay of Plenty creative arts sector and as well as creating his own art he has been a teacher of art, photography and performing arts for many years. He is looking forward to judging the installations.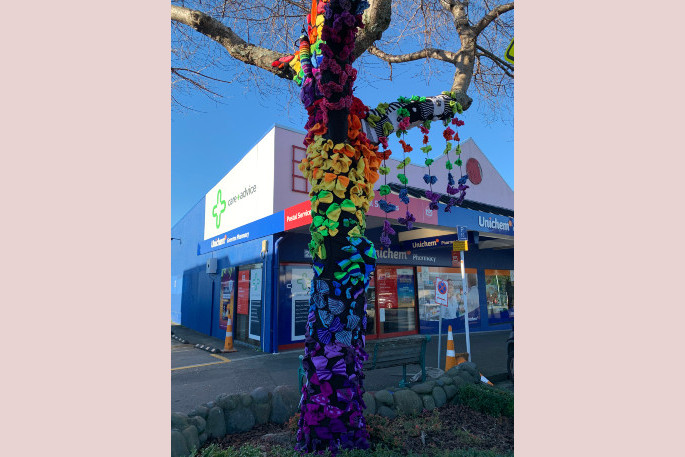 The Te Puke Kiwicoast Lions Club tree, supporting The Te Puke Hub Kids P.J. Project. Photo: Rosalie Liddle Crawford.
On Saturday, July 31, between 10.30am and noon in front of the Greerton Library, cultural groups and choirs will be 'colouring up' Greerton Village with song and dance displays celebrating the yarn installations.
The trees are on full display now in Greerton Village until August 29, in perfect time for the school holidays.
From Wednesday July 7, manual voting will be available at six locations in Greerton Village – look out for the window posters to see where, or vote online on the Greerton Village Yarn Bombing Facebook page.
Voting closes at 10am on Friday August 20, and winners will be announced by August 24.
More on SunLive...