Tauranga singer to open pop sensation's gig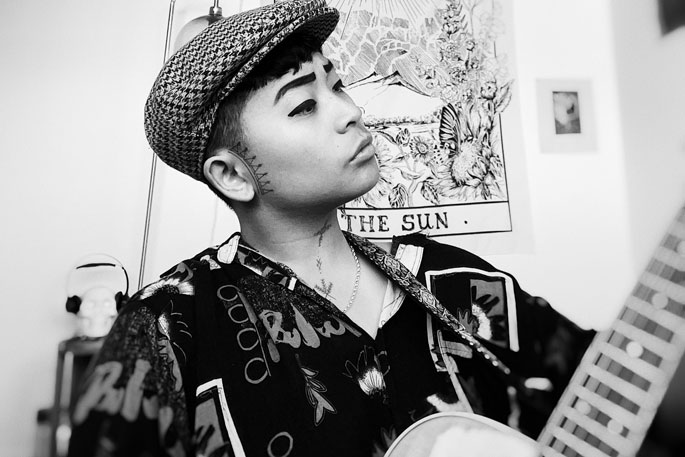 Tauranga singer Ash Laforteza has been chosen to open for pop sensation Paige when he plays in Tauranga's Totara Street this month.
Ash was chosen out of dozens of videos from talented singers who had entered Paige's Playing It Forward campaign, which aimed to give a helping hand to other New Zealanders looking for their big breaks, by offering them the chance to open for her.
Ash is well known on the Tauranga and Mount Music scene. An eclectic musician, he creates fusions from genres such as soul, reggae, pop and a touch of psychedelics.
He will open for Paige alongside the tour's official support act for the Tauranga gig, singer songwriter Wells.
Now 26 years old, Ash has been playing music since he could talk.
"My culture in the Philippines it's absorbed with music and then moving to Aotearoa I was always a part of Kapahaka in schools and thrived being a part of the waiata. I have been playing professionally for seven years now, it has been my main income for that long and every day I feel so blessed I get to play music for a living."
To enter the competition, Ash sent Paige the song "Explore" which is a song about "breaking norms in his head and asking others to explore that with him.
"It's my current favourite song to play, it's so deep but also surface level if you wanted it to be. It takes me to other worlds when I play it."
Ash says he's stoked to be sharing a space with Paige and the other musicians.
"When Paige and I were exchanging messages before the winners were announced it was so natural. It feels very in line with my vision and Paige's vision."
Ash says we can expect "a lot of laughs and a feeling of belonging" as he plays for the home crowd.
"I feel honoured to represent the town I live in, Mount Maunganui. I will be singing a couple of songs about Mount Maunganui to warm up the stage. I will take you to 'Explore' my mind with me.
"What I love about Paige's songs are not only the melodies, beats, but the relatability of her songs. I cannot stop playing her single "Goodbye" on repeat. I feel myself in that world, situations where I have been in and can process it through that song. A feeling of connection."
Paige on tour
Tauranga fans are getting pumped for the first headline tour for Paige, one of New Zealand music's rising stars, who has already supported Six60 in Waitangi and Hamilton, as well as appearing at some of the country's largest festivals, including Homegrown, Peachy Keen, R&V and Bay Dreams.
Last Friday Paige released her latest single Goodbye - a heartfelt yet upbeat breakup song. She then went on to perform at Auckland's Civic Theatre as part of the line-up for TUAWĀHINE alongside Anika Moa, Anni Crummer, Tami Neilson and Georgia Lines.
The show's musical director, Tauranga's Ria Hall, singled out Paige as an up and coming star with a great future ahead.
It's a dream come true for the 23-year-old who always wanted a career in music.
"I always wanted to do music as a career so I did everything I could to make it happen. I did a lot of choirs and musical performances in school. Anything with music was something I wanted to do."
Growing up with her parents, nan and three sisters, her musical tastes were formed early.
"My parents would always have music playing in the house whether it was the radio or MTV. They were always listening to Motown, Michael Jackson, brothers Johnson, and I guess that's influenced my music a lot."
She started the YouTube channel Paige's Space when she was just 12 years old.
"It taught me a lot about networking on social media with music and understanding what people like online. It taught me to be more confident with posting my music at an early age so YouTube really helped me with my career."
Paige went on to do a Bachelor of Music at MAINZ, (Music and Audio Institute of New Zealand)
"It taught me a lot about working with people, writing with people, performing with people and you can't be an artist without the help of others so I think it was really important for me to do that."
Paige was catapulted into the spotlight when Billie Eilish posted one of Paige's videos to Instagram and received 400,000 views.
Sony signed her up and she released her critically acclaimed Always Growing EP in 2020.
The seven tracks on Always Growing connect through common themes, says Paige.
"They all share the theme of relationships. Waves speaks about self-discovery and sexuality. Cold blooded speaks about taking accountability for mistakes in a relationship.
"Bloom speaks about growing through mistakes in a relationship. Hit n Run speaks about that first hook up stage in a relationship that is also a play on words. Make Room speaks about falling in love. Too much to h8 speaks about an emotionally abusive relationship."
Her two favourite tracks on the EP are Yellow and Too much to h8 "because they both convey messages that I find really important".
Paige is open about her struggles with mental health.
"My songwriting is a form of healing for me so I guess it's an easy thing for me to do"
In Yellow she touches on self-harm and suicidal thoughts.
"It was a hard thing to do. It was quite scary because I was afraid people would think I'm an attention seeker, but the feedback I got was really positive and supportive."
Waves explores self-discovery as a young person. Paige thinks there is some pressure from society to label oneself.
"I think sometimes I've felt pressure from society but it's because I get asked so often (in such a respectful way) but I guess how else are people supposed to know your sexual orientation? Usually I just say 'idk what I am but I love everyone'. With the encounters I've had about my sexuality I haven't felt pressure from society but others probably have."
She is looking forward to her first ever headline gig in Tauranga. She will be performing her already popular latest song, Goodbye, and much loved tracks from the EP. Paige says we can also expect cool covers and new songs.
As for what's next, for the young talented musician, she is remaining tight lipped.
"We'll have to see about that."
The details
Paige is playing at Totara Street in Mount Maunganui on 16th July, with support act Wells*, and Tauranga's Ash Laforteza
R18 show
8pm to 1am
Tickets: https://totarastreet.co.nz/events/2021/july/paige-new-zealand-tour
Or phone: 0800 11 22 41
More on SunLive...