AIMS entries rebound after Covid cancellation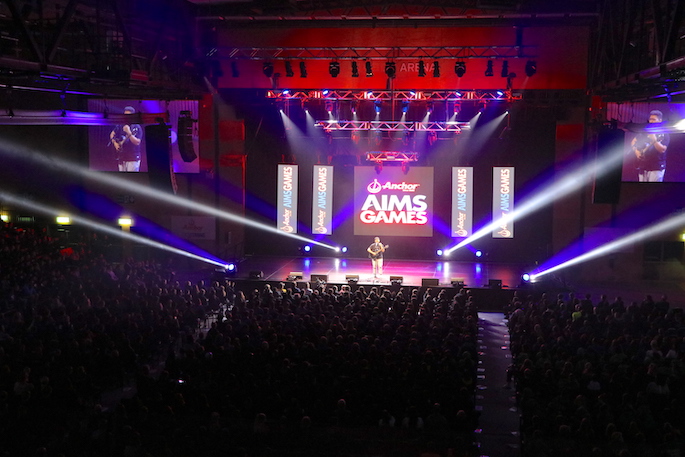 It may not be a record-breaker but Anchor AIMS Games organisers are still astonished with the post-Covid response they've had for the 2021 edition of the intermediate-aged sports tournament in Tauranga.
The week-long tournament - set to take place from September 4-10 at a range of venues across the Western Bay of Plenty - has received more than 11,000 entries, down just 500 from the 2019 edition.
This comes after the 2020 games were cancelled because of the Covid-19 outbreak.
More than 25,000 athletes, officials and supporters are expected to come to the city for the tournament, which has unearthed some intriguing post-Covid sporting trends, such as dramatic rises in outdoor, individual sports like golf and mountain biking.
Tournament director Vicki Semple says this is an incredible response from our participating schools and the wider sporting community.
"Given where we were a year ago and the incredible uncertainty around all sports, it shows just how much appetite is out there for this kind of event, where people can get back to some normalcy, reward young athletes with a week of fun and camaraderie and enjoy all that Tauranga has to offer," says Vicki.
To date, 350 schools have entered, including 91 participating for the first time.
The 2019 edition attracted 361 schools, although that included 20 from overseas.
Tournament organisers elected not to allow entries from overseas schools this year after reviewing relevant health information.
Among the big codes, netball and rugby have both increased, with netball building on the record 2019 tournament with 128 teams (1536 athletes), up from 126, and rugby adding another 144 players courtesy of a big spike in Rip Rugby - the non-contact, New Zealand Rugby-supported version of Rippa Rugby - which has ballooned out to 42 teams, up from 30 two years ago.
But it's the likes of golf and mountain biking which has really jumped. After making its debut in 2019 with 199 riders, mountain biking has jumped to 327 riders this year, while the golf numbers have mirrored the unexpected bloom in participation that started during the social-distancing days of lockdown last year.
Bay of Plenty golf CoachForce officer Mike Campbell says when things started to open up after Level 4 lockdown, golf was one of the first sports accessible and it has gone from strength to strength from then on.
"As an example, junior memberships in the Bay of Plenty have increased 22 per cent in the past year and rounds played so far in 2021 are 56 per cent up on the previous year, so golf in general is really flying."
This is reflected nationwide too, with AIMS entries up to 126 golfers, from 71 in 2019.
Other sports to increase include basketball, where sharp growth in both the boys' division and the shortened 3x3 division have seen overall numbers edge from 1191 in 2019 to 1229 this year, while six-aside hockey has continued the shortened growth trend, going from 85 teams in 2019 to 95 teams this year.
Para-athletes will again be well represented in cross country and swimming.
More on SunLive...