History flying overhead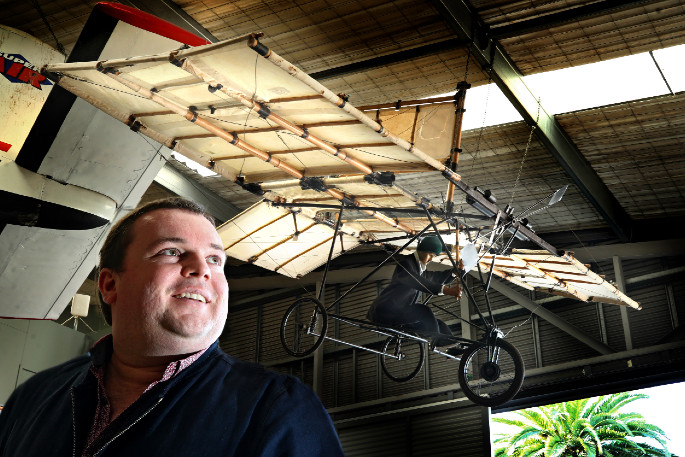 The head of Richard Pearse sat on Bev Wagstaff's kitchen table for about three weeks.
"Then we had to find a body, and it had to be firm," says Bev.
Bev and Alan Reynolds, both volunteers at Classic Flyers Aviation Museum in Mount Maunganui, have worked together on many of the museum's displays, Bev contributing many of the creative ideas, and Alan much of the technical expertise to make them happen.
A whole wall showcases their work.
"I'm a jet man," says Alan, who has worked on jets for over 20 years in the New Zealand Air Force. "The Sky Hawk is my aeroplane. Even though it belongs to the Air Force Museum, I look after it."
As an armourer in the Air Force he also worked on ejection seats, missiles, rockets, and as he says, with his eyes lighting up, "anything that went bang". These days he allows himself to be side-tracked by the museum displays, pitching in to bring Bev's ideas to life.
Their latest project has been creating a right-handed, slightly gangly mannequin for the recently acquired replica of the Richard Pearse flying machine.
"Look at the replica and then look at the Sky Hawk," says Bev. "There's about 65 years difference. Look what man did in that time. You can put a bomb off the Sky Hawk, whereas Richard was trying to get his over a gorse bush. He was way before his time."
Richard Pearse's first patented invention, dating from 1902, was an ingenious new style of bicycle, bamboo-framed with a vertical-drive pedal action, rod-and-rack gearing system, back-pedal rim-brakes and integral tyre pumps.
There is evidence he was working on ideas for powered flight from 1899, and had built his first two-cylinder petrol engine by 1902. He then constructed, using bamboo, tubular steel, wire and canvas, a low aspect ratio monoplane, closely resembling a modern microlight aircraft.
"His longest flight was after the Wright brothers where he flew and crashed along a riverbed," says Alan. "They did call him Mad Pearse, as he was a loner but a clever loner."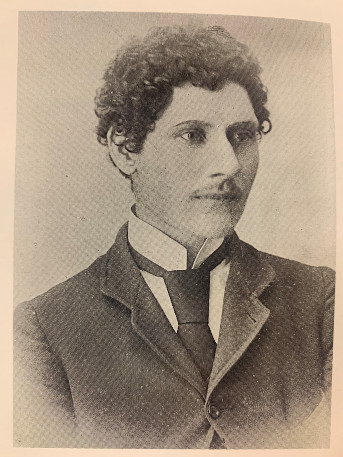 An image of Richard Pearse that was used to help create the head. Photo: Supplied.
Richard's machine, originally built for a 1975 television docudrama 'Richard Pearse', had its design based on his aircraft patent, eyewitness descriptions and early 1900s technology. On display and in storage for the past 45 years at MOTAT, it was sent in pieces to Classic Flyers late last year, where it's been restored by the engineering team. Last Friday it was lifted into place, suspended from the ceiling and complete with Bev and Alan's moustached mannequin.
"We had to find out if he flew the plane left-handed or right-handed," says Bev. "So we looked at photos of him with his cello."
This level of detail is very important to them, including finding clothing without zips, the right kind of shoe, and no puffer jacket allowed. She even found an old jacket.
"Richard was about 24 when he flew it," says Bev. "A big chap. The first thing we did was find a face on a broken mannequin, so we cut the head off. Then we had to find a body. We're quite good at legs and arms. They're made from swimming pool noodles with wire inserted up them."
It's important that no body parts or clothing falls off him onto the public below, so even the shoes are wired in.
"Everything we do here we make," says Bev. "Usually I come up with a bright idea, and run it past Alan. He used to say I'm mad. What Alan does beautifully is if I say this man needs to be wired at just that angle, he will spend ages to get it just right.
"We just work together and we're lucky that we get on," says Bev.
"Sometimes," says Alan.
More on SunLive...