New accommodation for Tauranga university students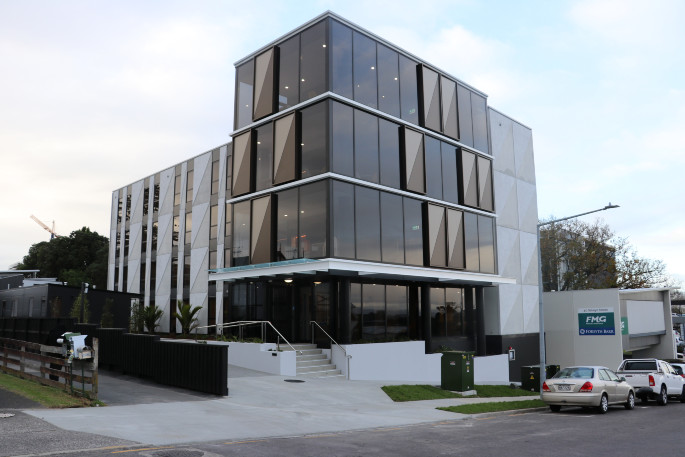 A morning karakia held in Tauranga city earlier this week marks the beginning of safe and affordable accommodation for tertiary students in the Bay of Plenty.
The new $20 million purpose-built facility on Selwyn Street, located across the road from the University of Waikato campus, will officially open in 2022.
Senior Deputy Vice-Chancellor Professor Alister Jones says having university-managed accommodation in the Tauranga CBD also brings Tauranga another step closer to being a "genuine university city".
"It's about creating a university ecosystem, and dedicated accommodation is a key part of that. Our new Selwyn Street accommodation is a start that we need to keep building on. It is important for us to continue to work with the city to make Tauranga a truly dynamic place."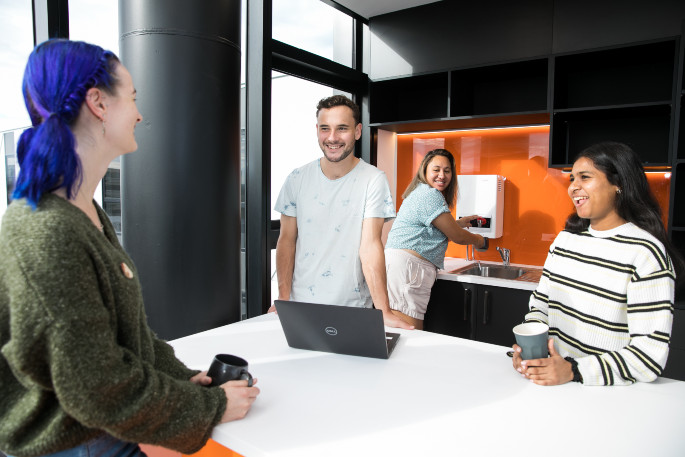 Each level has a shared kitchenette and social space. Photo: Supplied.
The four storey complex offers self-catered living for 93 students, comprising 90 standard fully furnished studio rooms, complete with en-suite bathrooms and mini fridges. Three larger studio rooms will accommodate students with accessibility needs. Internet, power and water is included in the weekly rent. Each level has a shared kitchenette and social space. Communal kitchen, dining, laundry facilities are located on the basement level along with storage areas, bike/scooter racks and a group study space.
For added peace of mind, there will be one Residential Assistant or RA for every 32 students and a Residential Manager who will live on site in separate accommodation.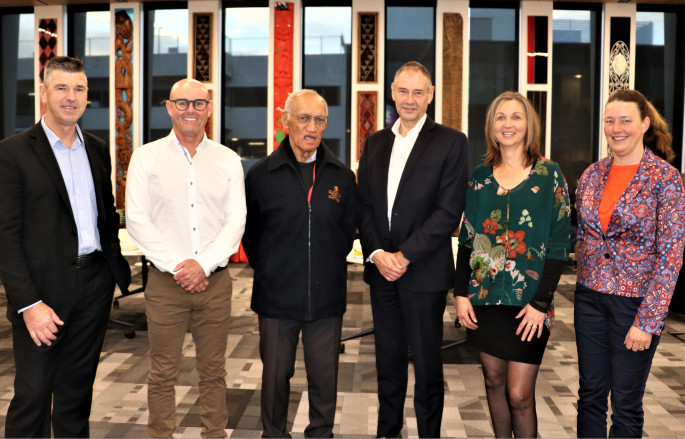 Tauranga City Council CEO Marty Grenfell, Quintex Properties director John McColl, University kaumatua Tamati Tata, Senior Deputy Vice-Chancellor Professor Alister Jones, student services manager Lynda Lipinski, and accommodation services coordinator Iris Beemster. Photo: Supplied.
To celebrate the opening of the new accommodation, the University has subsidised the cost for 2022.
A range of scholarships are available that can further contribute to accommodation costs. School leavers may be eligible to apply for a Tauranga Campus Residential Scholarship that would reduce the weekly rent to just $150 for the 2022 academic year.
University kaumatua, Tamati Tata and Faculty of Maori and Indigenous Studies kaiako Ngairo Eruera led the karakia with more than 60 guests in attendance, including the developer - Quintex Properties managing director John McColl, Tauranga City Council CEO Marty Grenfell, and Foster construction manager Ryan Tesselaar.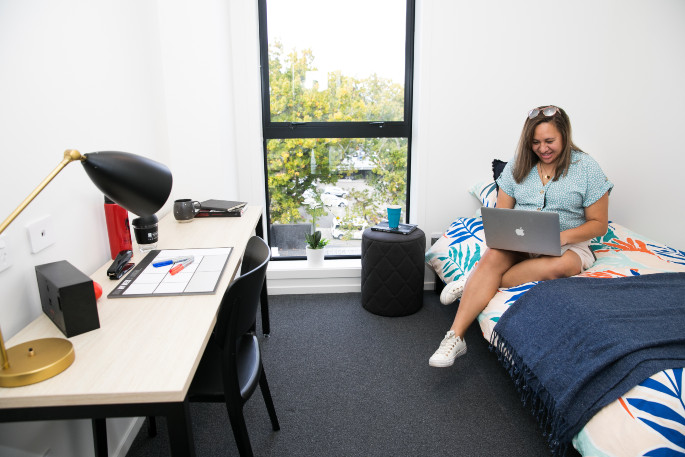 A standard room in the Selwyn St accommodation. Photo: Supplied.
John McColl says he wanted to ensure Tauranga students had modern, affordable and accessible accommodation options.
"Student residences such as these are a core component in the makeup of a tertiary campus and will strengthen student life here," said Mr McColl.
"This building is a substantial investment in the city's CBD and will not only benefit the tertiary precinct… but also the wider community in helping strengthen this period of revitalisation currently underway in the CBD."
Applications for Selwyn Street accommodation in Tauranga open on August 1 2021. For more information visit the University of Waikato website.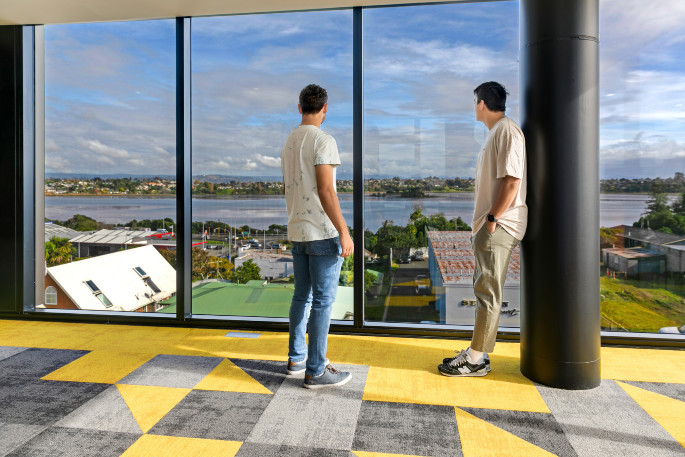 Selwyn Street accommodation views from social spaces. Photo: Supplied.
More on SunLive...