Tauranga's graveyard of bins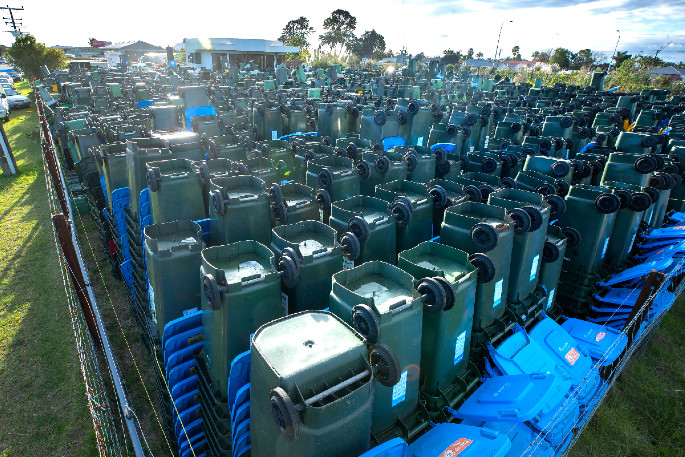 A stockpile of used plastic bins has emerged as the new kerbside collection for Tauranga and the Western Bay began this week.
The graveyard of now discarded items has emerged at the Te Maunga Transfer Station as residents return their previous, privately contracted receptacles in exchange for council provided options.
The new rates-funded kerbside collection service started from July 1 across Tauranga City Council and Western Bay of Plenty District Council jurisdictions.
Residents in those areas have been provided with containers for rubbish, recycling, food scraps and glass.
However, the updated system has left those bins already provided by private contractors across the region purposeless.
The mountain of plastic at the Te Maunga site along Truman Lane belongs to Waste Management Limited.
Whilst they could not confirm the amount of units on site, it appears hundreds, if not thousands, of discarded bins are present.
Waste Management Ltd confirm they have been removing clients' residential wheelie bins since June 17.
They are being stored near the recycling site awaiting to be processed for recycling.
Tauranga City Council confirm they have not purchased any used bins from private contractors. They say repurposing was not an option due to issues over the age, longevity and size of the bins.
The new council-provided options are also fitted with radio frequency identification.
"We are working with the private contractors to ensure as many bins as possible can be reused by them or chipped and recycled," says Sam Fellows, manager sustainability and waste at Tauranga City Council.
Western Bay of Plenty Council also confirm that reusing the old bins was not an option, with radio identification and specialised lugs for pay-as-you-throw tags now in use.
They request residents contact private contractors to arrange for the collection of any bins no longer in use.
In most instances, the cost of removal falls on the companies who previously provided them.
"We are looking to financially support some of the smaller companies to recycle the bins with funding we received from the Ministry for the Environment," says Sam.
"This is not included in the targeted rate for the new service."
More on SunLive...