Roaming horses on council's agenda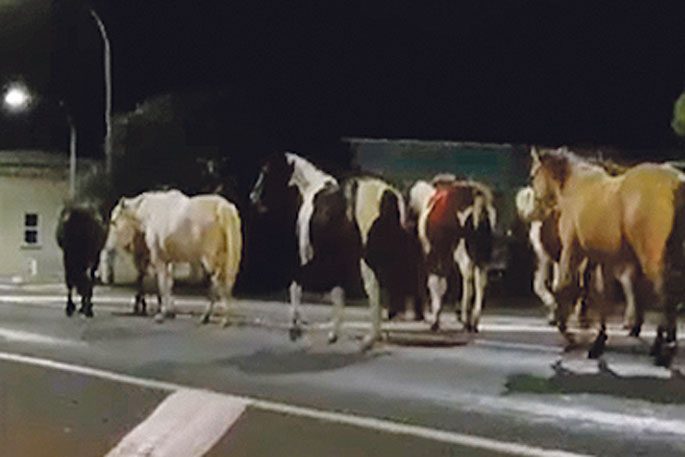 Opotiki District Council has discussed the current issue of roaming horses in the area during an extra ordinary council meeting in which the 2021-2031 Long Term Plan has been adopted.
The issue of horses on the loose was a topic for discussion with next steps for managing leases and grazing on council land in the town area considered.
Planning and Regulatory Group manager, Gerard McCormack says it was a robust discussion and council found a way to move towards a solution.
"The paper presented was an 'information paper' so it provided an update on the situation since council made the decision at the previous meeting to prohibit horses from grazing on council-owned land," he says.
Gerard says that the "upshot of the discussion" was that untethered horses must be moved out of town and will not be permitted to graze on council land. Those that have an existing lease can continue until the August Council meeting.
He says council will consider the matter again at the August meeting and make a decision on who their preferred leasee would be for the paddocks adjacent to Peria House.
"Council also encouraged the horse-owner community to get together before the August meeting and find a way forward that addresses the safety concerns with roaming horses.
"Any solution will also need to reassure Council that the cost of managing horses in town (animal control costs, administration, ongoing and repeated fence and gate repair) will not fall to other ratepayers in the district," he concludes.
Opotiki District Council has also adopted the 2021-2031 Long Term Plan and a host of associated fees and charges and policies to set the path forward for the coming ten years.
Opotiki Mayor, Lyn Riesterer explains that LTPs outline the many things a council does and how they fit together.
They explain what will be done over at least the next ten years, why the council is doing those things and their associated costs.
"It is always that last aspect – the costs – that get the most attention. Councils have a very long list of required activities and functions passed down through legislation from central government. And the community also has a long list of functions and services that they would like Council to focus on. And Council has even more facilities, infrastructure and services inherited in varying states of age and repair," Mayor Riesterer said.
Almost all these activities, in Opotiki's case, need to be funded through rates, says the Mayor.
On average this is a rate requirement of 6.33 per cent increase in rates across the district.
This will impact different property types in different ways and the new rates will apply from July 1 this year.
More on SunLive...